In today's technology-led culture, it's all too easy to spend our entire day staring at a screen.
We use computers at work, scroll through our phones during the commute, watch TV while eating dinner, then look through Instagram while we're in bed.
But this "always on" culture isn't making us happy. According to the Mental Health Foundation, 59% of adults in Britain are more stressed today than they were five years ago.
Thankfully, there's a way to ditch our smart phones and improve our wellbeing in one go - it involves grabbing some crayons and getting creative.
Colouring books for adults have become something of a phenomenon in recent years and we have 32-year-old illustrator Johanna Basford to thank for it.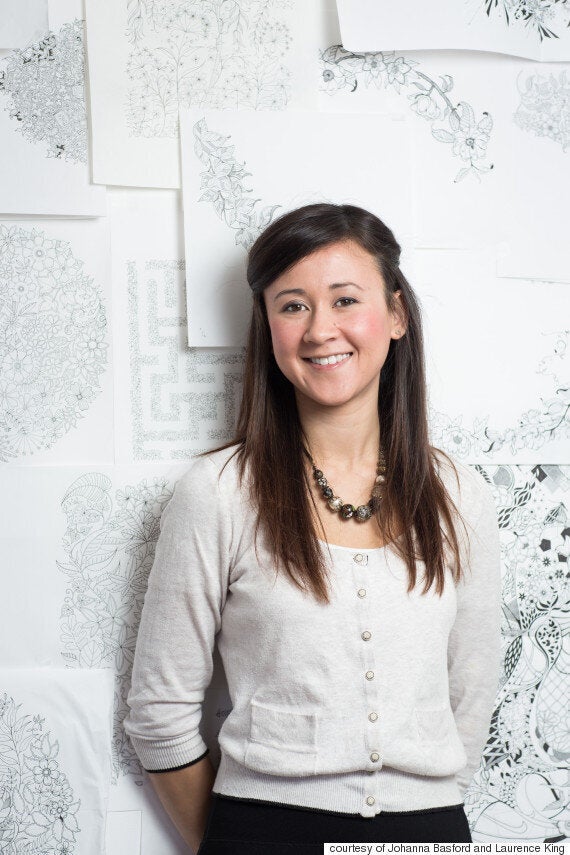 "I think everybody has a creative spark, you just need the right situation and opportunity to express it," Basford tells HuffPost UK Lifestyle.
"For a lot of people, attending an art class just isn't something that is feasible. But with a colouring in book you don't need lots of time and you don't need lots of equipment - you can just pop some crayons in your bag and go for it."
Basford, from Aberdeenshire, released the first ever colouring book for adults, Secret Garden, in 2012 after a publisher approached her about creating a traditional colouring book for children.
At the time, she was working as a freelance illustrator creating black and white images for brands as well as making downloadable desktop wallpapers.
"My commercial clients - people like creative directors - had been saying for ages that when they saw my artwork, they wanted to colour it in," she explains.
"They were just making passing comments but I thought it would be lovely to make sophisticated artwork - at the same level as I would create for a champagne bottle or a perfume box - that adults could colour in without feeling silly."
Basford says her publishers were sceptical about the idea, after all, colouring books for adults were not a trend at this point.
But thanks to their experiment with Secret Garden, the industry has bloomed.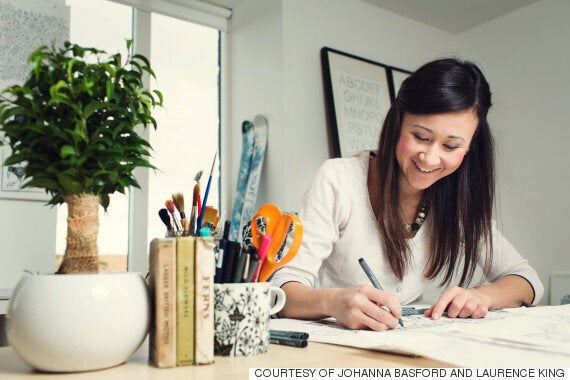 The books have been hailed as an easy way to access mindfulness, beat stress and improve wellbeing.
Although Basford didn't create Secret Garden with any of this in mind, she does now understand why so many people find her work therapeutic.
"We're fatigued - I think it's the constant bombardment of messages and alerts that we get from the internet that's to blame," she says.
"The books are a way for people to get a digital detox - they allow us to do something without being distracted by the ping of a tweet."
She also believes the nostalgia element to colouring may improve some people's wellbeing.
"Last time you sat down to do some colouring in you probably didn't have a mortgage or bank payments to make, so it does tend to make you think back to a less stressful time when you were perhaps more carefree," she says.
One person who has truly felt the benefit of Basford's books Danielle Montgomery, who works in social media and online PR.
The 24-year-old, from Birmingham, first heard about colouring for adults after reading an article about Basford.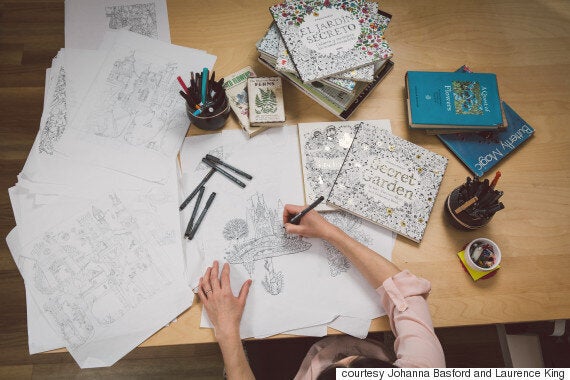 "I suffer with mental health disorders and had recently embarked on a mindfulness course, so I was encouraged to try the colouring therapy as a mindful exercise, as well as a distraction from my other mental health issues," she tells HuffPost UK Lifestyle.
"It wasn't until I relapsed and was taking some time off work when I first started colouring.
"My mum was keen to keep me company so she took a day off work and we spent a day colouring, however I didn't purchase a book, we just printed out several mandalas [a hindu symbol] and other patterns from the internet."
"My nan, bless her, has since bought me several colouring therapy related items, including a zen doodle book, which teaches you how to create your own illustrations and mandalas for colouring in."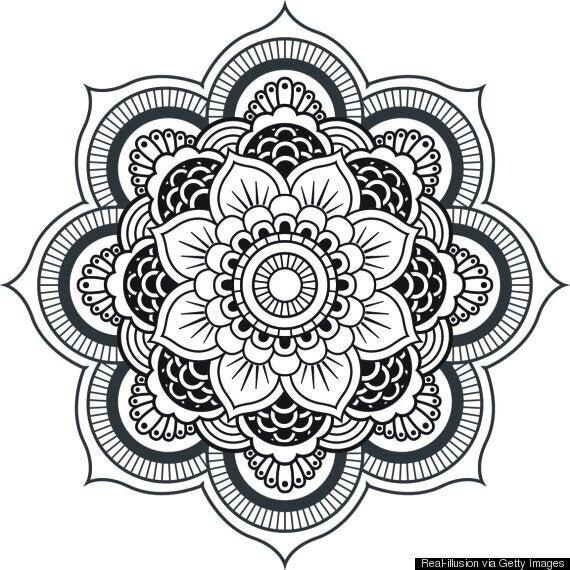 Montgomery is now a firm fan of Basford's books and loves the fact that colouring is a "soothing experience", that also requires concentration - enough to achieve escapism, but not enough to get stressed or overwhelmed.
"The colouring for me serves primarily as a distraction to the negative thoughts in my mind and allows me to become 'unstuck' from my depression.
"Depression doesn't allow its victim to progress with anything or do even the simplest of things without being consumed with dread and overwhelming anxiety, however the colouring therapy requires so little energy with beautiful rewards.
"There's no right or wrong answer - you can choose whichever shades of whichever colour, spend however long you need.
"Colouring allows you to take some time out from work, socialising, housework and other aspects of life that creates stress or tension, and just be absorbed into a fantasy land where the sky is green and grass is blue."
With colouring having such as positive affect on wellbeing, it's easy to see why Secret Garden has sold over one million copies in 27 countries.
Yet for Basford, the success of her first book still seems "unreal".
"I phoned my publishers to ask if they could let me know when we'd sold a quarter of a million copies because I wanted to put it on my Facebook - as you do - and tell my mum," she recalls.
"My publisher went quiet on the end of the phone and I started to panic. They said actually, the issue numbers had just come in and they thought we were going to hit a million in the next four weeks.
"I think because I work in a little studio attached to my house I'm quite detached from the world - so when I hear the numbers it feels quite surreal."
Secret Garden's success has not only led to Basford securing two further book deals (her second book Enchanted Forest was also a bestseller, her third book is due out in October), it has paved the way for other illustrators to create colouring books for adults.
So, does Basford, feel in competition with her fellow illustrators and authors?
"I really hope the category just continues to blossom," she says. "The more books there are, the more people there are over the world lying down laptops and picking up pens and pencils - and that can only be a good thing."
Secret Garden and Enchanted Forest by Johanna Basford are both published by Laurence King, £9.95