The ongoing power-struggle between Ukip's sole MP and its party leader intensified on Sunday after Douglas Carswell lambasted Nigel Farage for making "mean-spirited" comments during the general election campaign. The Clacton MP was particularly strident on Farage's comments about banning HIV patients from coming to Britain to use the NHS, made during the first televised leaders' debate in April.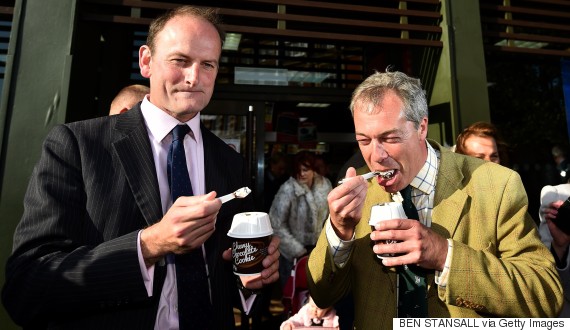 Douglas Carswell (L) and UKIP leader Nigel Farage eat ice-creams as they visit Clacton-On-Sea, in eastern England, on October 9, 2014
Speaking on BBC Radio 5 Live's Pienaar Politics, Carswell said the "tone we deployed, for example, the comments about HIV, were plain wrong. Wrong on so many levels." He added: "Not just wrong because they were electorally unhelpful but just wrong because they were wrong. There's something wonderfully generous about this country… and if we frame debates that are mean-spirited I think a lot of people in this country will be put off".
Suzanne Evans and Patrick O'Flynn were forced to step down from senior roles within the party after Farage retained his position as leader following an attempted coup. During the internal battle Carswell refused to back Farage as leader, suggesting he should "take a break."
When asked on Sunday if he had "settled his differences" with the Ukip chief, Carswell said Farage had "always been the leader of Ukip and I've never, never questioned that at all."
Farage resigned as party leader after failing to win a Commons seat in Thanet South. He later rescinded the resignation after receiving a vote of confidence from the party's national committee.
Responding to Carswell's comments, a Ukip spokesman said: "The issue of health tourism is both real and costs the NHS millions per year. It is one of many problems that bedevil the NHS, and dealing with it, alongside many other problems is part of a greater package to ensure that the people of this country can access the world-class healthcare they both deserve and expect."