Hearts were breaking across the world Monday after officials began removing locks loved-up couples had attached to a Paris bridge as a symbol of their eternal amour.
For close to a decade, couples, mainly tourists, but Parisians too, had attached locks, often engraved with their initials, names, or tributes to one another, on the Pont des Arts, before throwing the key into the River Seine - thus symbolically locking their love away forever.
The share weight of the affections caused part of the bridge's railing to collapse last year and led to its temporary closure.
Officials later launched a campaign encouraging romantics to capture their love with a selfie, rather than sealing it with a lock, but love is old-fashioned it seems, and it failed.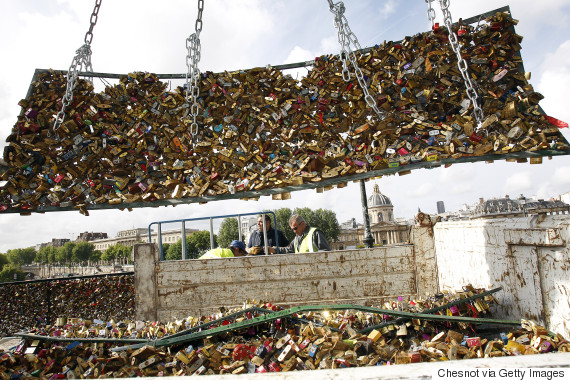 Officials in Paris Monday began moving close to one million "love locks" from historic bridges in the city
A petition was also started to "save our historic sites", and it gained some 10,000 signatures, but it is not known what, if any impact, that had on the decision to remove the locks.
Close to one million locks, weighing some 45 tonnes, are believed to be attached to the bridge, which dates back to 1804.
Over the next few days they will be removed, along with locks that later began appearing along the Pont de l'Archeveche, near the Notre Dame cathedral. What will become of the locks is unclear.
The metal grilles on the bridge will be replaced by panels painted by street artists.
Twitter reacted as expected. It was awash with crying emojis from those who had locked their love to the bridge, and those who wanted to.
my lock is gone😢💔 http://t.co/1ISyQ8ZqJp

— helen (of troy) (@helenidk) June 1, 2015
@DaveMahoneyDK#lockgate2015 I've been to the love-lock bridge. It is beautiful in person. The French are not thinking with their hearts.

— Michael York (@suby15) June 1, 2015
I guess I'll never get to put a lock on the love lock bridge in Paris 😢❤️🔐

— Rana (@Beautiful_xMess) June 1, 2015
I can't believe all the love locks are being removed from the love lock bridge in Paris #1LifeGoalGone 💔😭

— Anna Leahy (@leahyanna123) June 1, 2015
But there was a silver lining according to some.
Sighs of relief from those who promised "our love will last forever, or until this lock is removed from this bridge—whichever comes first."

— Jenny (@JENocracy) June 1, 2015
It seems love is cruel, even in a city that's famous for it.
"It's the end of the padlocks," Bruno Julliard, Paris deputy mayor told the BBC.
"They spoil the aesthetics of the bridge, are structurally bad for it and can cause accidents."
In Venice tourists have attached love-locks to the Rialto bridge, and in New York, to the Brooklyn Bridge. Locks have also been attached to several bridges in London, including Tower Bridge and the Millennium Bridge.
SEE ALSO

Toddler Helps Father André Nordstrand Propose On Mountain Top In Romantic Video

Man With Down's Syndrome Stages Romantic And Heartwarming Proposal

How To Make A Romantic Valentine's Day Meal For £2.95. Yes, Really