Alex Salmond tonight defended himself against a furious backlash after saying he did not think Charles Kennedy's "heart was in the 'Better Together' campaign" that won the Scottish independence referendum.
The SNP MP and former leader's comments to BBC News were made just hours after it emerged the ex-Liberal Democrat leader had died at his home in Scotland.
One commentator expressed astonishment at Mr Salmond for "claiming Charles Kennedy was for independence when he campaigned against it" and another said that the remarks were "shameful".
But the SNP MP later said Mr Kennedy had stated publicly the "actions" of the "No" to independence campaign were contributing to a "close" outcome after long holding a commanding lead.
His clarification came after Liberal Democrat MP and ex-minister Norman Lamb, a former parliamentary aide to Mr Kennedy, told The Huffington Post UK the comments were "misplaced" and that "any sense of political point scoring or division" should be avoided.
And Downing Street distanced itself from Mr Salmond's remarks, stressing that the Prime Minister felt that Mr Kennedy's family and his contribution to public life "should be the focus of what people are talking about".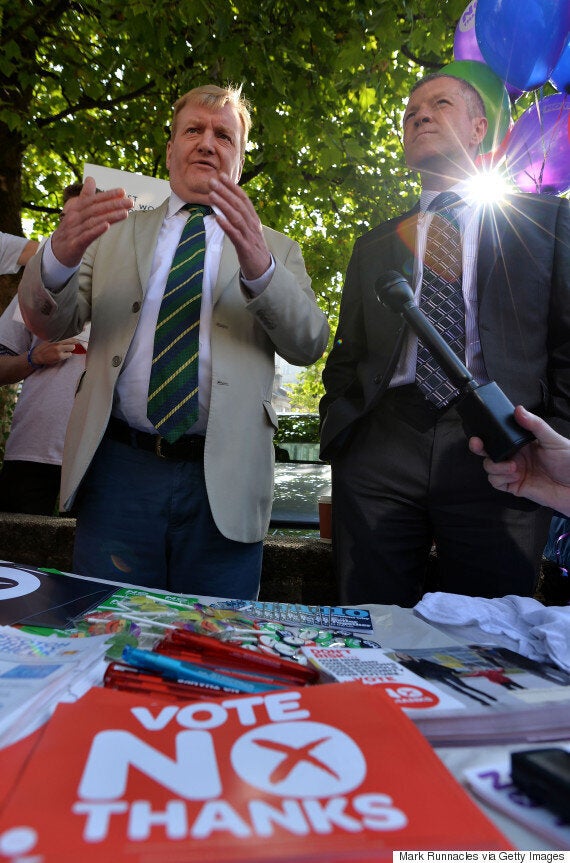 Heart not in it? Charles Kennedy during the 2014 referendum campaign
In the run-up to the vote on independence, Mr Kennedy called on the pro-union campaign to broaden its appeal.
In March last year the former party leader told the Scottish Lib Dem conference in Aberdeen that Labour had characterised the debate as being "Salmond versus Scotland".
Mr Salmond told the broadcaster: "In terms of the independence referendum, I don't think his heart was in the 'Better Together' campaign.
"His heart would have been in a pro-European campaign, that's a campaign that Charles would have engaged in heart and soul. That is something he absolutely believed in."
Mr Salmond, who said Mr Kennedy was a "fine human being" and an "outstanding communicator", claimed the former Liberal Democrat MP would have "reconciled" to an independent Scotland.
"I don't think he would have had any difficulty whatsoever with that position," he said. "Charles was a federalist."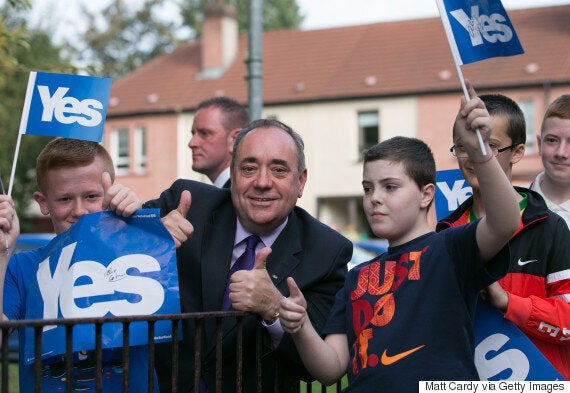 His initial comments prompted a furious reaction on social media.
Tonight, Mr Salmond said in a statement: "First and for the record I have made no claim whatsoever that Charles Kennedy was either a Yes or an SNP supporter. He was not. He was a committed federalist all of his political career.
"In all of the many interviews I have conducted today I have been generous about his political contribution particularly on Iraq but also the role he could have played in the upcoming European campaign. That was not difficult. I liked Charles a great deal and he was quite the most generous politician I have ever met.
"Finally I only mentioned the Better Together campaign at all because I was asked a direct question about it. As early as the beginning of last year Charles was one of the first unionist politicians to realise that the result would be close and said publicly that he felt that the actions of the No campaign were contributing to this.
"Having put the record straight I have no intention of commenting further. Except to say this. It would be really good to concentrate political comment on the role this fine man played on Iraq, on his massive achievement as leader in 2005 of securing the best Liberal result for almost a century and the key contribution he might have played on Europe but for his tragic and untimely death."
Mr Massie, Scotland Editor of The Spectator magazine, wrote: "Salmond's remarks this morning were entirely in character. They were all too revealing and, I suspect, will strike many folk as being as contemptible as they were typical. For a big man, Alex Salmond can be very small."
His blog received short shrift from some SNP supporters.
Lib Dem MP Mr Lamb said Mr Kennedy was a "decent and principled man", and "one of the brightest and best of his generation".
"In what was otherwise a generous tribute to Charles, I'm surprised by that comment, which is misplaced," he told The Huffington Post.
"Today of all days we need to avoid any sense of political point scoring or division. We should be recognising the enormous contribution this man made and the tragic loss his death represents."
Asked by The Huffington Post UK whether Mr Salmond spoke out of turn, or his comments were inappropriate, the Prime Minister's official spokeswoman said: "The Prime Minister's view is that today should be about recognising the contribution that Charles Kennedy made and that should be the focus of what people are talking about today."
She added: "I think the Prime Minister is very clear that first and foremost today we should be thinking about Charles Kennedy's family who are coming to terms with their loss and this tragic news.
"The PM thinks what we should be doing today is paying tribute to someone who made an enormous contribution to political life.
"It was why the Prime Minister said at the start of Cabinet that they should pay tribute to his role and it was why he agreed with the Speaker that tomorrow MPs should have to do that and that's what the focus should be today."
Related