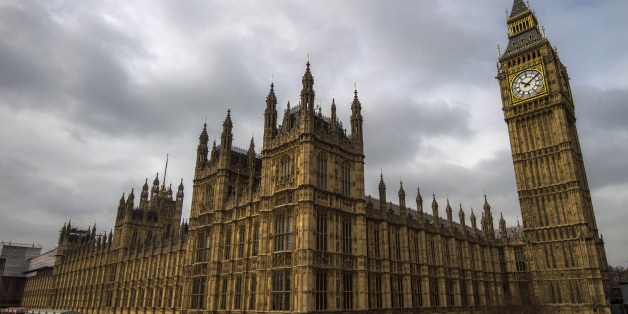 NIKLAS HALLE'N via Getty Images
David Cameron will not block a wage hike for MPs that will see their salaries increase to £74,000 a year, or give his extra pay to charity.
The Independent Parliamentary Standards Authority (Ipsa) today launched its final consultation on MPs pay, and said it planned to push forward with its proposed 10% salary increase.
As recently as last month the Prime Minister urged Ipsa to come to a "different view" on the pay rise, and when the increase was first mooted in December 2013 Mr Cameron said it was "simply unacceptable" for MPs to receive such a financial boost at a time of wage restraint for other public sector workers.
The plan for the rise was initially floated in 2013, and some MPs, including Tory Chris Skidmore, vowed to give his extra wages to charity.
Asked directly if the Prime Minister would follow suit and give the expected rise in his own salary to charity, his official spokeswoman replied: "If Ipsa determine that MPs get a pay increase, then MPs get a pay increase."
The spokeswoman also admitted Mr Cameron would not try to change the law to stop the MPs from getting the rise.
She said: "Throughout this process and debate, the Prime Minister has been absolutely clear that he doesn't agree with the proposed increase.
"But ultimately it is up to Ipsa as an independent body to decide MPs' pay and it is for them to make their determination."
MPs are currently paid a basic salary of £67,060, but Cabinet ministers currently earn an additional £53,000.
More junior ministers pick up nearly £32,000 on top of their MP's pay.
Asked if the MP rise meant ministers would still see their overall pay go up, despite the PM's decision to freeze ministerial salaries, Downing Street made clear the two issues were separate.
His spokeswoman said: "There are effectively two jobs that a minister does, there's the job they do as an MP and the job they do as a Minister. And the PM in setting ministerial pay has frozen that for five years. It's for IPSA as an independent body to determine the MPs' pay element."
The £7,000 rise in the MP element of a minister's pay will go some way to making up for the freeze imposed by Downing Street in the last parliament,
Asked again if the Prime Minister was minded to give his own rise to charity, his official spokeswoman told The Huffington Post UK: "The PM has been focused on what can he do in terms of cutting the cost of politics, and that's why he's frozen ministerial pay and things like that. If Ipsa determine that MPs should get an increase, that's for them to determine."
Ipsa claim the proposals are "cost-neutral" to the tax-payer thanks to reforms of the expenses system, pensions and resettlement funds.
Unless "new and compelling evidence" emerges by the end of the month, the move will be confirmed - with the rise backdated to May 8.
The head of the spending pressure group TaxPayers' Alliance was damning in his criticism of Ipsa, branding the watchdog "hopelessly out of touch and not fit for purpose."
Jonathan Isaby said: "Ipsa spent £70,000 on a consultation which showed the public believed the current pay level to be broadly fair, yet have ignored the findings. MPs shouldn't be divorced from the same pay restraint as everywhere else in the public sector."
Mark Serwotka, head of the PCS union, which represents many civil servants, said: "It would be grossly hypocritical for any MP who voted for years of pay cuts for public sector workers to accept a 10% increase for themselves."
A Labour spokesman said: "It would feel wrong if Ipsa proposed an increase in MPs' take-home pay at a time when so many people are struggling."