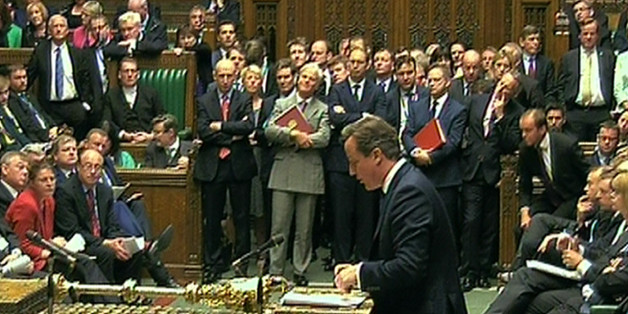 PA/PA Wire
David Cameron has left the door open to withdrawing Britain from the European Convention on Human Rights if it continues to block "sending home" foreign criminals.
The Prime Minister's comments show the Government is in chaos over its flagship policy to empower British courts as it comes two days after Foreign Secretary Philip Hammond said ditching the convention was "not on the table".
He told the Commons today he would "rule out absolutely nothing" in the Government's quest to ditch the Human Rights Act and replace it with a British Bill of Rights.
His official spokesman said "at no stage" has the Conservative Party said it had dumped a plan drawn up by former Justice Secretary Chris Grayling to no longer be bound by the human rights agreement if a looser arrangement could not be agreed.
Significant. Cameron keeps open option of pulling out of ECHR to stop prisoners voting: "I rule out absolutely nothing in getting that done"

— Paul Waugh (@paulwaugh) June 3, 2015
Reports on Monday suggested a Cabinet split over the policy against concern from liberal-minded Conservative backbenchers.
Mr Cameron's comments came after being asked at Prime Minster's Questions by Conservative backbencher Andrew Mitchell to rule out leaving the convention.
Mr Mitchell said: "He will be aware there is considerable concern on both sides of the House at the proposition that Britain might withdraw from the European Convention on Human Rights. Will he take the opportunity today to make clear that he has no plans to do so?"
SEE ALSO:

Foreign Secretary Philip Hammond Says Britain Will Stick With The European Convention on Human Rights

Benedict Cumberbatch Among Group Of Actors Fighting Plans To Scrap the Human Rights Act
The Prime Minister replied: "Let me make clear about what we want, which is British judges making decisions in British courts, and also the British Parliament being accountable to the British people.
"Our plans set out in our manifesto don't involve us leaving the ECHR - but let's be absolutely clear. If we can't achieve what we need, and I'm very clear about that, when we've got these foreign criminals convicted of offence after offence and we can't send them home because of their right to a family life, that needs to change. I rule out absolutely nothing in getting that done."
The Prime Minister's spokesman suggested leaving the convention was a possibility if thrashing out a new deal failed.
"We are confident that we can get a better deal within the convention but we don't rule anything out," he said.
Asked whether the proposal outlined last year by Mr Grayling to remove Britain from the authority of the court in Strasbourg if British judges were not given the final say on its rulings remained party policy, the spokesman said: "At no point have we said it's not."
The appetite for for the Government to withdraw from the European Convention on Human Rights stems chiefly from failing to send foreign offenders home.
The contentious Section 8 of the Human Rights Act, which incorporates the Convention into British law, guarantees the right to family life, which critics say is being exploited to dodge deportation.
But the Government faces resistance from Tory rebels and civil liberties campaigners who fear leaving the Convention will water down its authority, and in turn embolden authoritarian regimes.
Last week the Government announced it would not include the British Bill of Rights legislation in the Queen's Speech, delaying its introduction until next year.
The Cabinet fall-out surrounds Home Secretary Theresa May and new Justice Secretary Michael Gove arguing Britain must leave the convention, while Mr Cameron argues the country can remain a signatory.