Being one step ahead of the pack is Michelle Phan's speciality.
She was one of the first people to start sharing beauty vlogs way back in 2007, and she taught her 7.2 million YouTube subscribers how to fake bigger lips long before the #KylieJennerChallenge took off.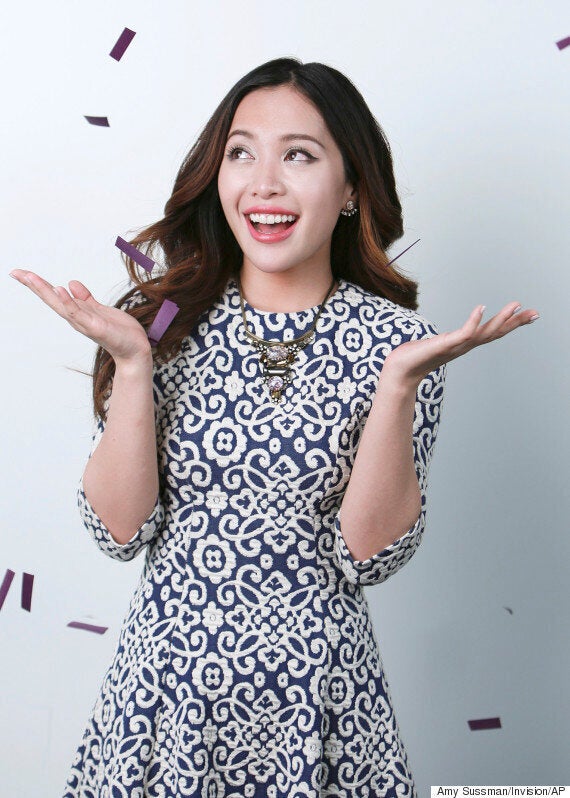 "Last year I posted a video showing how to create larger looking lips without going under the needle," she explains.
"I showed how to take a circular cup and place it over the lips, then suck the air out to create a vacuum, and that gives the illusion of larger lips.
"It was just a fun trick I never thought anyone would actually do it, so when I saw the Kylie Jenner Challenge start to become a trend I was cracking up. It was hilarious."
The lip swelling trend faced some criticism, but Phan thinks it is just a bit of fun and in her opinion there's another "beauty crime" which is far more worrying:
"I'm a huge believer in trying everything once, even the Kylie Jenner Challenge," she says.
"The only exception is over-plucking your eyebrows - never do that, because it takes months for them to grow back and for you to recover from that."
Phan's career is going from strength to strength. She has just launched a new blogging network called ICON, which hosts content from dancer, model and Instagram star Danielle Peazer, beauty vlogger Kaushal Beauty and Millie Mackintosh's nutritionist Madeline Shaw, to name but a few.
Not to mention achievements such as reaching more than one billion views on YouTube and earning a spot on the Forbes 30 Under 30 list.
So how did Phan get to where she is now?
"I actually became a beauty vlogger after being turned down for a job at a department store beauty counter," she admits.
"That really inspired me to open my own doors and explore my own journey. And for me, that door happened to be a laptop and that laptop led me to YouTube.
"So two months after I was turned down for the beauty counter job, I shot my first video.
"I had to learn everything on the sly and it was very awkward at first shooting my own makeup tutorial, but I wanted to try something different and that was just another creative outlet for me to explore.
"So I uploaded the video on YouTube back in 2007 and didn't expect anyone to really watch it, but in the first week I had garnered over 40,000 views - and that was the beginning of my online career.
"At the time I was a full-time college student and I was also working as a waitress on the weekends to make ends meet.
"It wasn't until three years later that I was finally able to make a little bit of money from my YouTube videos - and even then it was only like around 25 cents a day.
"I understood that if I could take more time to upload more content on my channel and gain more subscribers, I would in turn get more money.
"So I took a leap of faith right after the economy crashed in 2008 and told my employers I was going to quit and focus on YouTube. They all thought I was crazy, but I was certain there was a future in beauty vlogging and I wanted to be a part of it
"Having more time meant I could focus on creating more exciting content and that was the turning point of my career."
One of the keys to Phan's success is that she has an eye for spotting beauty trends before they go viral. So where does she find inspiration?
"Inspiration is everywhere, you just have to look," she says.
"You might be surprised to know that a lot of the latest beauty trends originally come from local makeup artists, whose work I find by looking at indie magazines within the art and beauty space, as well as Instagram accounts that are dedicated to editorial shoots.
"I also keep an eye on what's happening in Asia too. A lot of the trends out here in the States originated in Asia, for instance BB cream and now the cushion compact.
"So I look at what the rock stars and pop stars are wearing out there and also the fashion and style of vloggers and that inspires lot of ideas for me.
"Also, I really find a lot of inspiration for content from my online community. I follow a lot of my followers' Instagram and Twitter accounts, as I like to see what they're posting and that inspires ideas for my channel."
Phan describes her personal style as being quite "simple", but her beauty idols are people who don't play it safe.
"Celebrity-wise I think Rihanna's beauty looks are stunning," she says. "I love how she's a chameleon and is always transforming herself.
"Another beauty idol I love is from Asia and it's a guy.
"His name is G-Dragon and he's a popstar.
"His style is androgynous, which is a look that's becoming very popular within the beauty world. G-Dragon wears makeup, but he does so in a very cool understated way. That's another person who inspires me."
There is one area of her career that Phan is particularly proud of - and that is being part of a community that is helping to challenge narrow definitions of beauty.
"It's really exciting how the beauty space has changed and ideals of beauty have completely transformed in the last few years," she says.
"When you're online it's a free for all. You can find beauty anywhere and everywhere.
"I definitely think the internet has changed the beauty aesthetic, there's no longer an idea of a 'one size fits all' look.
"There's now more of an understanding that beauty can be found everywhere, in all cultures, diversities, skin colours and genders.
"That really is a big step forward for the beauty industry, because we need to start celebrating diversity and inspiring more people, especially impressionable young girls who don't normally see some who looks similar to them on the cover of a magazine.
"But they'll see that person on an Instagram account and if that person has hundreds of thousands of followers, then that's positive validation for them too.
"I really believe we are going to be living in a generation of more confident girls and that's what we need.
"We need more confident girls who love themselves, and believe in themselves, and can really fulfill their potential in life because their insecurity is banished."
The Beauty Trends Michelle Phan Will Be Wearing This Summer
"Use a technique called over-drawing," Phan advises. "Take a lip liner that matches your natural lip colour and outline your lips to creating the illusion of extra fullness."
"Dewy skin is going to be very popular," says Phan. "Use highlighters and a darker bronzer to create luminous glowing skin, which looks great in selfies."
"Apply a really nice electric blue mascara to your upper and lower lashes and they will look stunning," says Phan. "It's beautiful and is going to be really popular during the music festival season."
ICON UK is creatively led by Michelle Phan and is Youtube's ultimate lifestyle destination for young women