Foreign Secretary Philip Hammond has said the Government is "not persuaded" to lower the voting age to 16 in the referendum on whether the UK should stay in the European Union as he questioned how often young people take part in elections.
The minister suggested time would be best spent on "trying to get a decent rate of turn-out among 18 to 24 year olds".
His comments, which prompted an angry reaction from some MPs, came as legislation paving the way for an in-out vote by 2017, passed its second reading in the House of Commons.
Mr Hammond said the EU Referendum Bill's "one clear purpose" is to "give people the final say on our EU membership".
But he faced criticism from backbenchers over who will be allowed to vote, and lifting restrictions to state spending during the referendum campaign - which one former Cabinet minister warning it would lead to claims the vote has been "rigged" and another that the Government risked "loading the dice".
On votes for 16 and 17 year olds, which was adopted in last year's Scottish independence referendum, Mr Hammond said: "I concede that there are those in the House who will wish to debate whether that franchise in itself should be extended to 16 and 17 year olds. The Government is not persuaded."
When urged by Green MP Caroline Lucas to "let young people have a say on their futures", Mr Hammond said his personal view was that "we well be better expending our efforts trying to get a decent rate of turn-out among 18 to 24 year olds before we start worrying about 16 and 17 year olds".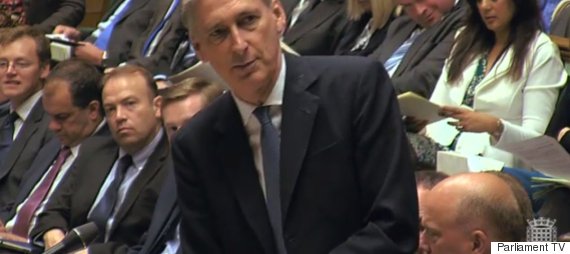 Foreign Secretary Philip Hammond said time would be best spent on "trying to get a decent rate of turn-out among 18 to 24 year olds"
Labour MP Chukka Ummuna said the justification was "utterly pathetic and woeful".
Utterly pathetic and woeful reasons now being trotted out by the Foreign Secretary explaining why he won't give 16&17yr olds the EU ref vote

— Chuka Umunna (@ChukaUmunna) June 9, 2015
Agree - his argument turnout low amongst 18-24yr olds poor reason to deny 16/17yr olds @ChukaUmunna ! https://t.co/ZSDzWRQLgV

— stellacreasy (@stellacreasy) June 9, 2015
In the Commons, MPs from across the House objected to the Government's position.
The SNP and the Lib Dems tabled amendments to alter voting age, the former will be rejected and the latter not chosen.
Labour wants to get the Bill changed during the committee stage, as revealed by Shadow Foreign Secretary Hilary Benn on The Huffington Post UK.
Tory backbencher Sarah Wollaston said that "since nearly one in four 16 year olds can expect to live to 100, and they'll be living with the consequences of this far longer than members of this House" then "we should extend the franchise".
Alex Salmond, the SNP's Foreign Affairs spokesman, said it was "deeply insulting" to under-18s that they were being denied the vote.
Labour's Mr Benn said Mr Hammond's comments have a "ring of familiarity" since they had been used to oppose giving women the vote in the past.
"On every occasion in the last 200 years, when someone has had the temerity to suggest the franchise should be extended, the forces of conservatism have said 'don't be ridiculous, it will undermine the fabric of society'," he said.
SEE ALSO:

David Cameron Blames Media 'Misinterpretation' For EU Confusion

'It's Their Future Too', Says Hilary Benn, As He Announces Labour's Push For EU Referendum Youth Vote

Barack Obama, World's Most Powerful Man, Makes His Thoughts On Britain's EU Referendum Quite Clear
The Bill also proposes that there should be no pre-election ban on government activity, referred to as "purdah, which applies to general and local elections.
Critics fear the move will allow unlimited spending by public bodies on promoting the Government's position, which if David Cameron secures a better deal with the EU will be to stay "in".
Former Attorney General Dominic Grieve, a pro-EU Tory MP, warned the Government risked giving the impression it wanted to "load the dice".
"We have to be very careful to ensure that we provide a clear indication that it will be a level playing field and it will not be abused," Mr Grieve said.
"And for that reason, I do hope that the Government will focus on this issue because the change which is being introduced ... can convey an impression that the Government will come in and try to load the dice and that must be avoided."
Eurosceptic Conservative Peter Bone said the Government could "use the apparatus of state to push a case rather than letting the two sides have equal and fair access".
Owen Paterson, another former Tory Cabinet minister, said letting European authorities campaign would be "unacceptable" and could result in a disputed result.
"If they have a sense that this was rigged, the result will not be legitimate," he warned.
But Mr Hammond the ban would be "unworkable" given the UK's daily relations with the EU, and "inappropriate" since the vote was the centre-piece of the Tory manifesto that helped secure a Commons majority.
He added the Government was "not proposing to spend large sums of public money during the purdah period".
The Bill, which is expected to pass comfortably at second reading, its first legislative hurdle in Parliament, could face trouble in the House of Lords where the Tories do not have a majority.
Lib Dem leader in the upper chamber, Lord Wallace of Tankerness, warned the Tories not to get resist giving 16- and 17-year-olds the vote.
He told the Times: "It's a matter for the Conservative party to say: really, is it worth getting our heels dug in for this? The clock is ticking."
And at least 50 Tory MPs have signed up to the newly-formed Conservatives for Britain group, dubbed the "awkward squad", that is poised campaign for a "Brexit".
The EU referendum – the first of its kind since 1975 - will follow David Cameron's negotiation to repatriate powers over areas that could include immigration, welfare and national sovereignty.
The Government has refused to publicly detail what would represent a sufficiently good deal with the EU, leading to MPs in the Commons today to question how "substantial" the repatriation will be.
Yesterday, pro-reform think-tank Open Europe – whose former director, Mats Persson, has moved to Downing Street to advise Cameron on EU renegotiations - released its own 11-point plan for reform.
It includes banning EU migrants from from claiming in-work benefits for four years and ensuring non-eurozone countries cannot be outvoted in the EU's single market by eurozone countries, both which are thought to be on the Prime Minister's "unofficial shopping list".
But Open Europe goes further and calls for a return of national vetoes on matters relating to justice and home affairs