A war of words in the media over a controversial Sunday Times article condemning Edward Snowden's leaks has escalated after a key backer of the former US security contractor called the leading Fleet Street title "subservient stenographers to the government".
The Sunday broadsheet claimed that Britain's intelligence services had had to pull people out of Russia because the Snowden leaks had compromised their position and that Russian and Chinese spies had obtained top-secret information from the documents.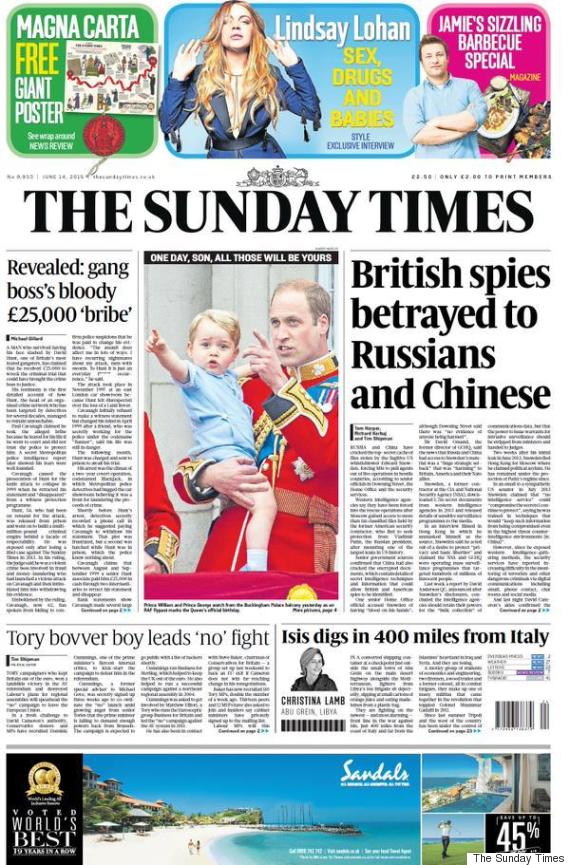 The Sunday Times yesterday
But Glenn Greenwald, the campaigning journalist who worked with Snowden to help him blow the whistle on American and British surveillance of their own citizens, attacked the Sunday Times, saying the article was "the kind of reporting that has single-handedly destroyed the credibility of journalism around the world".
On Monday, the bombastic journalist and commentator told Radio 4's Today programme it was "not journalism, it's acting as subservient stenographers to the government" and attacked the "unnamed cowards" from the British security services who were cited anonymously making the claims in the story.
Greenwald denied that Snowden, who sought asylum in Russia, took anything with him that Russian authorities could obtain and decrypt.
He pointed out that The Sunday Times had deleted a line from the online version of its story that said his partner David Miranda had travelled to Russia and met Snowden when he was detained by police at Heathrow Airport carrying encrypted information.
Greenwald had previously said the article was "filled of falsehoods" in a piece he wrote for his investigative journalism site, The Intercept.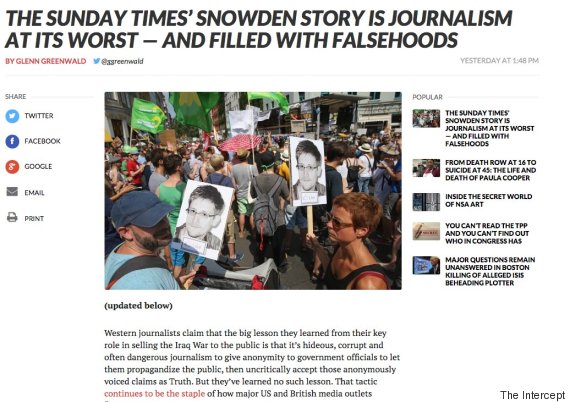 The Intercept's story
A Sunday Times spokesman said the paper stood by its story: "This story was responsible journalism and another example of The Sunday Times setting the news agenda.
"We reported what various reliable and well informed sources from within the government told us. We fully stand by our story, as did the BBC which also had it confirmed by government sources in its reporting yesterday."
The Sunday Times' legal department appears to have written a letter to the Intercept demanding they take down a picture of the paper's front page that it had published to illustrate the story it was criticising.
Greenwald responded:
No, @TheSundayTimes, we are not going to remove the image of your humiliating headline from our story about it https://t.co/55sCL5irnT

— Glenn Greenwald (@ggreenwald) June 15, 2015
The BBC's security correspondent Gordon Corera followed up the story on Sunday and said moving operatives around as a precaution had actually been the norm for a long time.
No one confirming 2 me that Rus/Ch have decrypted files.But UK has long worked under assumption that may have and moved agents as precaution

— Gordon Corera (@gordoncorera) June 14, 2015
The Guardian, which first published Snowden's revelations, also hit out on Monday, publishing a story that carried disapproving quotes from Tory backbenchers David Davis and Andrew Mitchell.
The article questioned the timing of The Sunday Times story, which came soon after the release of a key report by David Anderson QC on government snooping that said there should be more judicial oversight of surveillance, adding that there was not currently a case for expanding spying powers.
Mitchell told The Guardian: "I think we have to be very careful of the argument 'listen sonny, we know what you don't know and therefore you should do what we say'.
"That is not a good argument; we need to have a proper debate about all of this."
He added he did not approve of what Snowden did but added there had been "a massive change of view about the debate and that has resulted from Snowden, whether you like it or not".
Davis, one of parliament's foremost privacy campaigners, said: "You can see they have been made nervous by Anderson. We have not been given any facts, just assertions."
Shami Chakrabarti, director of Liberty, wrote in The Guardian that Snowden was "a hero" and said the government had "used scare tactics to shut down the debate" on surveillance.
Guardian journalist Ewan MacAskill, who first reported the Snowden revelations, wrote that the Sunday Times article left five unanswered questions for the UK government.
These included why the claims emerged now, where is the evidence is that Russia and China had gained access to Snowden's leaked documents and why the White House and US intelligence agencies have not also made this claim.
He wrote: "Anonymous sources are an unavoidable part of reporting, but neither Downing Street nor the Home Office should be allowed to hide behind anonymity in this case."
SEE ALSO: Snowden 'Vindicated' After US Senate Curtails NSA Surveillance

British Comedian Gives Snowden His Most Uncomfortable Interview Yet

Edward Snowden's Girlfriend Lindsay Mills At The Academy Awards To Collect 'CitzenFour' Gong