NEW YORK -- Edward Snowden said on Tuesday it was worth becoming an "international fugitive" when set against the public benefits of disclosing spying by governments around the world.
Speaking by video live-link from Moscow to an event in London organised by Amnesty International, the whistleblower, who released thousands of documents to the media in 2013, said progress had been made in the past two years, noting how countries get a "different quality of government when they are accountable to the public."
He was right. Later on Tuesday, the US Senate passed the USA Freedom Act, a bill ending the bulk collection of phone records by the NSA, representing the biggest reform of US surveillance in nearly 40 years, a repudiation of America's controversial post-9/11 security policy, and, to his supporters, an immutable vindication for Snowden's actions. The bill requires data to remain with the phone companies and not in the hands of the NSA.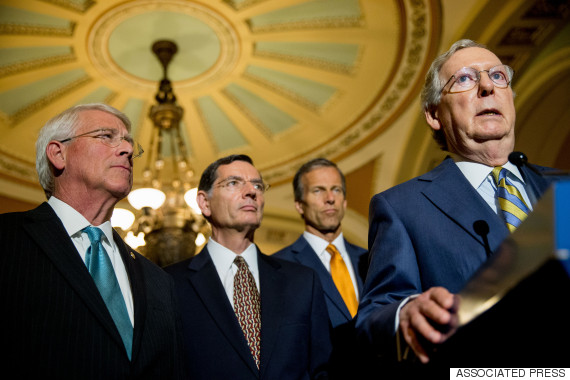 Senate Majority Leader Mitch McConnell, right, accompanied by, from left, Sen. Roger Wicker, Sen. John Barrasso, and Sen. John Thune, on Capitol Hill in Washington, Tuesday, June 2, 2015
The passage of the bill followed the expiration of the Patriot Act, which ended without replacement on Monday following efforts by Senator Rand Paul of Kentucky, a 2016 presidential candidate, to block its extension. Yet the new bill did not pass without rebuke. Senator Mitch McConnell, also of Kentucky and the majority leader in the Senate, decried the new law as removing "one more tool away from those who defend our country every day."
Despite McConnell's intervention, Senators voted to pass the bill, a move applauded by President Barack Obama, who said the legislation would "strengthen civil liberty safeguards and provide greater public confidence in these programs."
Glad the Senate finally passed the USA Freedom Act. It protects civil liberties and our national security. I'll sign it as soon as I get it.

— President Obama (@POTUS) June 2, 2015
Earlier in London, former NSA worker Snowden remarked on how his experience had been "incredibly rewarding" even though he could "no longer see" his family or live in his home. "I can no longer work with colleagues I respect, the things I've received personally, and we've all benefited from publicly, make it all worth it," he said.
Though admitting he'd "burned his life to the ground" and become an "fugitive," Snowden noted that since his revelations, newspapers across the globe had published countless stories documenting government abuses.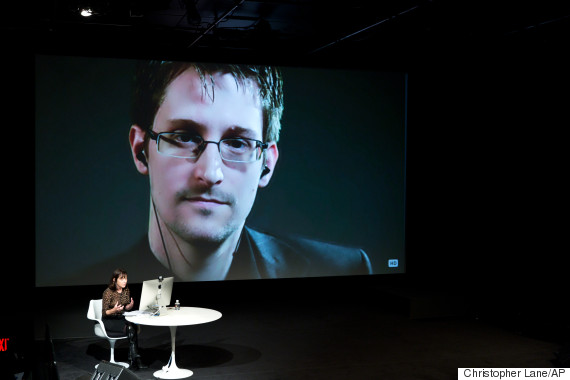 Edward Snowden talks with Jane Mayer via satellite at the 15th Annual New Yorker Festival on Saturday, Oct. 11, 2014 in New York
Yet unlike in the US, Snowden said the UK Government was trying to reform the laws in a negative way by not "preserving civil liberties" but by "trying to limit" them.
On the question of efficacy, Snowden asked: "Do we really want the Government watching everybody all the time?" adding that despite surveillance, the Boston Marathon bombing still occurred. "That's because we can collect everything and understand nothing," he said. "We are spending resources for no benefit in terms of public safety, and a real cost in terms of freedom and liberty."
After passing on documents to the Guardian Newspaper in Hong Kong exposing the mass surveillance programmes of the NSA and GCHQ, Snowden fled to Russia, where he remains wanted by US authorities.
SEE ALSO: