A state–run newspaper in Beijing published an editorial on Tuesday calling war between China and the US "inevitable" if Washington doesn't stop its protests over Chinese military actions in the South China Sea.
Reported by The Telegraph, the document on military strategy, published in The Global Times, said China's military is to switch to an offensive posture in the face of "grave and complex" security threats in the region.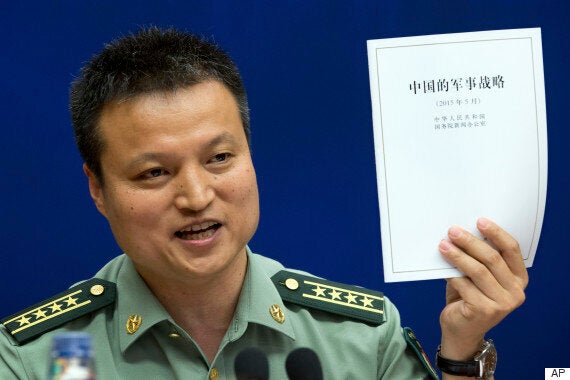 China's Defense Ministry spokesman Yang Yujun holds up a report on China's Military Strategy during a press conference at the State Council Information Office in Beijing, China
In addition, the 25-page report said the navy would be adding "open seas protection" to traditional remit of "offshore waters defense," while boosting its ability to counterattack and conduct joint operations at sea. The air force, meanwhile, will "endeavor to shift its focus from territorial air defense to both defense and offense," said the document, which was issued later on Tuesday in English and Chinese at a rare news conference presided over by uniformed officers.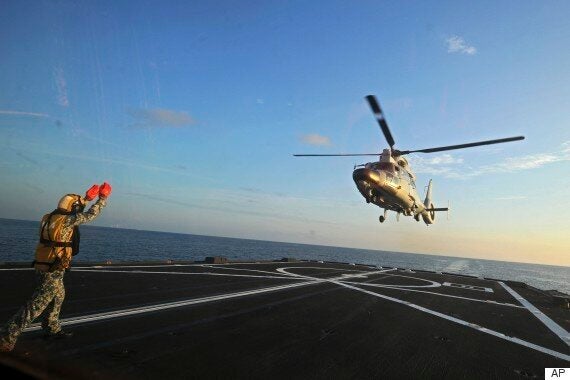 A Dolphin Z-9 helicopter of China's Navy missile frigate CNS Yulin flies off the deck of Singapore's Navy missile frigate RSS Intrepid during exercises by Singapore and Chinese navies in the South China Sea
China has bristled at what it sees as US interference in the region and says it is within its sovereign rights in developing islands made from sand piled on top of reefs and atolls. The US and many of China's neighbours see the island-building as an upending of the status quo by China to bolster its claims to the region and possibly pave the way for military installations far from its shores.
In regards the Spratly Islands, US officials say China has created about 800 hectares (2,000 acres) of dry land since 2014 that could be used as airstrips. The US argues that man-made constructions cannot be used to claim sovereignty and is closely watching for signs that China will seek to back up its claims by basing missile systems and fighter aircraft on the newly formed islands.
Below is a series of pictures from earlier this year detailing Chinese building in the South China Sea: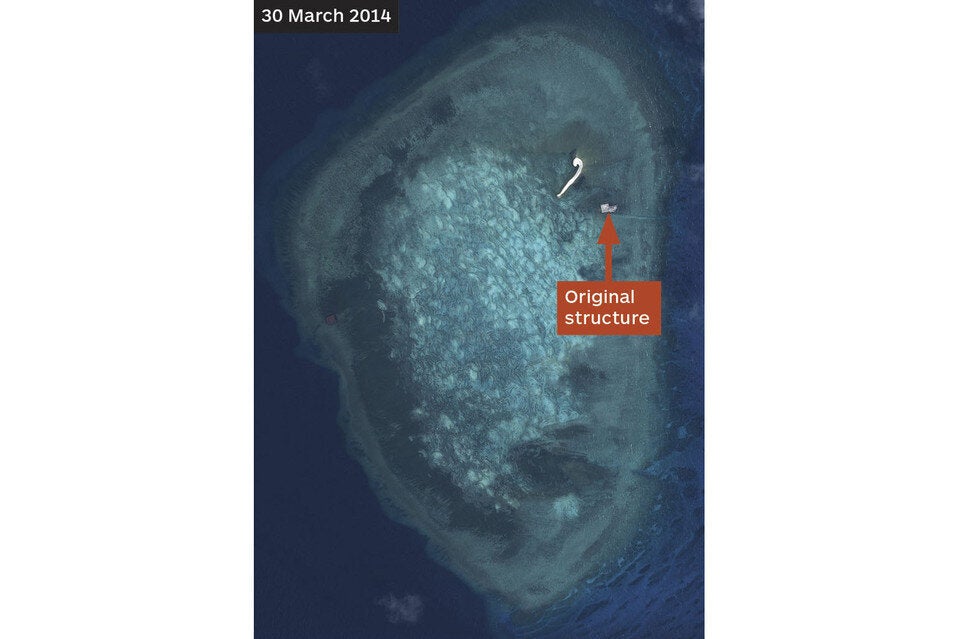 China Sea Fort
Related