There is a growing battle between new digital brands and "old stalwarts" to win the attention of online news audiences, the Reuters Institute Digital News Report 2015 claimed, while the proportion of people in the UK watching scheduled TV news bulletins and programmes has dropped from 69% to 62% in just two years.
Among people aged under 45, the drop in those viewing TV bulletins is more extreme: from 56% to 46% since 2013.
The report found that the internet and TV are the most common way to access news around the world, while reading printed newspapers has declined significantly.
Meanwhile, social media is rocketing as a news source: "We see an intensifying battle for global audiences online involving new players like The Huffington Post and Buzzfeed, expanding global newspapers like the Guardian and New York Times and old stalwarts including the BBC and CNN," the report said.
The Huffington Post is the second most-used news brand around the world with (10%) of people using it, while the BBC and MSN come joint third, with 8% of people using them for online news every week.
The Huffington Post has also become the third most-used digital news source in the UK, equal with The Guardian.
In the UK, almost half of people (48%) used the BBC for online news, followed by The Daily Mail (14%) while HuffPost and The Guardian were both used regularly by 12% of people.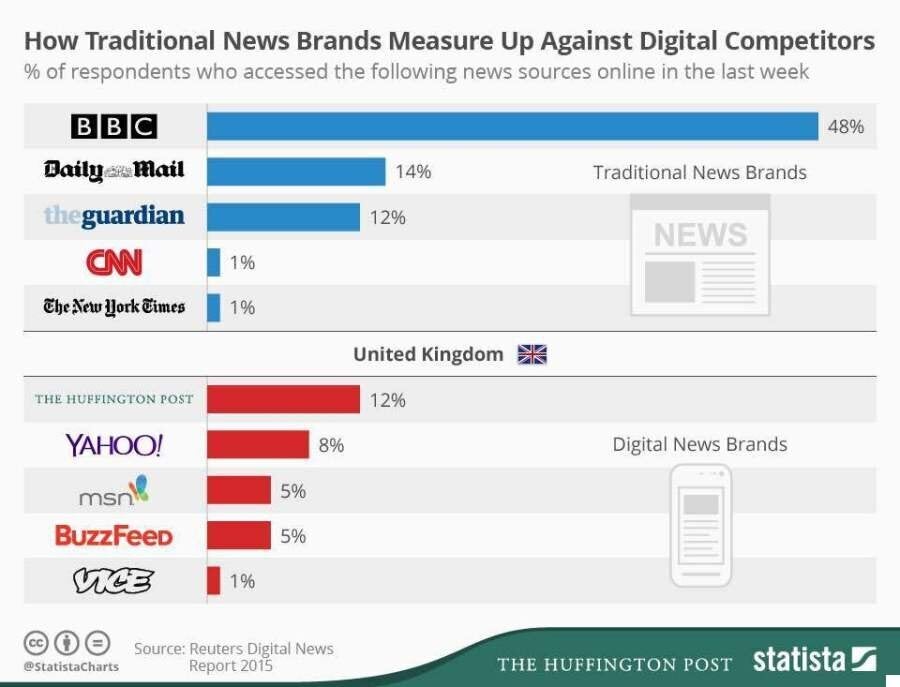 Yahoo is the most used brand for online news globally, mainly thanks to its dominance in Japan. Over half (52%) of the Japanese people surveyed said they had read news through Yahoo in the last week.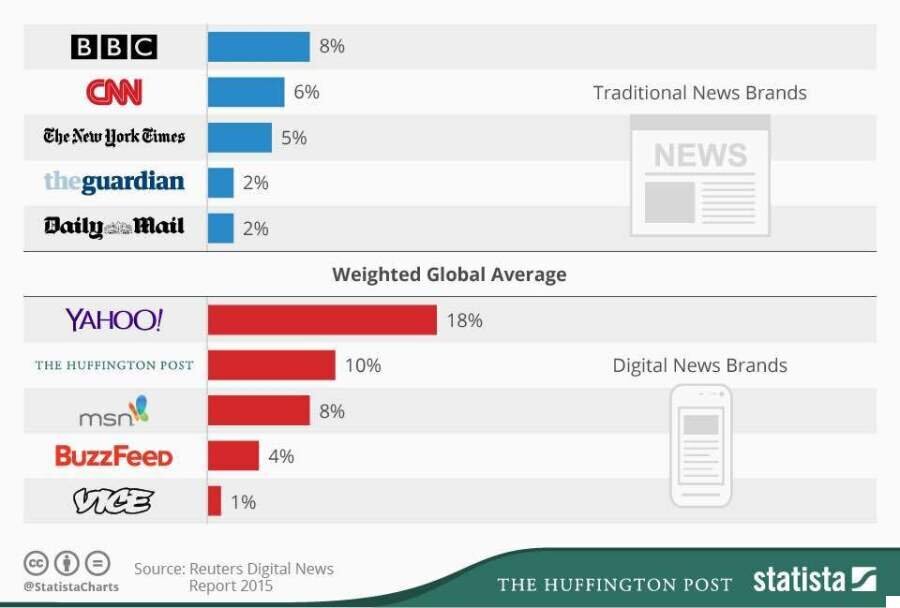 Although it is the top news brand globally, Yahoo is losing huge numbers of readers, as are other "old" online brands like MSN, which base their news offering around web portals and email. These original web brands are under threat from more recently-launched, nimble digital news organisiations which are well-adapted to social media and smartphones, the report said.
"Yahoo News, for example, has lost almost a third of its US reach in the last two years," it said. "By contrast, the Huffington Post is one of the most accessed sites in the United States and now also operates in 14 countries around the world.
"Buzzfeed has doubled its reach in the US and UK over the last year and has established a strong foothold in a number of countries amongst the young. Vice is also making its mark with online video content that speaks to a younger generation."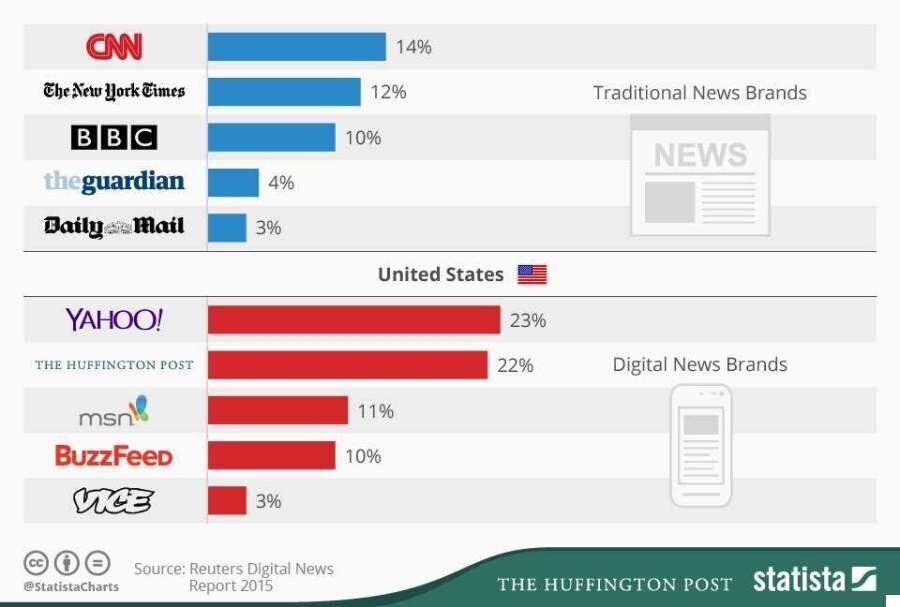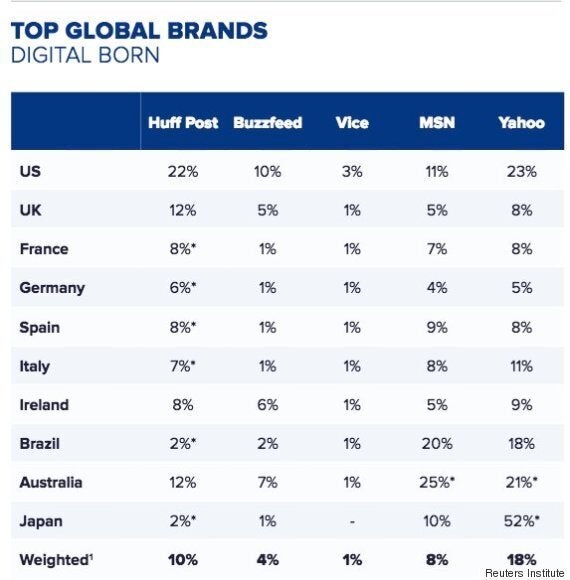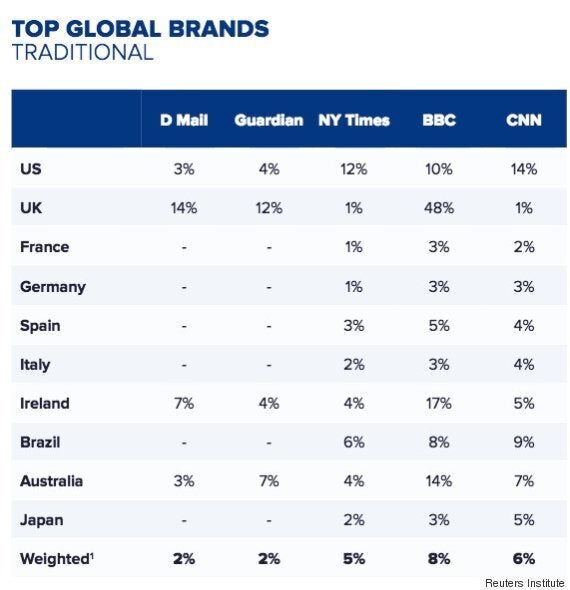 The increasing numbers of people owning smartphone means that most news is now consumed on the move.
A quarter of people surveyed globally in the study (25%) now say the smartphone is their main device for accessing digital news – up from 20% last year. That figure rises to two-fifths (41%) of those aged under 35. The BBC revealed earlier in 2015 that 65% of traffic is now generated by smartphones and tablets.
The BBC is the most-used news app in the UK, and dominates the market dramatically. Over half of people (51%) who use their smartphones to get news regularly use the BBC News app, whereas the top app in the US, Fox News, is used regularly by only 14% of people who consume news on their smartphones.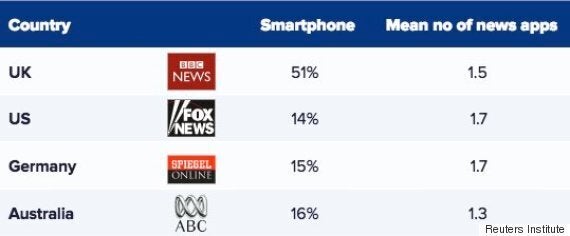 But the numbers of people watching TV bulletins in the UK has declined, although it's still the most popular way to access news. This is mirrored in the United States, where less than a third (31%) of under 45s now watch a scheduled TV bulletin compared with 42% in 2013.
By contrast, more than a third (36%) of Brits said they had used social media to reach news in the last week, a jump from 20% in 2013 and just 18% in 2012.

In many major markets - in the US, Ireland, Brazil, Italy, France, Spain, and Australia - social media is now considered more important than news from printed media.
France, Germany, and Japan have the strongest allegiance to traditional media, which the report explains by saying "they have been slower to adopt new digital trends such as smartphones and social media."
The split between age groups is stark: young people overwhelmingly prefer digital media while older people are loyal to traditional forms. So, the report says, "Young Germans or Japanese are likely to have more in common with young Americans or Finns in preferring online news and social media to TV news, radio, or print."

The report continued: "The reality is that most people over 45 are using digital news as an additional layer of choice and convenience without abandoning their core habits around television, radio, and print. Younger audiences who have grown up with digital are exhibiting very different behaviours and increasingly expect the news to come to them through online channels and in new formats."
But when asked what news sources they had used in the last week, the most popular choice for Brits was still TV. Although it is in decline, TV is also by far the most trusted news source.
TV was rated most highly for news accuracy by those surveyed. Only 12% of those who use social media for news say that medium is best for accuracy, compared with 37% for TV.
The report concludes: "Social media are not seen as a destination for accurate and reliable journalism but more as a way of getting access to it."
Only 51% of people in the UK trust the media generally.


As smartphones are released with bigger screens, meaning that people can watch video news in a more attractive way, the growth of tablets as a means to access news is falling - though the UK is an exception to this finding.
People are also using more and more devices to access news, wherever they are. In the UK, 44% use two or more devices to access news on a weekly basis.
Continuing the trend over the last few years, Facebook and Twitter are the most important networks for news referrals and engagement: but they are used very differently.
On Facebook, consuming news is a secondary activity as the main aim for users is to connect with their friends, while Twitter is far more news-driven with an audience "that is deeply interested in latest developments," the report says.
Japan is the only country where Facebook is not the largest social network for news: the Japanese prefer their own social network, Line. Japan bucks the trend for media use in many ways: sales of printed newspapers have fallen in most countries, but are falling far more slowly in Japan where 56% of people said they have a home-delivered newspaper subscription (compared to the UK where only 43% of people read printed newspapers at all.)
Other countries have different social media preferences for news: Viber has a significant reach in Ireland and Australia, Finland has a popular chat network Suomi24, and France is the home of Daily Motion, a popular video network that was widely used during the Charlie Hebdo shootings in early 2015.
Young people 18-25 are increasingly using Snapchat and Instagram to access news. WhatsApp is also used by publishers in some countries - though hardly at all in the US.
To keep up with political news on social media, around a fifth of social media users follow a politician or political party in Australia (17%), Italy (20%) and the UK (23%) with more than a quarter (28%) doing so in the United States.
The UK had one of the lowest rates of people who pay for online news - just 6% said they had paid for any kind of online news in the last year - and 75% said they wouldn't pay for a subscription to a digital-only news service, whatever the price.
Related