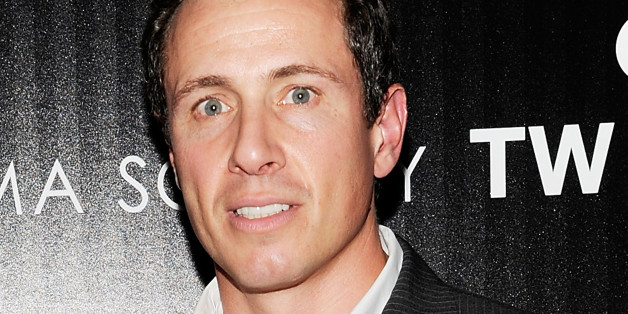 ASSOCIATED PRESS
A CNN news anchor has suggested in a bizarre tweet that the Charleston shooting suspect, Dylann Storm Roof, could be a 'non-white' person "in disguise".
In a since deleted post on Twitter, the American daytime news host Chris Cuomo said it was possible that Roof, confirmed by police to be a 21-year-old caucasian male, could, in fact, not be white.
Cuomo's message to his 1.1 million followers read: "Could #CharlestonShooting murderer be in disguise? Could he not be white? Possibly. But we report what authorities say unless know otherwise."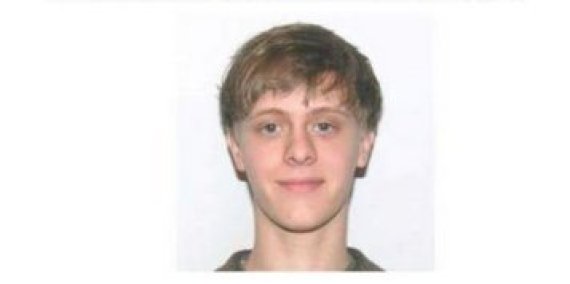 Roof, above, Cuomo's tweet, below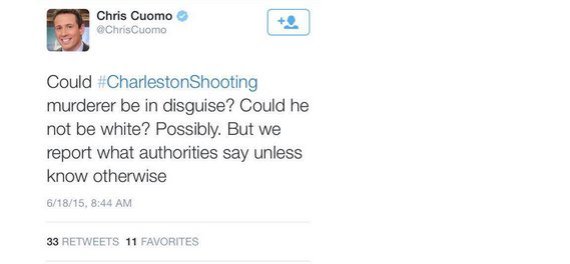 A barrage of criticism was soon leveled at Cuomo by many angry at his intervention.
@ChrisCuomo I've seriously lost all respect for you after that "could he not be white" tweet. How dare you. How dare you.

— Lurkin (@jerellj18) June 18, 2015
.@ChrisCuomo deleted that nonsense tweet. To think this man reads the news you know, smh.

— Chux³ (@ChuxOnye) June 18, 2015
Damn with a tweet like that, I half expected to see @ChrisCuomo worked at Fox News

— Weather Moose (@WXMoose) June 18, 2015
Whoa I just saw that deleted Chris Cuomo tweet. What the fuck dude.

— Just A Common Man (@bradcandoit) June 18, 2015
@SyntheaHairston @jamieraegomes @ChrisCuomo he's a CNN anchor & he feels obligated to share racist dipshit conspiracy theories? Is CNN RT?

— Andreas (@AndreasLeKirk) June 18, 2015
The news anchor defended his actions, saying he removed the post as it was "distracting", and his point was to show why the Charleston shooting was "a hate crime".
In a post from his Facebook page, Cuomo said on Friday that he had only been "asking what was being asked simply to knock down the possibility".
"That," he said, "should be clear".
An investigation to find Roof, a suspect in the shooting that killed nine, is underway in the US.
SEE MORE: