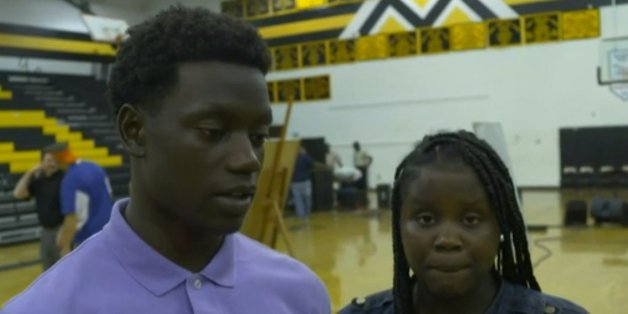 BBC
The teenage son of a woman killed in the Charleston shooting has said that he has forgiven his mother's killer, less than 48 hours after her death.
Chris Singleton, whose mother Sharonda was shot dead by Dylann Storm Roof, said that his overwhelming feeling following the mass murder was of love.
He told the BBC's Rajini Vaidyanathan: "We already forgive him for what he's done and there's nothing but love from our side of the family."
His sister, Camryn, added: "I just feel a lot of love - a little bitter but I'm overwhelmed with love."
Speaking at an event yesterday evening, Chris Singleton also spoke of the role that his faith had in dealing with his mother's death:
His comments saw a wave of support and admiration on Twitter…
This man lost his mother last night in #CharlestonShooting. Unbelievable poise and strength shown by Chris Singleton. pic.twitter.com/9m9Bv5Sm9o

— Daren Stoltzfus (@DarenStoltzfus) June 19, 2015
He lost his mother in the #CharelstonShooting yet Chris Singleton displays unbelievable strength, love and peace. 🙏😢 pic.twitter.com/YPb5YS25vn

— Dean Simcock (@deanfluence) June 19, 2015
Chris Singleton lost his mother last night in #CharlestionShooting. His words brought tears to my eyes. Amazing pic.twitter.com/ulYQGJoMnu

— Mike Welch (@RealMikeWelch) June 19, 2015
Holy Smokes, the maturity that Chris Singleton is showing in this interview at Charleston Southern right now is absolutely incredible.

— Scott Eisberg (@SEisbergWCIV) June 19, 2015
Chris Singleton is all that is good in the world.

— Tweetheart (@Stunnaguuy) June 19, 2015
Blown away by what Chris Singleton just did. Zero malice, no anger. Just love and peace. Somehow. #CharlestonShooting pic.twitter.com/b2H31dyI5N

— Daren Stoltzfus (@DarenStoltzfus) June 19, 2015
The world needs more people like Chris and Camryn singleton #loveisstrongerthanhate

— viewfromygarden (@viewfromygarden) June 19, 2015
Chris Singleton is such a strong human being. I can't even begin to understand what he's feeling. #CharlestonShooting

— mara (@thirlybennett) June 19, 2015
Roof is now in custody after he was apprehended some 250 miles away from the scene in Shelby, North Carolina.
Reactions to the shooting, which took place at a historic African-American church, have ranged from the response of the Singleton family to calls for black people to arm themselves over fears for their safety.
Tweets using the hashtag #WeWillShootBack began to emerge, calling for black people to register for gun ownership.
Twitter user @SankofaBrown, who appeared to have started the hashtag, tweeted:
#WeWillShootBack and #BlackLivesMatter go hand in hand. Our lives matter and we should be able to defend them.

— #WeWillShootBack (@SankofaBrown) June 19, 2015
The next phase for #WeWillShootBack is a national gun registry day for Black people. Contact me if want to help http://t.co/qeRZWNzyo6

— #WeWillShootBack (@SankofaBrown) June 19, 2015
He also stressed the importance of education as well as carrying a gun:
While you pick up guns, make sure you pick up books as well. #WeWillShootBack

— #WeWillShootBack (@SankofaBrown) June 19, 2015
It's important to be a responsible gun owner. We must provide training and knowledge to our people. #WeWillShootBack

— #WeWillShootBack (@SankofaBrown) June 19, 2015
Others tweeted in support of the movement:
If Racist can own&carry a gun,it's necessary 4every black person to own 1 for selfdefense #WeWillShootBack #CharelstonShooting #Confederate

— Tesfay (@hope_tesfa) June 19, 2015
#WeWillShootBack got white people terrified. I guess they don't realize "back" mean you shot first. Don't start no shit, won't be no shit.

— Zee (@zamontae_) June 19, 2015
Tired of being told to ignore racism while my fellow black people are being killed #WeWillShootBack

— Colombiana (@No_Scrubs_301) June 19, 2015
#WeWillShootBack because Black lives are worth protecting.

— #WeWillShootBack (@SankofaBrown) June 19, 2015
We wouldn't have to shoot back if we weren't being shot at first. Self-defense is a human right #WeWillShootBack

— #WeWillShootBack (@SankofaBrown) June 19, 2015
SEE ALSO: