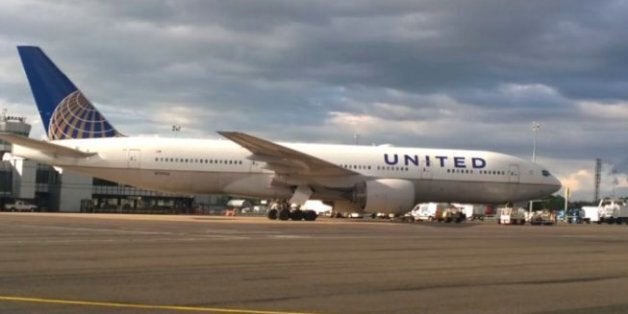 A plane traveling from Rome to Chicago was forced to divert to Belfast because a passenger got angry over nuts and crackers, a court has heard.
United Airlines flight UAL971 was forced to land at Belfast International Airport on Saturday, dumping over 50,000 litres of fuel before it touched down.
An American citizen, Jeremiah Mathias Thede, 42, appeared before magistrates on Monday, charged with endangering the safety of the plane.
PC William Robinson claimed that 15 minutes into the flight, Thede had got to his feet while the seatbelt sign was still switched on.
Cabin crew members pleaded with the man to return to his seat, but he refused to do so until he was given a packet of nuts or crackers, the Coleraine court was told.
After 10 minutes, Thede got up again and demanded more. When his request was declined he became threatening and abusive, the constable said.
Allegations were made that the Californian man blocked aisles, squared up to cabin crew, kept going to the toilet, removed bags from overhead lockers and acted in a way that caused some of the 282 passengers on board to feel threatened.
Mr Robinson said the captain decided to divert the flight and land at Belfast International Airport as the Boeing B777 was nearing the Atlantic Ocean and Thede's behaviour was becoming "erratic".
Travellers were delayed almost 24 hours and were forced to sleep in the terminal because of Thede's alleged actions.
United Airlines estimates that compensation costs could hit £350,000.