LGBT people in rural areas are often the target of hate crime on a daily basis - but many are unwilling to report it, a new study has revealed.
Incidents including graffiti left on houses, verbal abuse and even physical assault are commonplace among many members of the LGBT community living in the countryside, according to the study by the University of Leicester's Centre for Hate Studies.
However, researcher Stevie-Jade Hardy said that LGBT people were often reluctant to report such crimes because of fears they would not be taken seriously or that they would be "outed". She said that this resulted in about 35,000 unreported crimes.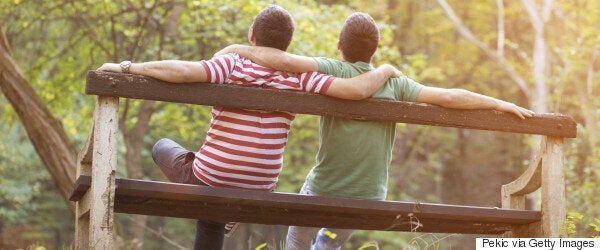 LGBT people in rural areas have experienced hate crimes on a daily basis, the report showed
Harassment and abuse was worse in rural areas, the study found, with the small nature of communities particularly seeing LGBT people if they were "noticeably different".
Hardy said: "Within rural locations those differences are maybe magnified, and so young people will often target someone who they see as being different in that context. People are actually scared to go out into their garden to enjoy the sun; some people had taken some practical steps like having CCTV put into their house.
"It can be really damaging, particularly in the rural locations it tended to be older LGBT people as well. And so there isn't often that community or that group you can go to to access support. That was a big issue, just feeling lonely and isolated and that there is nowhere to turn."
A shocking 88% of those interviewed as part of the research reported feeling victimised.
The study listed possible reasons for reluctance to report hate crime against LGBT people as "normalisation" of such abuse, issues with police including previous negative experience and concerns about wasting time.
The news coincides with a new campaign by the Equality and Human Rights Commission (EHRC) to encourage people to report abuse, entitled Recognise It, Report It.
She said: "It is a tragedy that there is still a backdrop of intolerance and abuse which stays largely unreported and hidden from society.
"We are a country with proud traditions of tolerance and respect but we must not let important progress in areas such as same-sex marriage mask the acute and continuing challenges that still remain.
"Researchers in today's report were told of victims fear of not being taken seriously, how they were scared of being 'outed' and suspicion and distrust of the authorities.
"We must all redouble our efforts, and work together to give LGB and T communities a stronger voice and put an end to the hatred that is a blight on modern society."
Equalities Minister Nicky Morgan said: "The EHRC has my full support in its campaign to encourage LGB&T people to report hate crimes to the relevant authorities, and they deserve to know that when they report these abhorrent crimes they will be taken seriously and dealt with fairly."