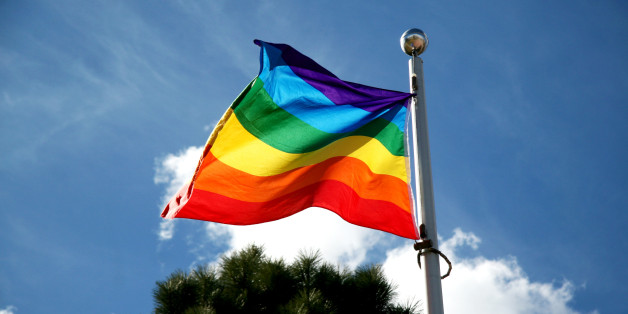 Thompson Rivers/Flickr
Two top Tory ministers clashed on Monday over whether to fly the LGBT 'Pride' flag from government buildings.
Days after Foreign Secretary Philip Hammond ordered his office and British embassies overseas not to display the rainbow flag in the week leading up to London Pride, he was defied by a cabinet colleague.
Senior Conservative minister Matthew Hancock rebuked the diktat, posting a picture of the symbolic LGBT flag flying proudly from his department's masthead.
Newly appointed to the Cabinet Office brief, Hancock tweeted:
Proud to be flying the rainbow flag for Pride over the Cabinet Office today pic.twitter.com/Hno8UMjE4M

— Matt Hancock (@MattHancockMP) June 22, 2015
His tweet in light of Hammond's recent orders was swiftly picked up on by two Labour MPs, quick to remind people of the Foreign Secretary's abstention.
Chris Bryant, MP for the Rhondda, and Wes Streeting, who represents Ilford North, both picked up on the decision.
Bryant responded to Hancock, asking: "So why has Hammond forbidden embassies from doing so?"
Minutes later he was joined in force by Streeting, who probed: "So why aren't our embassies doing the same?"
.@MattHancockMP So why aren't our embassies doing the same @PHammondMP?

— Wes Streeting MP (@wesstreeting) June 22, 2015
The debate surrounding whether government buildings should fly the rainbow flag erupted last week, when Philip Hammond u-turned on a regular Foreign Office tradition, saying it should not replace the Union flag on special occasions.
When asked why they had stopped flying the LGBT flag, the Foreign Office gave a statement saying: "It is the FCO's long-standing policy to fly the Union flag, national flags and the flags of Overseas Territories.
"The Union flag always takes priority and is flown from the FCO's main flag pole at all times. It is never substituted for another flag."
They admitted that exceptions to the blanket ban had been made in the past.
Story continues below slideshow...
Last year, when William Hague was foreign secretary, the Foreign Office posted to Facebook:
Hammond, who has three children with his wife Susan, opposed the gay marriage policy in 2012, saying it was "upsetting vast numbers of people".
READ MORE: