Thee filme, released on Tuesday, shows how close Nicholas Salvador came to claiming the lives of other neighbours, as children can be seen playing just metres from the "enraged" killer.
The 25-year-old has been locked up indefinitely in a psychiatric hospital after it was revealed that he believed he was killing "demons" when he ran amok, tearing down fences and kicking down neighbours' doors in Edmonton, north London, on the afternoon of September 4 last year, the Old Bailey heard.
Video footage taken from a police helicopter overhead showed 82-year-old cafe owner Palmira Silva, wearing a pinny, approaching the bare-chested Salvador over her garden wall.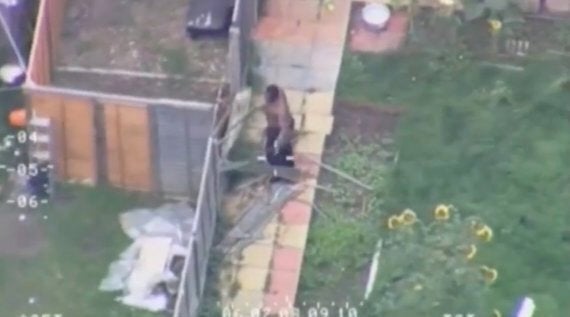 Nicholas Salvador can be seen breaking down wooden garden fences
After a brief exchange, the crazed killer vaulted into her well-tended flowerbed and stabbed her repeatedly before cutting her head off and holding it aloft, the court heard.
The final moments of Mrs Silva's life and the immediate aftermath were edited out of a harrowing 14-minute clip shown to the jury in front of members of the victim's family.
In footage that has been released, 6ft Salvador can be seen brandishing weapons and using his body weight to smash through wooden fences as he makes his way through people's back gardens, peering in through windows.
Speaking about that day, Inspector Doug Skinner, from the Metropolitan Police, said when he arrived on the scene, the officers in the helicopter said there were children just four or five gardens away from Salvador.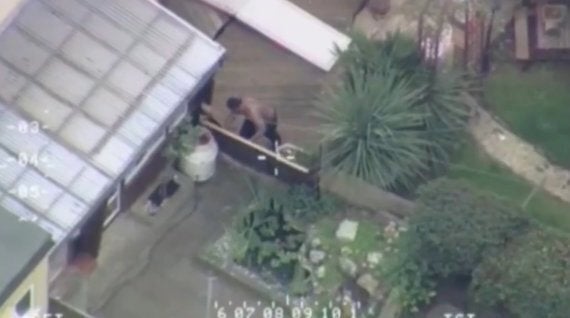 Salvador was brandishing a knife as he tore through gardens
He said: "So the first thing we have got to do is get hold of these people and make sure they are safe because I had no doubt then that because of what he had done he was going to kill more people. No doubt at all."
He continued: "I had to tell the team to start knocking on doors and if they didn't get any replies to start knocking the doors down and smash the windows but we needed to get the public away from the houses because we had no control over him at that time."
When he saw the shirtless man, Inspector Skinner said: "His eyes were absolutely wide. He wasn't speaking to me but I could see he was enraged and to be honest I was scared."
An officer climbed on to a flat roof to warn the youngsters of the danger before they were rescued from a front window.
Salvador was eventually cornered in the front room of a neighbour's house and tasered six times during a violent and chaotic struggle in which one police officer was injured.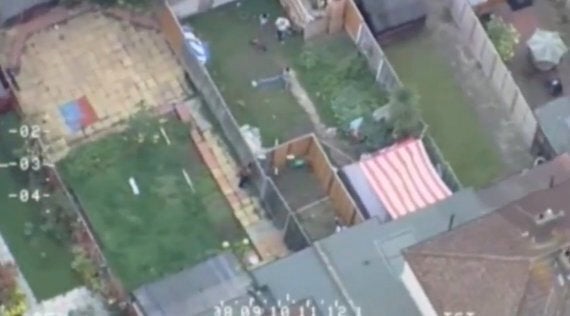 Salvador can be seen just metres from where children are playing in a back garden
Afterwards, he showed signs of mental illness, repeating phrases like "red is the colour" and "I am the king" over and over again.
Salvador had denied murder by reason of insanity and his trial heard that two psychiatrists agreed he was suffering from paranoid schizophrenia.
In his demented state, he believed Mrs Silva was a supernatural entity - either Adolf Hitler back from the dead or a demon that had taken the form of a little old lady, jurors were told.
Before the killing, Salvador, from Enfield, had become obsessed with the idea of shape shifters.
The skunk cannabis smoker had lost his job in billboard advertising three days before the killing over concern about his behaviour.
At the time of the killing he had been staying with friends three doors away from Mrs Silva in Nightingale Road.
After being charged with the Italian-born great-grandmother's murder, Salvador was remanded in custody at Belmarsh prison but, due to his mental state, he was moved to high-security Broadmoor Hospital.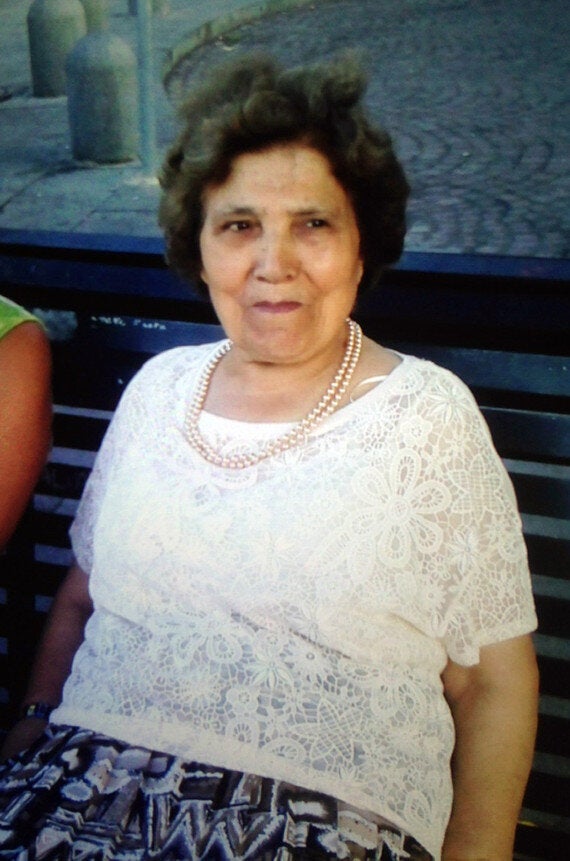 82-year-old cafe owner Palmira Silva was in the 'wrong place at the wrong time', the Old Bailey heard
In his closing speech, Jonathan Rees QC told jurors that there was no dispute that the correct verdict was not guilty by reason of insanity so Salvador could be treated and the public protected.
He said: "This was, was it not, a deeply upsetting and horrific incident. Mrs Silva was not targeted because of who she was. She just happened to be in the wrong place at the wrong time.
"But for the efforts of the police and a measure of luck other people were not seriously injured or worse. The defendant was a very sick man."
Bernard Richmond QC, for Salvador, said: "It is one of the bitter ironies of this case that Mrs Silva was probably the least evil person you could think of and it is noticeable that throughout this trial her family ... have conducted themselves with a quiet dignity which is a tribute to both themselves and Mrs Silva.
"It is plain also that when he is not unwell Mr Salvador is somebody regarded as a decent man.
"Mental illness in whatever circumstances can be terrifying for the person and one of the things we have to bear in mind that, after this case is finished, he will have to continue, as his mental state improves, coming to terms with the horror of what he did when he was unwell."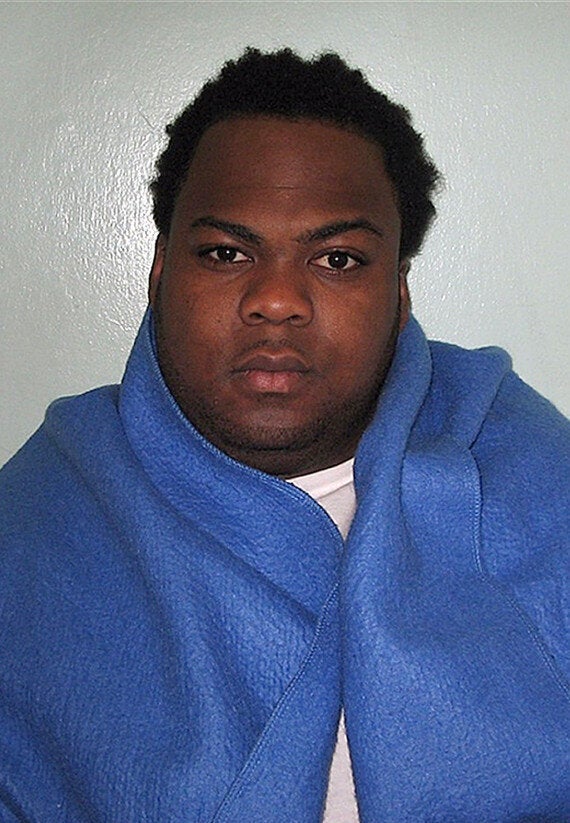 Nicholas Salvador will be receiving treatment at Broadmoor high-security hospital
On Tuesday, the jury took 40 minutes to return a verdict of not guilty by reason of insanity.
Mrs Silva's family wiped away tears and hugged each other as the Recorder of London Nicholas Hilliard QC handed Salvador a hospital order.
The judge said: "It is established beyond any doubt that you killed Mrs Silva in an attack of extraordinary brutality and ferocity.
"You thought you were encountering some demonic force which had taken on a human form. You could not have been more deluded.
"Nobody who saw it could forget the mild and trusting way Mrs Silva approached you over the wall while you were brandishing a knife."
He added: "This gentle, intelligent 82-year-old lady should have been able to live her life in peace and with security, proud in the achievements of others, but that was not to be."
Related