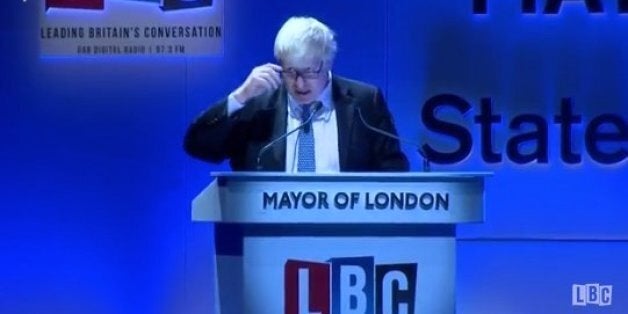 It was a moment which caused gasps in the audience and shock on social media: Did Boris Johnson really ask why a man in a wheelchair didn't stand up to quiz him?
The potential gaffe occurred during last night's State of London Debate at the Indigo hall in the O2 arena complex.
After a discussion on the whereabouts of the water canon Mr Johnson had bought from Germany, LBC host Nick Ferrari asked Nicholas from the Docklands to ask his question of the Mayor.
After a pause as a microphone is handed to Nicholas, Mr Johnson is then heard saying: "Why aren't you, why aren't you even standing? That's the question we all want to know."
Nicholas responded with: "Because I'm in a wheelchair."
Mr Johnson looked apologetic and replied: "Sorry".
Social media users piled in on the gaffe, with many comparing it US Vice President Joe Biden asking Missouri State Senator Chuck Graham to "stand up", despite him being in a wheelchair.
Nicholas himself took to Twitter to comment on the incident.
But a closer to Mr Johnson's exchange with Mr Ferrari show the Mayor may have been asking the radio host why he wasn't considering standing in next year's mayoral election.
The Mayor's official spokesman said: "The story isn't true. You need to watch what comes immediately before on the video. Clearly Boris is responding to what Nick Ferrari has just said, not to Nicholas in the audience.
"Ferrari is asked by Boris if he'd ban nuclear weapons. Ferrari replies 'I'm not the Mayor'.
"As Ferrari moves on Boris jokingly seizes on that - recent reports have suggested Ferrari wants to stand for Mayor - and Boris asks him: 'Why aren't you standing?'
"You can actually hear Ferrari say 'Never you mind.' Unfortunately and perhaps understandably Nicholas in the audience and some other members of the audience think Boris is addressing him, which he isn't, hence the subsequent confusion."
And to contrast, here is Vice President Biden definitely asking a wheelchair user to "stand up":