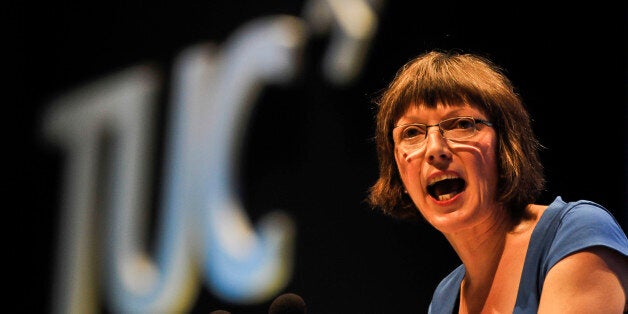 David Cameron is "playing with fire" as workers could vote to leave the European Union if he strips away employment rights as part of his renegotiation, Britain's trade union chief warned today.
In an exclusive interview with The Huffington Post UK, Frances O'Grady, the General Secretary of the TUC, spelled out her fears for Britain's workers if measures such as equal pay for agency workers are scrapped.
Ms O'Grady will today write to David Cameron to warn him about reducing Britain's relationship with Europe to that of a Common Market ahead of an in/out referendum before the end of 2017.
Speaking from her office in Congress House, Central London, Ms O'Grady warned against weakening the social chapter aspect of Britain's EU relationship.
She told The Huffington Post UK: "It would be very stupid because you are not going to win workers' votes by worsening their rights. Our polling shows very clearly more people would vote to stay in the EU if they believed it would improve their pay and conditions and rights at work. If this false choice on offer is heads we lose, tails we lose, then that isn't going to inspire people to put their cross in the 'yes' box to stay in.
"So it's playing with fire, it's a very dangerous game. It's dangerous on lots of different levels because from my perspective it's a threat to the very fabric of the deal on which Europe is based, which is, yes, we have a single market but we balance that with strong rights and protections and a voice for workers so that Europe is seen and felt to work for everybody."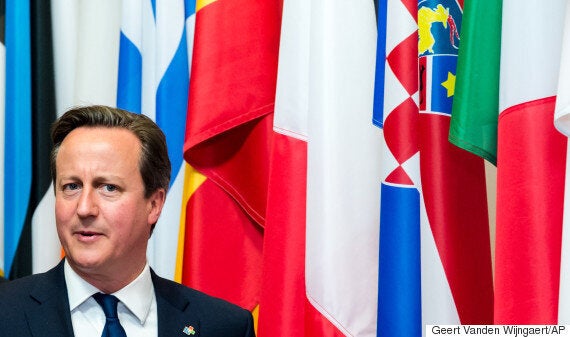 David Cameron is trying to renegotiate the UK's relationship with the EU
Ms O'Grady's stark warning comes after the GMB union wrote to all 27 EU states saying any successful negotiation to weaken employment rights could see members voting to leave the union.
She also spelt out fears that taking away rules that meant agency workers should receive equal pay could further depress wages and lead to increased tension between migrants and Brits.
Ms O'Grady said: "If you remove equal pay and treatment for agency workers, what does that mean in practice? We know that a lot of the noise in this debate is around migration. Some communities are worried that pay and conditions are being undercut by migrant workers. We also know migrant workers are much for likely to be employed under agency contracts in construction and manufacturing, food factories.
"We've been around, speaking to people we know the picture. If you make it easier for employers to undercut the rate for the job by stripping away that right to equal treatment for agency workers then that could unleash real resentment amongst workers and that will make it all the harder for those who believe in the principle of free movement to defend it.
"So it's frankly not a very intelligent move from those who want to stay in the EU, want freedom of movement. They have to understand that there has to be a bargain. In real life, the way most of is are brought up anyway, you don't always get everything you want, life is all about compromises and trade unions are about negotiating deals. If you say there is no deal, we're going to have it all our own way, then of course support will peel away."
Ms O'Grady attacked "mutterings" from "prime ministerial aides" which are suggesting the "dilution of the social chapter is going to be pulled like a rabbit from the hat one minute to midnight before the referendum."
She said: "It doesn't fill me with confidence that we [don't] even know the terms of renegotiation that the Prime Minister is pursuing and we have been calling for some time now for the Prime Minister to come clean and spell out what his renegotiation actually involves.
"But of course the TUC has its own networks and it's own sources of information on conversations being held around Europe and so we were alert very early to the risk of this being about workers rights."
The full letter to David Cameron from Frances O'Grady:
I know that you are receiving a great deal of advice about your EU renegotiating strategy ahead of the European Council this week. The TUC, too, wants to see reform in Europe, and a greater priority given to creating decent jobs at good wages, replacing austerity with the European Trade Union Confederation's sustainable investment plan.
We believe that working people deserve some straight answers on the nature of the renegotiation. We respectfully request that you publicly confirm or deny that you are seeking to worsen existing rights and, at a time when casual employment such as zero-hours working is spreading across Europe, prevent the introduction of new ones that would protect workers against exploitation.
Don't take working people for granted by demanding opt outs from the workplace rights that Europe has delivered. British workers are already some of the least protected workers in Europe, well behind more successful economies like Austria, Germany and Sweden. But British workers do value the protections that they have. Our polling evidence shows that if you take rights away, working people are less likely to vote to stay in the EU.
Far from being 'red tape' holding British business back, measures like the Working Time Directive and the Temporary Agency Workers Directive provide equal treatment and reduce the tensions and divisions in communities and workplaces affected by migration.
Such protections also help create a more modern economy, which is why calls for a moratorium on workplace rights are at best misplaced. People's rights at work need to keep evolving to meet new challenges and stay relevant to people's working lives.
If working people are presented with the prospect of staying in a European Union stripped of workplace rights, they may well vote to leave.