Tom Holland has been announced as the new 'Spider-Man'.
Who Is Tom Holland? 9 Facts In 90 Seconds On The Soon-To-Be-Huge Star
The young, relatively unknown British actor, who has appeared in the 'Billy Elliot' stage musical, will take over from fellow Brit Andrew Garfield in the role.
Marvel and Sony confirmed the 19-year-old will star in the new film, which is due to hit cinema screens in July 2017.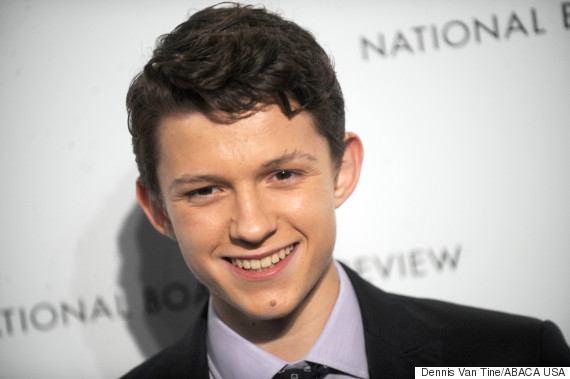 Tom Holland is the new 'Spider-Man'
In a statement, Marvel said: "The studios and producers were impressed by Holland's performances in The Impossible, Wolf Hall, and the upcoming In the Heart of the Sea, and by a series of complex screen tests.
"For Spidey himself, we saw many terrific young actors, but Tom's screen tests were special."
Ron Howard, who directed Tom in the forthcoming 'In The Heart Of The Sea', says the young star will bring 'heart and humour' to the role.
"Tom's young, incredibly agile and fit. He's also very accessible and very relatable," he told the BBC.
"He's one of us and has tremendous skills as an actor.
"His years as Billy Elliot have served him well. He does his own stunts, some really challenging ones.
"He's very down to earth, very hard working and has great sense of fun."
When asked about the pressure the new high-profile role would bring, Howard added: "Tom has a good sense of how the film industry works as a business. He'll handle that pressure very well.
"He's a great young talent and also has the attitude to maximise all of his potential and I'm very excited for him."
Before his starring role as Spidey, Tom is expected to make an appearance as the web-slinger in 'Captain America: Civil War'.
After learning that Tom will be Marvel's new Peter Parker, Twitter responded to the casting decision...
I like the idea of #SpiderMan being more kid like. So far we've seen him as a young adult trying to act like a kid and it just rubs wrong.

— MrAndarian (@MrAndarian) June 23, 2015
I'm done with Spider-Man. #Marvel lost one of the, in my opinion, best Peter Parkers when they let go of #AndrewGarfield

— Christian Van Slyke (@futbolismybride) June 23, 2015
.@TomHolland1996 So happy for you Tom, couldn't have gone to a nicer, more dedicated and passionate actor. https://t.co/sHkjmtXs0V

— Richard Armitage (@RCArmitage) June 23, 2015
At the rate that #SpiderMan is getting younger every film, Peter Parker will be a fetus by the time Avengers Infinity Wars is released.

— Josh Gad (@joshgad) June 23, 2015
im in the "i want a black widow movie not a sixth spiderman film" squad

— chia (@imyourlionheart) June 23, 2015
Every time #Marvel announces a #SpiderMan reboot… pic.twitter.com/kCsQzzCqUr

— Claire (@cappucinoclaire) June 23, 2015
I buy Tom Holland as Peter Parker. Spiderman? Not so sure..

— David Teasdale (@Davidwt87) June 23, 2015
☝🏻️We all support you @TomHolland1996 You'll be a SPECTACULAR Spiderman💥 #WeBelieveInHollandpic.twitter.com/UyFaPzrEH0

— Andrés Navy (@LokiStrikes) June 23, 2015
Still think @marvel blew it; we didn't need another Parker. Shoulda brought on Miles for the film. No offense to the gifted Tom Holland.

— Joe Hill (@joe_hill) June 23, 2015
In the UK today, there is a 35% chance that any boy born today will grow up to play Spider-Man.

— Peter Sagal (@petersagal) June 23, 2015
For a second I thought Tom Hollander had been cast as Spider-Man and got all excited. Come on, admit it, it'd be amazing. #tomholland

— Laurie Penny (@PennyRed) June 23, 2015
Marvel and Sony also announced that Jon Watts will direct the next "Spider-Man" film, scheduled for release in 2017.
LIKE US ON FACEBOOK | FOLLOW US ON TWITTER