A man has been decapitated at a factory in the French town of Saint-Quentin-Fallavier between Lyon and Grenoble, according to reports.
Explosions were also heard at the site, which police said were triggered when attackers deliberately crashed a car into gas canisters.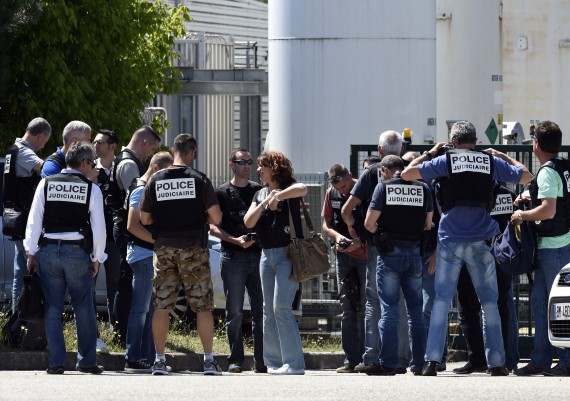 Police attending the scene of the attack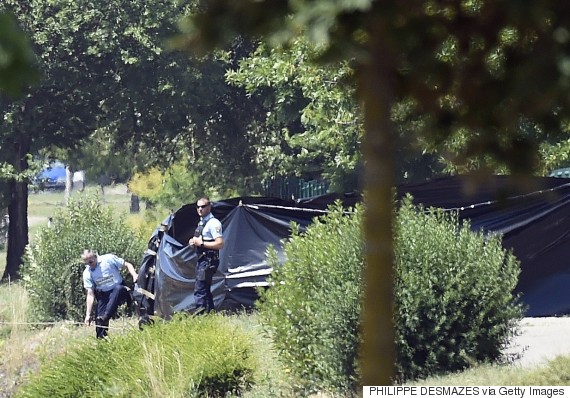 At least two people were also injured in the attack at the Air Products factory, which produces liquid gas.
AFP and French publication Le Dauphine reported that a severed head was discovered on the factory's fence, alongside two flags with Arabic writing on them.
The decapitated victim was one of the suspects' boss, according to Sky News.
Some reports said that the flag carried by the attackers was the black flag of the Islamic State.
Henry Samuel, a correspondent for the Daily Telegraph, told Sky News: "The person arrested was allegedly carrying a flag of the Islamic State and he said he was a member of the IS."
However, French officials said that there had been no evidence of this.
Latest: It's believed the men declared they with islamic State, drove a trick laden with gas bottles into a factory in Grenoble 1/2

— Tom Steinfort (@tomsteinfort) June 26, 2015
Latest: Loud explosions heard from the site, a decapitated body has also been found. There are believed to be several more victims

— Tom Steinfort (@tomsteinfort) June 26, 2015
An alleged attacker has been arrested by police and named by interior minister Bernard Cazeneuve as Yacine Sali.
According to the Daily Mirror's chief reporter, Andy Lines, his wife has told French radio: "We are Muslims but we are a normal family with two children. I do not understand."
According to Sky News, there were also reports of two attackers, both carrying flags.
The Independent reported that several other arrests have also been made in relation to the investigation.
It is believed that the attacker used a car to break through a security barrier.
Cazeneuve arrived quickly at the scene, where he told waiting journalists that the arrested suspect was known to French authorities as early as 2008.
He said that although the suspect did not have a criminal past he was on the radar as possibly being radicalised and having links to terrorist groups.
According to the Mirror, a second suspect has also been arrested at their home nearby.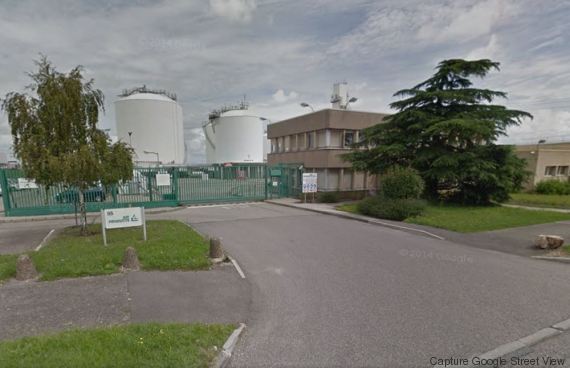 The factory where the attack took place
The scene was captured on camera by Le Dauphine...
French President Francois Hollande left the EU summit in Belgium to return to France following the attack.
David Cameron has spoken to Hollande in Brussels to express sympathies over the incident, which Downing Street described as an "appalling incident".
A Downing Street spokeswoman said: "He expressed his sympathies for what looks like an appalling incident.
"Details are still emerging, so we wait to see those. But it clearly looks an extremely concerning situation and our thoughts are with all those affected by it."
#BREAKING France PM tightens security measures on 'sensitive' sites after attack

— Agence France-Presse (@AFP) June 26, 2015
Speaking before his departure, Hollande said of the attack: "They attacked the factory using gas can, we have no doubt that the attack was to explode the building. The attack has the hallmarks of a terrorist attack.
"The Interior minister went to the scene immediately. The suspect was arrested and identified. Considerable means were used by the police in the region and sites were protected even further.
"I would like to express a feeling of solidarity with regards to the victim.
"This solidarity was expressed to me by the European Council held this morning.
"Everybody remembers what happened not only in our countries but in their countries. Therefore the necessity to protect our value and never give in to fear. Not to create any division."
He also confirmed that one person was dead and two injured.
SEE ALSO:
According to Sky News, Air Products is an American chemical company based in Allentown, Pennsylvania.
A statement from the company said: "We are deeply saddened by the loss of life and want to express our sympathies to the family of the victim of this unspeakable tragedy.
"Emergency services are on site and have contained the situation. All individuals working at the site have been evacuated.
"The site is secure. Our crisis and emergency response teams have been activated and are working closely with all relevant authorities.
"Security has been increased at locations around the world as a precautionary measure.
"Further information will be released as soon as it becomes available."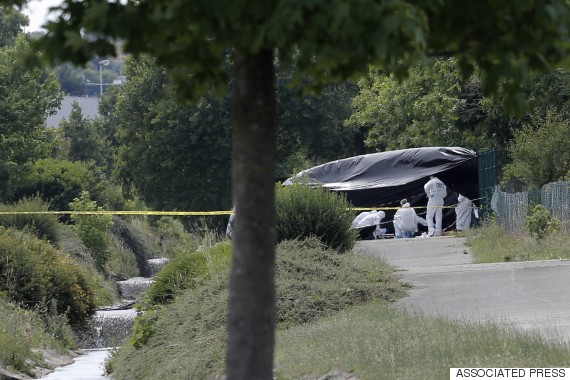 Investigators at the scene following the attack
The news comes as reports emerged of an attack on the Tunisian resort of Sousse, in which at least 19 people are believed to have died.
Speaking at the EU summit in Brussels, David Cameron, who said the emergency Cobra unit would be convened today in Westminster, warned of tackling the "poisonous radical narrative" fuelling a "twisted and perverted ideology".
"We've got to do all we can to help. That means co-operating, on counter-terrorism, building our capacity on counter-terrorism. It means dealing with the threat at source - whether that is Isil in Syria and Iraq or whether it is other extremist groups around the world. And we have to deal – perhaps more important than anything – with this poisonous radical narrative that is turning so many young minds. And we have to combat it with everything we have.
"The people who do these things they sometimes claim they do it in the name of Islam. They don't. Islam is a religion of peace. They do it in the name of a twisted and perverted ideology that we have to confront with everything we have. And we must stop the poison of these young minds in our country and other European countries, and around the world."