Theresa May defended the Foreign Office on Sunday after it was heavily criticised for its handling of the aftermath of the Tunisian massacre. In the days following Friday's attack, relatives beseeched the Ministry for word of those potentially caught up in atrocity. However, May told reporters on Sunday consular staff have been working "around the clock" to identify victims.
"The process is a complex one," she said after chairing a meeting of the Government's emergency COBRA committee. And it is of course imperative that we get it absolutely right for families, and that can sometimes take time." May said that many of the victims were not carrying passports or identification documents as they were on the beach, hindering efforts of formal identification.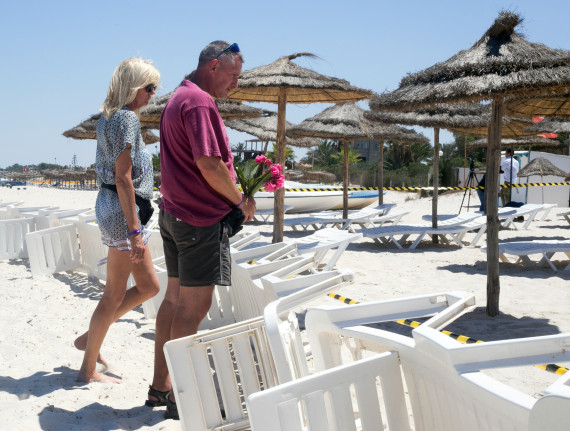 Tourists stand at the scene of Friday's shooting attack in the coastal town of Sousse, Tunisia, Saturday, June 27, 2015
The total number of British people killed remains at 15, May confirmed on Sunday morning, however the Home Secretary noted she expects that number to rise. According to the Press Association, the number of British victims will reach at least 30. Three Irish citizens have also been confirmed dead: Laurence and Martina Hayes from Athlone, Co Westmeath and Lorna Carty from Robinstown in County Meath.
Some 38 people were killed in the shooting in Sousse, with a further 39 wounded. Britons holidaying in the region have been warned that further attacks in Tunisia are possible, with thousands returning early.
Student Seifeddine Rezgui was responsible for the killing spree, targeting western tourists before being shot dead by police. An unexploded bomb was found on his person.
Writing in the Daily Telegraph on Monday, David Cameron said the nation had been "united in shock and in grief" but promised Britain "will not be cowed."
"The man who did this, the smiling gunman with a Kalashnikov hidden in a parasol, demonstrates the level of evil we are dealing with," wrote the prime minister. "It's an evil we've seen on Mount Sinjar in Iraq and in shopping malls in Kenya; at magazine offices in Paris and in schools in Pakistan. On the same day as the holidaymakers in Tunisia came under attack, workers near Lyon and worshippers in Kuwait fell victim to this evil, as did over 100 Syrians, who were executed in their homes in Kobane by ISIL."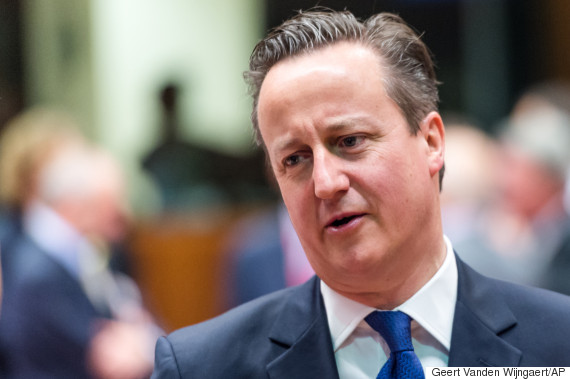 Cameron: 'To our shock and grief we must add another word: resolve'
"But we will not be cowed," he added. "To our shock and grief we must add another word: resolve. Unshakeable resolve. We will stand up for our way of life. So ours must be a full-spectrum response – a response at home and abroad; in the immediate aftermath and far into the future."
Adrian Evans, who worked for Sandwell Council in the West Midlands as a manager in the gas services department, was revealed on Saturday as a victim of the shooting. Council leader Darren Cooper said: ''Adrian Evans was a very popular and long-serving employee who was manager of our gas services team. We are absolutely devastated for Adrian's family, friends and colleagues, and our thoughts are with them and all those affected by this tragedy.''
Evans' nephew Joel Richards was also killed in the attack. Birmingham County FA released a statement. It read: ''A young, talented referee with the world at his feet, he was highly thought-of and will be sadly missed. Our thoughts and prayers are with his family and friends at this tragic time.'' According to PA, Richards' 16-year-old brother survived the attack.
The gunman also killed Lisa Burbidge, from Whickham, Gateshead. Her granddaughter Chloe Thompson said: "My angel, my best friend love you always grandma, rest in peace."
MP Chris Evans named Trudy Jones of Blackwood in Gwent, south Wales, as another victim. The parliamentarian said: "The reality of this horrific and brutal attack has now been brought home to our communities with the news that Trudy Jones of Blackwood is among those murdered. My thoughts and prayers are with her family and friends at this difficult time."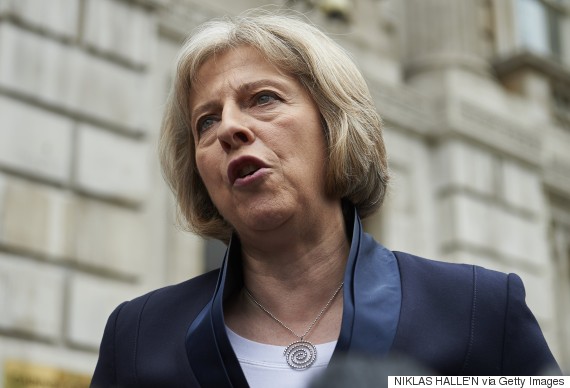 Theresa May addresses media personnel outside the Cabinet Office in London on June 28, 2015, following a COBRA meeting
Lisa and Billy Graham from Perth remain unaccounted for. They were staying in a hotel near to the attack. Their daughter Holly Graham is awaiting news. Her MP, Tasmina Ahmed-Sheik, said she Graham was "understandably upset and worried."
Earlier on Sunday, Nigel Farage said he would not visit Africa this summer as it is "just not safe" in light of the Tunisia attack.
On Saturday evening, Tunisians marched through Sousse in protest at the terrorist atrocity. Many carried the British flag.
SEE ALSO: