Greece sat perched on the edge of the economic precipice on Monday, the impasse between Europe's finance ministers and the government in Athens making the country's exit from the Eurozone almost inevitable. EU leaders warned Greek authorities that a rejection of the creditors' proposals in Sunday's snap referendum will force the small, Mediterranean country to leave the European project.
Prime Minister Alexis Tsipras called for a "no" vote over the weekend, hoping a firm display from the Greek citizenry might strengthen his hand in bargaining for better terms from the EU. However, across Europe leaders made clear Sunday's poll was a vote on whether Greece stays or leaves the eurozone. The choice comes down to the "euro or the drachma," Italian Prime Minister Matteo Renzi said on Monday.
Those sentiments were echoed in Paris, with French President Francois Hollande expressing the stakes as "whether the Greeks want to stay within the eurozone." In London, British Prime Minister David Cameron called the July 5th poll an "in/out" vote on the single European currency, while in Germany Vice Chancellor Sigmar Gabriel said the vote would be "yes or no to the eurozone". Jean-Claude Juncker, head of the European Commission, said that voting "no" to a bailout deal would set Greece on a course to leave the euro, while noting he felt "betrayed" by Greek negotiators.
Still, Tsipras is determined to forge a middle path -- one that rejects the current deal, but allows Greece to stay in the eurozone. Speaking on national TV on Monday, he told his countrymen to vote "no" to the creditors, stating this would enable him to renegotiate with the EU. "They will not kick us out of the eurozone because the cost is immense," he said. The uncertainty sent stock markets tumbling around the world, while borrowing costs for the single currency's smaller nations went up.
On Monday, British Chancellor of the Exchequer George Osborne warned that the cost of a Greek exit would be "traumatic." He told the Commons there is "considerable uncertainty about what happens next," adding: "We hope for the best but we prepare for the worst." Like his European counterparts, the chancellor said the referendum "will effectively be a choice for the Greek people about whether their country leaves the euro."
Greece is scheduled to pay back €1.6 billion to the International Monetary Fund by the end of Tuesday, a payment that would force the Greek government to further cut public spending. Huge queues formed at ATMs across the country on Monday with customers restricted to withdrawals of 60 euros per person. On Monday evening, a crowd of more than 13,000 pro-government protestors gathered to back a "no" vote in the referendum.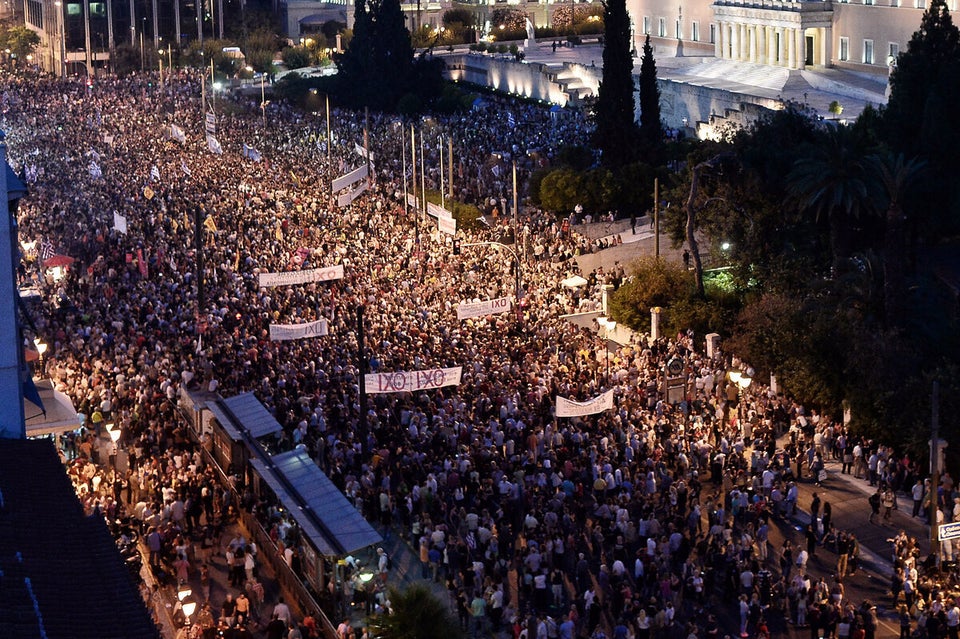 Athens Protests
Related