David Cameron has urged British people not to abandon holidays in Tunisia despite the terror attacks, saying the country should "not give up our way of life" and "cower in the face of terrorism".
Addressing the House of Commons, the Prime Minister said there will be a national minute's silence on Friday at noon for the victims of the massacre, a week after the tragic events.
He confirmed 18 British people have been killed, with the total likely to rise as officials struggle to identify the victims.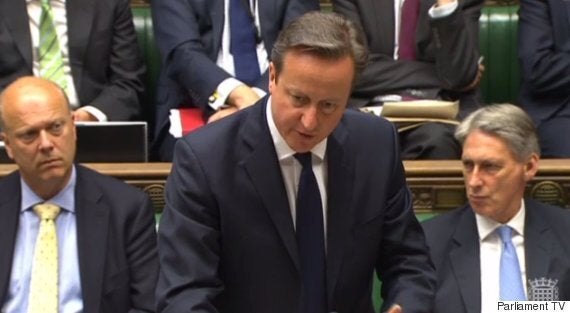 In a show of defiance, he told MPs the Foreign Office travel advice on travelling to northern Tunisia was unchanged.
He said: "They are not moving to a position of advising against all but essential travel to this part of Tunisia. So they are not advising against visiting the popular tourist resorts.
"These are difficult judgements. Nowhere is without risk from Islamist extremists terrorists. Until we have defeated their threat, we must resolve as a country to carry on living our lives alongside it.
"We will not give up our way of life or cower in the face of tourism."
The Prime Minister went on to condemn extremism in UK, saying the country must "confront this evil with everything we have" and be "more intolerant of intolerance".
MPs held a minute's silence in the Commons this afternoon before the Prime Minister condemned the "sickening attack".
"I know the whole country will want to share in a moment of remembrance so following the act of remembrance we've just held in this House we will have a national minute's silence at 12 noon, one week on from the moment of the attack," Mr Cameron said.
The Prime Minister also said today:
* Using the phrase Islamic State is "offensive" to many Muslims, and called on the media to use the term ISIL or "so-called"
"I do not think we will move it all the way to 'Daesh', however, so I think saying ISIL is probably better than saying Islamic State, because in my view it is neither Islamic nor a state," he said.
* Over the next two days, security forces and emergency services will conduct a major training exercise in London to test and refine the UK's preparedness for dealing with a serious terrorist attack.
* While the killer was believed to be a sole gunman, it is thought that he may have been part of an "ISIL-inspired network", said the Prime Minister.
His statement to the Commons followed Home Secretary Theresa May describing the attack as a "despicable act of cruelty" as she and Foreign Office Minister Tobias Ellwood travelled to the country to pay their respects, and take part in talks with the Tunisian government on addressing the extremist threat.
On Monday afternoon Downing Street said all Britons injured in the Sousse terror attack will be returned to the UK within 24 hours.
A total of 38 people perished after a gunman opened fire on a beach in the resort on Friday. Up to 30 Britons are feared to have been killed.
Mr Farage wrote that he had contemplated visiting Kenya in the summer to do some deep-sea fishing but has decided not to.
He added: "Decisions such as this are easy. But what is more worrying is the threat which in some cases is already on our shores and, if we are not careful, will be added to by the human tide that is coming across the Mediterranean."
On Sky News' Murnaghan on Sunday, Mr Farage was accused of "giving in" to terrorism by changing his holiday plans.
Mr Farage told Murnaghan: "Well I was going to go deep sea fishing way out in the Indian Ocean and of course Somalia is the bordering country and I just thought, do you know what, I don't want to take the risk.
"I think actually, and it may be desperately unfair on a country like Tunisia for arguments sake, who after the Arab Spring were one of the countries who appeared to be doing quite well, it may be desperately unfair to Tunisia but if your teenage daughter said to you, dad, I'm off to Tunisia with my mates for a week, what would you say? Well I'd say no."
He added: "No, it's not giving in. We all make personal choices and if we think we're going t
Earlier today, the Home Secretary visited the scene of the massacre, laying flowers and observing a period of silence in the Sousse resort.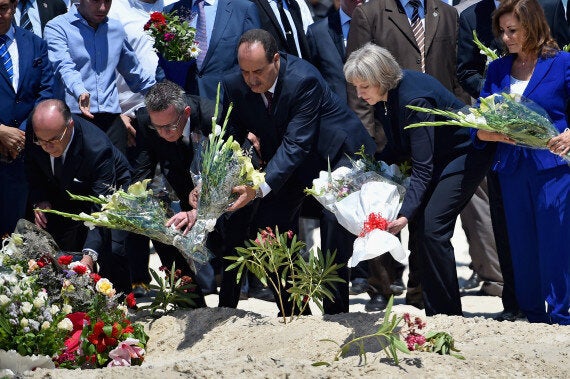 Home Secretary Theresa May lays flowers at the scene where 38 people were killed on Marhaba beach last Friday.
Speaking at a press conference alongside the Tunisian interior minister, Mrs May said the attack was "a despicable act of cruelty". She added: "How could a place of such beauty, of relaxation and happiness be turned into such a scene of brutally and destruction".
She said the UK and Tunisia would unite to "defeat those who would do us harm". and "to defeat those who would undermine our freedom and democracy and to ensure the terrorists do not win".