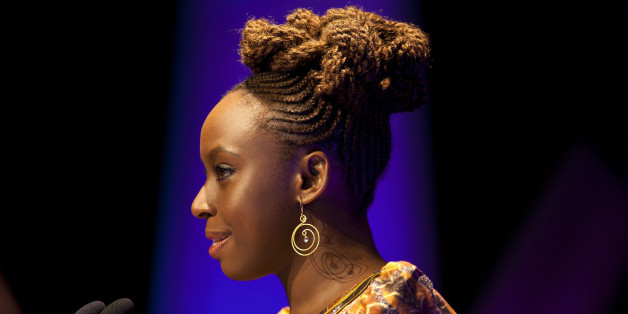 David Levenson via Getty Images
The woman hailed as Beyonce's favourite feminist has sparked a powerful online gender equality movement, with women opening up about attitudes towards marriage, work, violence and rape.
A Nigerian book group of men and women, who had been reading Chimamanda Ngozi Adichie's essay 'Everyone Should Be a Feminist' (an adaptation of her TED talk which was sampled by Queen Bey), began discussing their experience of discrimination against women.
Florence Warmth, a member of the group, told Buzzfeed: "We were discussing the book, started talking about our own experiences and thought we should take this to a larger audience."
So the #BeingFemaleInNigeria trend was born with women discussing attitudes to dating, marriage and finding a husband…
#BeingFemaleInNigeria Family members trying to find a man to "calm you down " because you're too outspoken and autonomous

— Nne.nna Legalise (@theAfroLegalise) June 30, 2015
#beingfemaleinNigeria when you leave a bad relationship and people tell you: 'why didn't you endure?'

— Stephanie Busari (@StephanieBusari) June 30, 2015
#BeingFemaleInNigeria Nigerian parents don't expect you to date but expect you to be married at 25.

— Chukwuebuka Akara (@ebuka_akara) June 30, 2015
#BeingfemaleinNigeria is being told countless times that I will never find a husband because I am "too ambitious" and outspoken.

— u.u (@KhaleesiNU) June 30, 2015
Women who are unhappily married trying to make you feel like a failure for being happily single #beingfemaleinNigeria

— Spectra Speaks (@spectraspeaks) June 30, 2015
If you're unmarried and you dare get angry or irritated,it's because you're a 'frustrated spinster'. #BeingfemaleinNigeria

— Idomagirl (@ebonyoma) June 30, 2015
Dr Stella go and marry, only your marriage certificate matters.. PHD is nothing.

— Fola (@SheCrownLita) June 30, 2015
Several referenced inequality in the workplace…
#BeingFemaleInNigeria basically means you have to do more to earn anything close to what a less committed male earns

— JJ. Omojuwa (@Omojuwa) June 30, 2015
#beingfemaleinnigeria the only female in a meeting must take the minutes.

— Chika Nwuche (@Chika2009) June 30, 2015
Accommodation also seems to be tricky…
#beingfemaleinnigeria you must be a 'hoe' if you're single & live in the same city with your parents but have your own apartment.

— stefanie williams (@stephany_06) June 30, 2015
#beingfemaleinnigeria my friend couldnt rent a 3bedroom house untill she presented her fake husband to her landlady.

— Florence Warmate (@FlorenceWarmate) June 30, 2015
#beingfemaleinnigeria if you do not live with your parents you's a hoe.

— Aperitivo (@HappyHour275) June 30, 2015
Some told stories of harassment in public…
#beingfemaleinnigeria is getting harassed in the market for wearing shorts in a country where the weather hits 40degrees on an average day

— u.u (@KhaleesiNU) June 30, 2015
Having your arms, bottom, breasts grabbed by horrible men in d market places and feeling powerless is all part of #BeingFemaleInNigeria

— Anuli (@anuli_Ka) July 1, 2015
Some were particularly dark, discussing rape and violence…
When she gets raped| why did you dress like that? When she gets beaten by her husband? | What did you do to him? #BeingFemaleInNigeria

— JJ. Omojuwa (@Omojuwa) June 30, 2015
Having to bear the Trauma of your rape alone because your rapist is a highly respected family member #BeingFemaleInNigeria

— Nigerian God (@Echecrates) June 30, 2015
#BeingFemaleInNIgeria how dare you get raped? You let him lure you into his shop on the pretext of buying your wares. You wanted it.

— Strokahuntas (@sassylabelle) June 30, 2015
#BeingFemaleInNigeria you are not safe to walk at night alone unless you have a male company with you.

— Charity Sampson (@chachanownow) July 1, 2015
#beingFemaleinNigeria I have always been disgusted how it's ok to beat your wife.Thats not loving that's abuse.

— Tunji Falana (@TunjiFalana) July 1, 2015
Many men also got involved..
The culture of not seeing females as equals results in men with fragile egos. Always at risk of being 'emasculated' #beingfemaleinNigeria

— Amara Nwankpa (@bubusn) June 30, 2015
It's shocking when you are beautiful and smart. Apparently they are mutually exclusive. #BeingFemaleInNigeria

— MR President (@duchesskk) June 30, 2015
#beingfemaleinnigeria don't get too successful else men will run from you.

— Nedu™ (@ChineduAnarado) June 30, 2015
A top female manager of iRoko was asked not to speak in a biz meeting,her male subordinate had to speak as a result of #beingfemaleinnigeria

— Yoma | #OpenNASS (@YomaVictor) July 1, 2015
Although a select few were less understanding…
#BeingfemaleinNigeria stop whining, women are their own worst enemies. Live as you want to, no one is stopping you. Stop the Pity party.

— Golden Donald (@AmandGold) July 1, 2015
This #BeingFemaleInNigeria thing is a waste of time.... It's not going to change anything

— Muhammad Abdallah (@Moha_Abdallah) July 1, 2015
Having to pay for everything and without even a "thank you" when on a date with a lady #beingfemaleinnigeria what about us men?

— Keelo Jay Jay (@jaywulus) July 1, 2015
So much stereotype about #BeingFemaleInNigeria its time women discard that shit & work it like Men don't exist, the right one will find u

— Bolaji Akapo (@beejayswag) July 1, 2015
#beingfemaleinnigeria stop complaining ladies dats just the way it is

— Uzodinma nwaogu (@Uzos) July 1, 2015