People are rather perturbed by The Guardian's announcement it would be putting on a summer school for teenagers - and charging them £559 for the privilege, while News UK provides similar training for free.
The Guardian offers 16 to 19 year olds the "opportunity" to get their work "showcased" on its website, whilst being charged hundreds of pounds for the privilege. However the 'News Academy Summer School', based at the headquarters of The Times, The Sunday Times and The Sun, offers young people the chance to publish their own newspaper, as well as providing accommodation in London and food, all for free.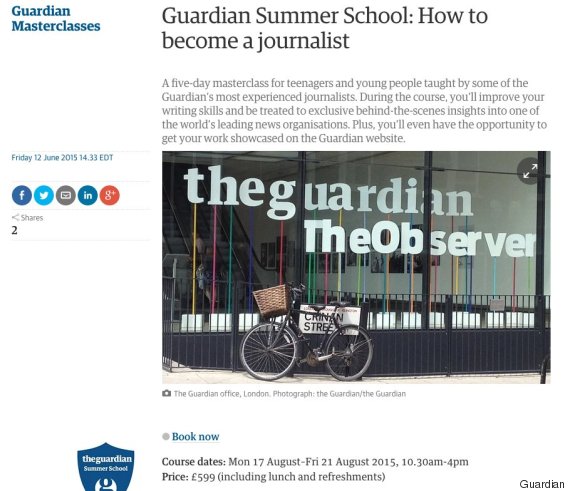 Perhaps understandably, some eyebrows have been raised at the charges..
the guardian's shows its commitment to diversity in media with a £599 summer school (@NewsUK equivalent is free...) http://t.co/VyyDOkNaBa

— Dylan Sharpe (@dylsharpe) July 1, 2015
@ianjsilvera@NewsUK check out @the_newsacademy: genuinely opening up profession to all. Guardian know parents will pay to get their kids in

— Dylan Sharpe (@dylsharpe) July 1, 2015
Meritocracy? The @guardian charges £599 for a summer school for sixth formers (@thetimes one is free) http://t.co/dICNQzv9In

— Richard Fletcher (@fletcherr) July 1, 2015
@dylsharpe@honestlyAbroad@NewsUK well thats one way of keeping the working classes out

— Insidefilm (@deeinsidefilm) July 1, 2015
Is the Guardian sixth form summer school restricted to applicants from fee-paying schools? https://t.co/pkKjnsnVzx

— Toby Young (@toadmeister) July 1, 2015
News UK runs free summer school for teens. So does the Guardian - but they charge £599! http://t.co/CwGS0RcT1v

— The subeditor (@subedited) July 1, 2015
Newsquest came under fire earlier this year for charging youths £120 to write for them.
The newspaper group heralded the launch of its "young reporter scheme," which actually makes students pay not only for the pleasure of writing stories for the company, but also for a reference from the editor.
A Guardian News & Media spokesperson said: "The Guardian Summer School is part of our Masterclasses programme and, as such, is a commercial product. However, we have a dedicated schoolroom in the Guardian with two full-time teachers and run free classes on a daily basis in term time for primary and secondary school pupils as well as sessions for university students and families throughout the year.
"Last year over 6000 pupils and students attended free classes at the Guardian from state schools across the UK and further afield."