Australia is in shock after a leading sporting figure was stabbed to death, and his son charged with his murder, in a tragedy that has Australian Rules Football "in mourning".
Police were called to a domestic dispute at the home of Adelaide Crows coach Phil Walsh early Friday and found the 55-year-old Australian Football League (AFL) identity suffering knife wounds.
Walsh, who was in his first season as coach after 20 years as the assistant, died at the scene and his wife Meredith, was taken to hospital with non-life threatening injuries to her leg, news.com.au reported.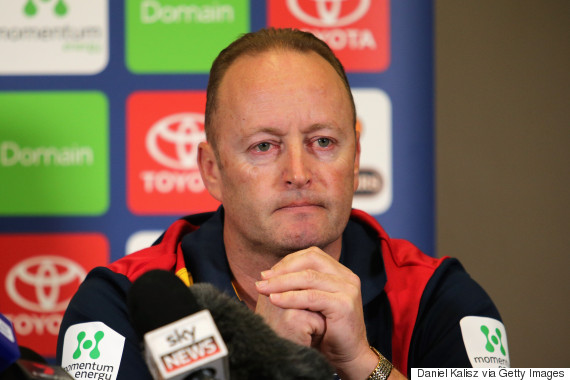 Adelaide Crows coach Phil Walsh was stabbed to death and his son has been charged with his murder
Walsh's son, named by local media as Cy Walsh, 26, initially fled the scene, but has since been charged with murder. He is being detained for a psychiatric assessment and is expected to have a bedside court hearing later today.
Police told reporters that Walsh had been stabbed multiple times and that the murder weapon had been recovered at the scene.
South Australian Police told reporters: "There's been an argument, I can't tell you anything about the argument... but as a result of that both Mr Walsh and his wife received a wound and the wound ultimately caused Mr Walsh's death."
Walsh told Australian newspaper the Herald Sun in April, that his passion for his sport had caused a "disconnect" with his son.
"I just immersed myself, got consumed and was selfish with as much time I committed to footy," he is quoted as saying. "I lost that connection and I'm trying to reconnect with my son, which I have done."
He told the newspaper that his job made relationships with those close to him difficult.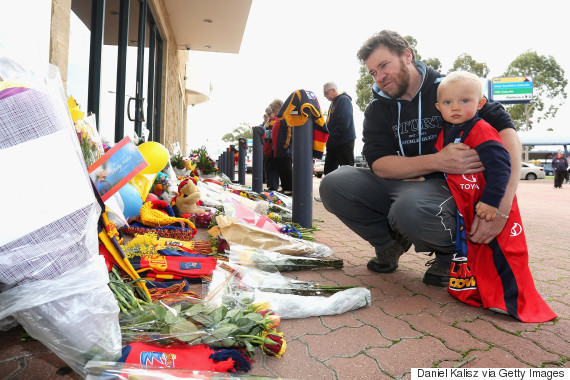 People have begin laying flowers outside the Adelaide Football Club in memory of Walsh
"I used to shut down all relationships because it was too hard to be in the moment with people, hard to be in their moment."
Australia is a passionate sporting nation and AFL, or Aussie Rules, as it is known abroad, attracts bigger crowds than any other sport in the country.
People have begun laying flowers outside the Adelaide Football Club in memory of Walsh, as officials agreed to call off the Crows match against Geelong on Sunday, "as our game is in mourning".
In a statement AFL Chief Executive Gillon McLachlan said: "I speak for the whole of the AFL, our clubs, our players, our fans, and our staff in passing on our deepest sympathies to Phil Walsh's family and friends.
"The sorrow and distress felt today touches many in our industry because Phil Walsh gave such a lot to our game."
He added: "And it is our decision, because, while playing footy can be part of the grieving process, we are strongly of the view that is it not fair to ask the young men at the Adelaide Crows, or the Geelong Cats to play in these circumstances."
Story continues below
Walsh made his debute in 1983 playing for the Collingwood football club, before playing for both Richmond and the Brisbane Bears. He also coached at Geelong, Port Adelaide and West Coast.
McLachlan said Walsh was a man of "boundless energy, enthusiasm and great intelligence".
He added: "He was a part of the AFL family for at least 32 years, and there are not many words of comfort today for those who feel this terrible loss, in these most difficult of circumstances.
"To his family, we can only say that your loved father and husband is in all our hearts, and whatever support we can offer, we will."
Crows chairman Rob Chapman said the football club was focusing on supporting those impacting by Walsh's death.
He said: "Today, frankly has been all about and is going to be all about wrapping our arms around the Adelaide Football Club community, in particular Meredith Phil's wife and his family."
"To the extended Phil family, the players, coaches, staff and indeed the fans and members, sponsors, supporters, this is just making sure that we've got all of the right infrastructure around in terms of providing the necessary support that they're all going to need, they do need and we'll do it for today, tomorrow and for however long it takes and even extend that to some of you that know Phil."
Crows chief executive Andrew Fagan has told how he held the same role at the Canberra-based Super Rugby franchise the Brumbies when one of their players, Shawn Mackay, died while the squad was on tour in South Africa in 2009, the ABC reported.
Fagan said the incident still affected him and he wanted the Crows to remember Walsh in a similar manner to which the Brumbies had paid tribute to Mackay.
"I still think about it, I think about it often. It's a tough one," the ABC quotes him as saying.
SEE ALSO

Wimbledon 2015 A Rally Of Foul Language, As Four Players Reprimanded For Swearing On Day One

SBS Presenter Scott McIntyre Fired For 'Despicable' Anzac Day Tweets

Gay Marriage Referendum Won't Work In Australia Because 'The Irish Can't Grow Potatoes'
Twitter was awash with tributes to Walsh, from fellow AFL coaches, players and fans.
What a tragedy. A great man lost. Thoughts and prayers are with his family. #RIPPhilWalsh

— Alan Richardson (@AlanRichardson) July 2, 2015
A bloke that I learnt so much off in such little time.. You have left a foot print on my life, I fell… https://t.co/UGkUxGIXiN

— Tex Walker (@texwalker13) July 3, 2015
Absolutely gobsmacked after hearing about Phil Walsh. RIP. Thinking about his family and his @Adelaide_FC family at this time #weflyasone :(

— Anna (@Kabanna87) July 3, 2015
R.I.P. Phil Walsh taken away from us to soon. A tribute to the great man. #PutYourScarvesOut. https://t.co/gFcEF5yyUd

— Luke Storm Jensen (@MinilJensen) July 3, 2015
Wherever you are in Australia tonight. Lets all raise a glass for the late Phil Walsh #RIPPhilWalsh pic.twitter.com/lJjM9Er7QP

— Living the Dream (@ltdaustralia) July 3, 2015
Tributes continue to flow for Phil Walsh, hundreds of flowers, scarves, guernseys at Crows Headquarters #9newscomau pic.twitter.com/tvgWKDbhIW

— Jack Berketa (@JackBerketa9) July 3, 2015
A makeshift memorial has started at Phil Walsh's house in the Adelaide seaside suburb of Somerton Park. #RIPPhilWalsh pic.twitter.com/tjMHrK67VS

— Louise Cheer (@Louise_Cheer) July 3, 2015