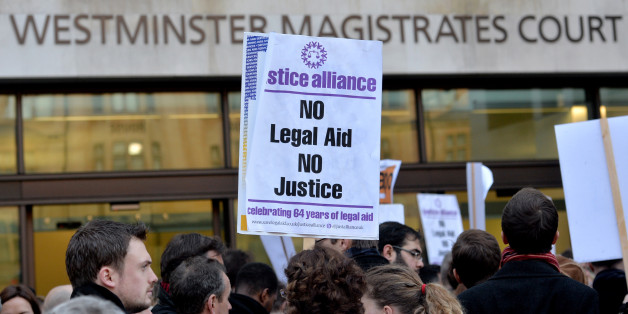 BEN STANSALL via Getty Images
Specialist advice available on family breakups, housing benefits and welfare cuts has all been dramatically reduced thanks to Government cut backs to legal aid.
Figures released by the Ministry of Justice show that since 2013, the number of new "legal help" cases has dropped by more than two thirds.
Legal help is given at the very early stages of a civil process, and includes simple measures such as a phone call or a face-to-face meeting with an expert.
Such advice can stop simple issues such as housing payment arrears, family disputes and welfare queries spiralling into a full-blown court case.
Philip Hadley, Policy and Campaigns Support Officer in the TUC's Organisation and Services Department, claimed the 10 per cent reduction in the legal aid budget in the past year was clearly affecting people's access to justice.
He said: "The government's own statistics reveal that legal aid workload has dropped hugely as expenditure has fallen significantly. But the information leaves us wondering what has happened to the representation and legal support that might have been provided – the cases that may have appeared, had expenditure not fallen so dramatically?
"What has happened to the people in need of legal aid – be it advice or representation on a whole range of issues ranging from family and private law, housing, immigration or other areas?"
He added: "It certainly seems that LASPO (Legal Aid, Sentencing and Punishment of Offenders Act 2012) has led to less people accessing the legal system, and what is the cost of that?
"While both the Justice Select Committee and the Low Commission on the Future of Advice and Legal Support found that any cost savings achieved by the legal aid cuts have increased costs to other public services, what we can see is a rapid undermining of the principle of equality before the law, as access to justice has been severely undermined."
LASPO, which came into force in 2013, saw the Government take large sections of civil law completely out eligibility for legal aid.
These included private family law, such as divorce and custody battles personal injury and some clinical negligence cases and some debt, housing and benefit issues.
Anyone with assets worth less than £8,000 qualifies for legal aid.
As well as the number of new cases dropping drastically, the number of firms offering legal aid has also dropped, according to Steve Hynes, Director of the Legal Action Group (LAG).
Speaking to The Huffington Post UK, Mr Hynes said: "If they don't get early advice, for instance on housing benefits the rent arrears go on and on and they get charged for that.
"When they did away with the early cheap advice to stop cases get to court, it's a false economy because the cases which might not got that far end up in court now."