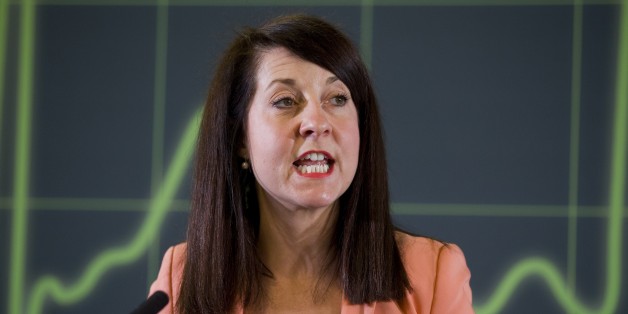 JUSTIN TALLIS via Getty Images
Liz Kendall branded her Labour leadership rivals as "continuity Miliband" today as she warned against repeating the mistakes which lost the party two elections.
Ms Kendall has been the most vocal critic of former leader Ed Miliband in the leadership race, and in an interview with The Sun today claimed things could get "a lot worse" for the party.
Attacking rivals Andy Burnham and Yvette Cooper, the Leicester West MP said: "I think I am the only person in this race that isn't continuity Miliband. The other candidates haven't spelled out how they would be different from Ed Miliband."
Ms Kendall also took a swipe at former Labour Prime Minster Gordon Brown, who led the party to defeat in 2010.
She said: "If we stick with what we have been saying for the last five or eight years we will have the same result."
Reflecting on why Labour lost so badly in May's election, Ms Kendall said: "We lost touch with what people think, what they believe and what their values are, and that is what has got to change."
She praised Labour's policies on zero-hours contracts and increasing the minimum wage, but argued millions of people not affected by those things felt the party had nothing to say to them.
Ms Kendall added: "We've got to get back to the values of the British people – work, responsibility, wanting to get on, wanting to be a success, and being proud of that – not making people ashamed or think somehow that they are doing something wrong."
The comments from Ms Kendall, who is seen as the Blairite candidate in the leadership race, will drive a further wedge between her and Ms Cooper and Mr Burnham.
A source in one of the camps earlier this week said: "Not only have they [Team Kendall] swallowed the Tory manifesto but they've swallowed the Tory attacks as well."
During one of the early leadership hustings, Mr Burnham said the 2015 manifesto was the "best manifesto that I have stood on in four general elections for Labour."
The leadership contenders, including Jeremy Corbyn, will face each other today in another hustings debate in Manchester, organised by Unison.
Mr Burnham will use the hustings to launch an attack on Tory plans to cut welfare benefits in next week's Budget:
He is expected to say: "David Cameron and George Osborne do not have a mandate for this attack on disabled and working people. They are guilty of a grand deception at the election.
"We need a fair plan to bring the deficit down and that's not by picking on the most vulnerable in society. Cameron and Osborne used to say 'we're all in it together' but that's been exposed as hollow spin. If I become Labour leader, they will have a fight on their hands.
"Disabled and vulnerable people are frightened they will lose benefits they cannot replace. Parents who rely on child tax credits and child benefit are worried about how long they will continue.
"The party I lead would offer a better and distinctly Labour solution to getting the welfare bill down. We need to fix a broken housing market, allow councils to build more homes to reduce the reliance on housing benefit and incentivise companies to pay the living wage."