English Defence League protesters reportedly brought part of central Sheffield to a standstill on Saturday during a rally they said was against the city becoming known as a "paedophile's paradise".
According to the Sheffield Telegraph about 200 EDL supporters gathered in the city centre, chanting and waving flags, before marching to South Street Park.
The EDL's website says the demonstration in Sheffield was a "protest against the criminal activities of organised Islamist gangs operating there, and the apparently inadequate police response."
The EDL claimed: "We are expecting a strong turnout, especially from furious locals who resent the fact that their once proud city is unfortunately becoming known as a Paedophile's Paradise."
In March it was revealed that police ignored reports that more than 200 girls were potential victims of sexual exploitation in Sheffield, mainly between 2007 and 2010.
English Defence League (EDL) in Sheffield today. Look at the state of them. 😷 pic.twitter.com/CDg8vY6UgZ

— Junaid (@Its_JunaidS) July 4, 2015
#EDL Child Protection Squad in #Sheffield pic courtesy @edlnews#Sheffield#antifapic.twitter.com/a8QlXYY0jr

— Miss Duffy (@misscheeky666) July 4, 2015
Hundreds of police officers shadowed the demonstration and a joint counter-protest from Sheffield Unite Against Fascism and One Sheffield Many Cultures.
According to the Sheffield Telegraph, Ian Crossland, Yorkshire regional organiser for the EDL said: "We have come down to highlight the failings in child protection, to protect the victims of sexual exploitation.
"It's been hidden and swept under the carpet."
This sums up the #EDL 'made in Britain' 😂😂😂😂 #Sheffield#antifapic.twitter.com/MnfgAbNnOH

— Miss Duffy (@misscheeky666) July 4, 2015
Around 600 officers from 9 forces were policing the EDL demo and counter protest in #Sheffield. There were no arrests pic.twitter.com/vuCqxSKUNM

— Mark Ansell (@MarkAnsell) July 4, 2015
Banner Inciting Hate Unfurled by EDL in Sheffield http://t.co/uvh8DHli3zpic.twitter.com/5FevRbVGij

— TellMAMAUK (@TellMamaUK) July 4, 2015
UPDATE: Watch our video of EDL protesters marching through #Sheffieldhttp://t.co/pHUS8R2nfGpic.twitter.com/p0D9Z9wJKg

— Gael Stigant (@GaelStigant) July 4, 2015
So the EDL get a march in town but @SheffieldPride hides up at the uni. A dark day for Sheffield. Not feeling very proud today. #hatewins

— Nomad Jim (@nomadjim1138) July 4, 2015
Never seen so many police, vans and horses as EDL converge on Sheffield, spoiling a lovely day in our usually peaceful city.

— Jackie Powell (@HEPP_Jackie) July 4, 2015
_RT_ TheZifZafTheory: LouHaigh speaking at the Sheffield anti-EDL demo pic.twitter.com/JL8Vxs6DJF

— MP_RT (@MP_RT) July 4, 2015
EDL protestors getting ready to disperse after their demo in Sheffield. @BBCSheffield@BBCLookNorthpic.twitter.com/3AuaLN39Qg

— Kat Harbourne (@KatHarbourne) July 4, 2015
Witnessing just five minutes of the Sheffield edl March... I'll never get those minutes back. #steelcon

— Chris (@_ChrisTux) July 4, 2015
The newspaper suggested that EDL protests cost the taxpayer around £500,000 for policing, and divert resources from other work, something Mr Crossland said was "inevitable".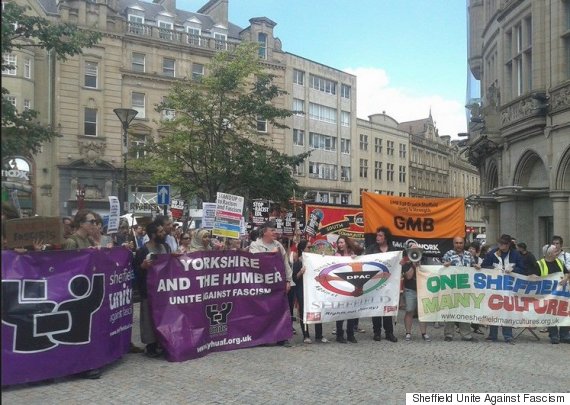 Sheffield Unite Against Fascism said their rally attracted nearly twice as many people
Sheffield Unite Against Fascism posted on their Facebook page that the response to the EDL march was "a proud day for the unity of our multicultural city".
The post went on to read: "Nearly twice as many Sheffielders were out today than the racist EDL managed in their national mobilisation. They will never succeed in dividing us. Unite Against Fascism and defend One Sheffield Many Cultures."
It said the EDL are "a symptom of racism and Islamophobia" and that Sheffield "is a great city because it's a multicultural city".
Meanwhile, Neo-Nazis were massively outnumbered by counter-demonstrators as they staged a protest in central London on Saturday.
A small number of right-wingers took part in a Whitehall demonstration against the Shomrim, a Jewish neighbourhood watch group.
SEE ALSO

Neo-Nazi Demonstrators More Than Meet Their Match At Central London Protest

Walthamstow EDL Protest Struggles For Numbers As Far-Right Swamped By UAF And Even Police

Anjem Choudary Tells Muslims Not To Vote At Faceoff With EDL And Britain First