You might have though making it to the fourth round at Wimbledon would make Nick Kyrgios behave (or at least take the tournament seriously), but true to form the Australian is refusing to give up his bad boy ways.
During his match against Richard Gasquet, the 20-year-old appeared to completely give up, feebly returning his opponent's serves and at one point simply seeming to just walk away.
At one point it all seemed to get a little too much and he reached out and hugged a ballboy.
Kyrgios hugging the ballboy. And the ballboy's reaction is just PERFECT. pic.twitter.com/taPEwvrOrR

— René Denfeld (@Renestance) July 6, 2015
He also added to the string of verbal warnings he has received during this year's tournament. Umpire James Keothavong ticked him off for an "audible obscenity", which Kyrgios responded to with an ironic applause.
He went on to lose 7-5 6-1 6-7 (7-9) 7-6 (8-6) to the Frenchman.
Nick Kyrgios appears to have completely given up at #Wimbledon http://t.co/6ty9jwUGFt https://t.co/iSiiqqUt2z

— i100 (@thei100) July 6, 2015
Just last week he also got into several altercations with umpires.
On Monday he appeared to call Mohamed Lahyani "dirty scum" before quickly backtracking and saying he was referring to himself.
And Wednesday saw him rant at Ali Nili, first asking if he was threatening him and continuing: "Does it feel good to be in the chair up there? Does it feel strong to be up there?"
During his third round match against Canadian Milos Raonic, Kyrgios also threw his racquet at the ground so hard that it bounced up into the stand.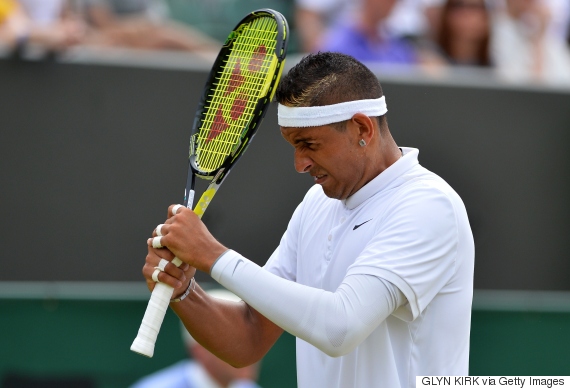 You okay there mate?
Luckily for him, a member of the crowd was kind enough to retrieve it.
He also fell foul of the famously strict dress code at SW19 by wearing a Wimbledon-branded headband with purple and stripes (only white is permitted on court).
To avoid further trouble, he continued to wear the band but turned it inside out.
"Is that a threat? Does it feel good to be in the chair?" @NickKyrgios to @Wimbledon umpire http://t.co/aXWXNh4Lud https://t.co/IapsvPfPhE

— ABC News (@abcnews) July 1, 2015
And he continued to add to the list of misdemeanours when he received a thorough telling-off from Wimbledon officials for climbing onto a fence to watch fellow Aussie Lleyton Hewitt playing doubles on court 14.
Wearing hot pink headphones, Kyrgios could be seen peering over the wall - strictly prohibited in case it distracts players.
He was ordered down by security personnel but, true to form, promptly climbed back up as soon as they left.
SEE MORE: