Eurozone leaders were left baffled on Tuesday when Greek Prime Minister Alexis Tsipras arrived for talks in Brussels without a detailed plan for an agreement on a fresh bailout deal. Still, the Greek delegation was given till Sunday to come up with a viable proposal to stave off financial ruin for the small Mediterranean economy.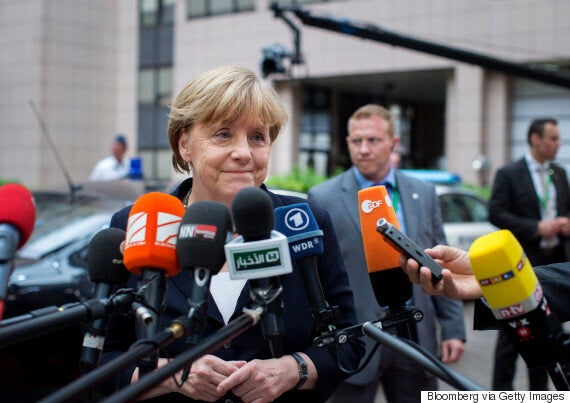 Angela Merkel, Germany's chancellor, speaks to members of the media while arriving for an emergency Greek summit with European leaders in Brussels, Belgium, on Tuesday, July 7, 2015
With Greece's banks just days away from a potential collapse that could drag the country out of the euro, Tsipras arrived Tuesday with only vague proposals and a commitment to back it up with real figures and a more detailed plan by Thursday. "We'll see if on Sunday this issue will be solved once for all," Italian Prime Minister Matteo Renzi said.
But patience among Greece's allies was wearing thin ahead of the meeting. "You know, there was a promise for today. Then, they're promising for tomorrow," said Lithuanian President Dalia Grybauskaite. "For the Greek government it's every time 'manana.'"
But that domestic victory did not appear to give him much leverage in talks with foreign creditors, who know Tsipras needs a deal soon to keep his country afloat. Banks have been shut since last week and will not reopen before Thursday, cash withdrawals have been limited for just as long, and daily business throughout the country has come to a near standstill.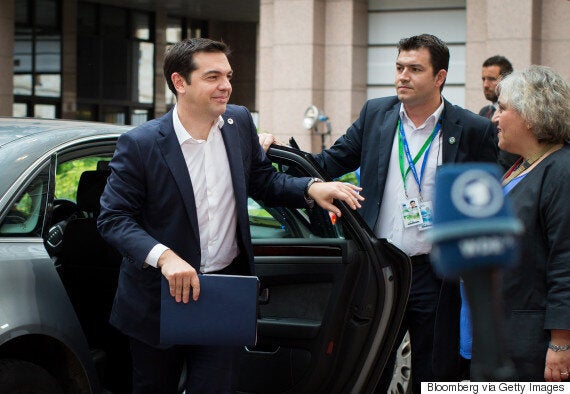 Alexis Tsipras arrives for an emergency Greek summit with European leaders in Brussels, Belgium, on Tuesday, July 7, 2015
So it was with astonishment and dismay that European leaders learned Tsipras did not yet have a written proposal for new rescue aid. "I'm extremely somber about this summit. I'm also somber about the question of whether Greece really wants to come up with proposals, with a solution," Dutch Prime Minister Mark Rutte said.
Greece's eurozone partners have steadfastly said they want to help Greece stay in the currency club but have just as often complained about Greece dragging its feet during months of negotiations. "At a certain point, you need to get to the truth," said Belgian Prime Minister Charles Michel, before asking: "Is there, yes or no, a political will of the Greek government?"
A Greek government official, who asked not to be named because of the sensitive nature of the discussions, said Tsipras was presenting a "common ground" to the 18 other leaders Tuesday, while a detailed proposal would come Wednesday. He said the Greek government would submit a request for immediate financing in advance of 5 billion euros in loans due for repayment by the end of the month. He predicted a full political deal could be reached in two or three weeks.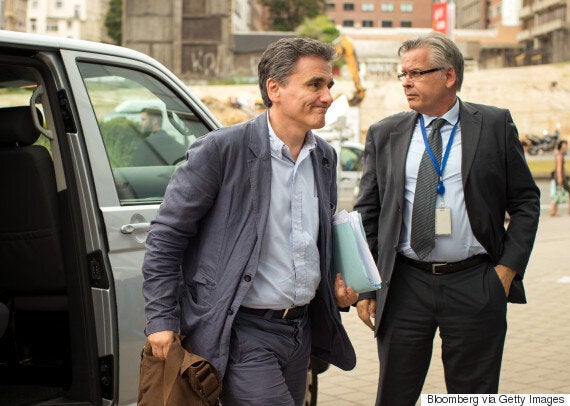 Euclid Tsakalotos, Greece's finance minister, left, arrives for an emergency Greek summit with Eurogroup finance ministers and European leaders in Brussels, Belgium, on Tuesday, July 7, 2015
German Chancellor Angela Merkel warned Tsipras he was dancing close to the financial abyss. "We are no longer talking about weeks but very few days," she said.
An official from a eurozone nation said that Greece's failure to bring clear proposals to an earlier meeting of finance ministers caused widespread frustration. Greek Finance Minister Euclid Tsakalotos instead made only an oral presentation and discussed key issues. "Everybody was angry," said the official, who asked not to be identified because he was commenting on a closed meeting.
Tsakalotos left the leader's summit venue mid-evening, telling reporters: "My impression is that we are having a go to find an agreement soon."