As the FA is caught up in a sexism row over a "breathtakingly sexist" tweet posted from England's official account, a video with a far more positive message about women's football has been released.
The heartwarming video aims to inspire young girls to pursue their love of football and has been created by SSE, which is sponsoring the Women's FA Cup.
The video, which shows girls proudly pumping footballs and polishing their trophies, invites children to apply to become an official ball carrier or trophy escort at the Women's FA Cup Final on 1 August.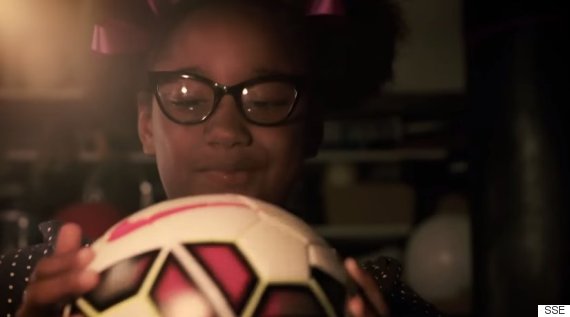 SSE managing director of corporate affairs Alan Young has said the energy company wished to sponsor the Women's FA Cup to inspire more girls to participate in football.
"We're entering this partnership with one simple ambition – to make a difference to the future of women's football and sport," he said in a statement.
"SSE's investment will help drive the women's game forward and together with The FA we will help continue to grow the sport, giving thousands more girls regular access to the beautiful game."
The video was released on Monday, the same day that a tweet from the England account sparked outrage online.
The message, which has now been deleted, read: "Our #Lionesses go back to being mothers, partners and daughters today, but they have taken on another title - heroes."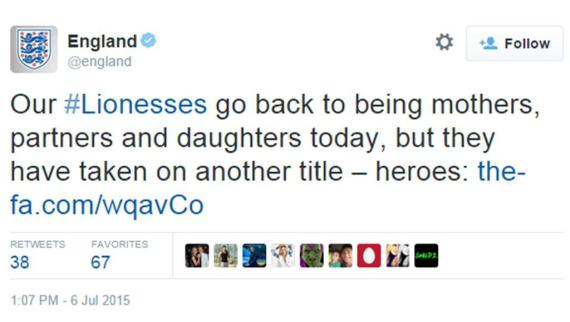 A screenshot of the tweet
The tweet linked to an article about the players flying home, which had a similar introduction.
Although the offending tweet and opening paragraph of the story were quickly removed, many Twitter users re-posted the content and criticised the message for undermining the England Women's team, who came third in the tournament.
Cannot believe that @england tweet about the #Lionesses - who approved that one? Sexist and demeaning.

— Polly Grice (@pollygrice) July 6, 2015
And in one tweet, the @england FA turned the feminism clock back 100 years #everydaysexism pic.twitter.com/dxfC50ka8f

— Linda Semple (@LindaFSemple) July 6, 2015
The FA, which manages the England team's Twitter account, said in statement: "The full story was a wider homecoming feature attempting to reflect the many personal stories within the playing squad as has been told throughout the course of the tournament.
"However, we understand that an element of the story appears to have been taken out of context and the opening paragraph was subsequently revised to reflect that fact."
SEE ALSO:

Now Is the Time to Get on the Women's Football Bandwagon

FIFA Branded 'Sexist' For Focussing On Alex Morgan's 'Good Looks'