The USA are through to the Women's World Cup final, but it seems FIFA isn't all that interested in discussing the skill of the players.
On the official FIFA site, a profile of American star Alex Morgan has caused outrage for focussing on her "good looks", before mentioning her performance on the pitch.
"Alex Morgan is one of the most popular players in USA women's football," the introduction to the article reads.
"A talented goalscorer with a style that is very easy on the eye and good looks to match, she is nothing short of a media phenomenon."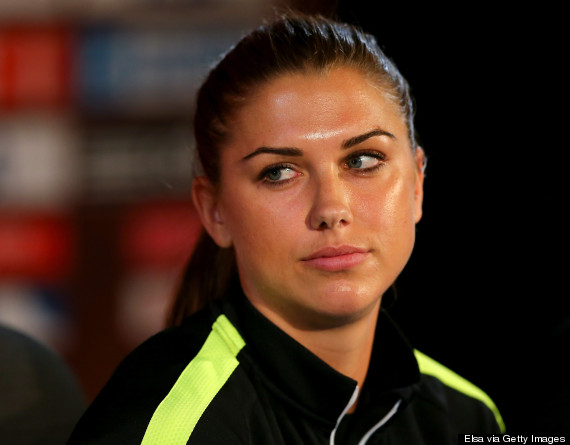 Fans of the footballer soon took to Twitter to brand the feature as "sexist", with many pointing out that the site does not comment on the appearance of male stars.
Unbelievable that FIFA would make such a sexist comment. Well, actually, pretty believable. #AlexMorgan

— AggrizzlyFan (@aggrizzly) June 30, 2015
@sgevans Did they do the same for Cristiano Ronaldo? No, then yes, this is an outrage.

— Alison Hernandez (@MissMarley25) June 30, 2015
Others on social media have urged FIFA to focus on her skills on the field, rather than her potential to be a "media phenomenon".
@ninerchick05 @sgevans subject is beauty, FIFA doesn't take Morgan seriously if they'd rather talk about her looks than her skills.

— Alison Hernandez (@MissMarley25) June 30, 2015
...but dare I say- there's more to Alex Morgan than her looks. Her quick speed, crazy angles, & cool calm finishing are overlooked.

— Sierra Wethington. (@sierrawhitney_) July 1, 2015
Kind of sad that some people only talk about Alex Morgan's looks instead of how well she plays...

— CiCi Grogs (@sierra_grogan) July 1, 2015
The controversy comes after the Football Association launched We Can Play - a campaign to stamp out sexualisation and negative perceptions of women in football in order to encourage more young girls to take up the sport.
The Huffington Post UK has contacted FIFA for comment on the Alex Morgan article, but has yet to hear back at the time of publication.
SEE ALSO:

13 Times We Wished We Were BFFs With The Women's England Squad