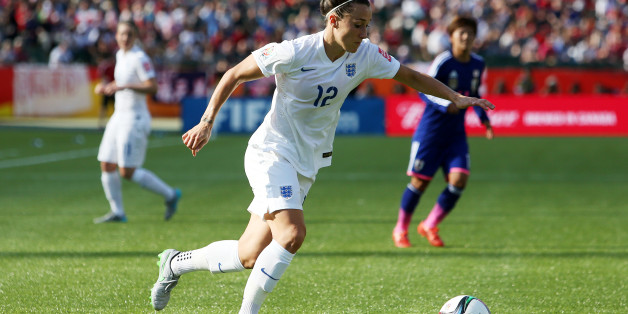 Vaughn Ridley/EMPICS Sport
A tweet sent from England's official Twitter account, later deleted, has prompted uproar from users who blasted its message as being "breathtakingly sexist".
The post was published hours after England's women team arrived back in the UK, having fought a valiant battle and come third in the Women's World Cup tournament.
Published on Monday afternoon, the message read: "Our #Lionesses go back to being mothers, partners and daughters today, but they have taken on another title - heroes."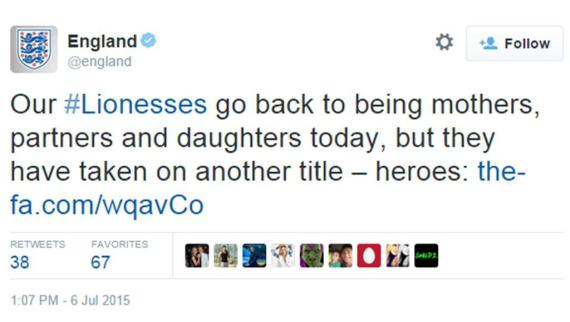 Screenshotted: The offending tweet
It paraphrased a similar line to the top paragraph of an article linked to in the post about the players flying home.
Gross tweet taken down, gross lede on article still there: http://t.co/PFRCbXEiBL pic.twitter.com/z8A9ZckI0U

— Alex Hern (@alexhern) July 6, 2015
Before, above, and after, below
Gross lede on article now also edited pic.twitter.com/uAyfVTRK4t

— Alex Hern (@alexhern) July 6, 2015
The offending tweet and opening paragraph of the story were quickly removed, but not before other users noticed, many re-posting the content and criticising account handlers for undermining the bronze medal-winning women players' roles and achievements.
A verified account with more than 1.2 million followers, the footie faux-pas from England triggered an immediate and intense backlash.
I see that @england have deleted their breathtakingly sexist tweet about the Lionesses. But here's a screenshot. pic.twitter.com/omWFJ9tOrs

— Josephine Liptrott (@JoLiptrott) July 6, 2015
Good to see @england has got rid of their sexist tweet but that attitude towards women exists at all levels within football in this country

— Joanna Tilley (@JoannaTilley) July 6, 2015
Cannot believe that @england tweet about the #Lionesses - who approved that one? Sexist and demeaning.

— Polly Grice (@pollygrice) July 6, 2015
@england delete their mothers, daughters, partners tweet. Can we balance it by finding out whether Joe Hart has been to visit his grandma?

— Laura Jones (@YICETOR) July 6, 2015
Tweet for @England in 2018:

Our #Lions go back to being nimrods and jumped-up shoe salesmen, but they have another title – disappointments

— Stuart Heritage (@stuheritage) July 6, 2015
Thought that @england tweet had to be from a parody account, but no. Astonishing.

— Adam Walton (@adamwalton) July 6, 2015
And in one tweet, the @england FA turned the feminism clock back 100 years #everydaysexism pic.twitter.com/dxfC50ka8f

— Linda Semple (@LindaFSemple) July 6, 2015
I think you mean "coaches, journalists, lawyers, financial analysts and professional athletes". #everydaysexism https://t.co/lOergHojFH

— Gary Dunion (@garydunion) July 6, 2015
England's women football team endured a nail-biting semi-final on Thursday, the Lionesses netting an own goal in the 91st minute, leaving the score 2-1 to their opponents, Japan.
The FA, which manages the England team's Twitter account, said in statement: "The full story was a wider homecoming feature attempting to reflect the many personal stories within the playing squad as has been told throughout the course of the tournament.
"However, we understand that an element of the story appears to have been taken out of context and the opening paragraph was subsequently revised to reflect that fact."
The Women's England Football Team arrived back in the UK on Monday.
Crowds were waiting to welcome them home at Heathrow Airport with England flags.
READ MORE: