The BBC reporter who mistakenly tweeted that the Queen had died committed a "serious breach" of guidelines, the BBC Trust has found.
The BBC was forced to apologise last month when a journalist at the corporation tweeted the demise of the Her Majesty, and then claimed that her phone had been hacked in a "silly prank".
Among the tweets, Ahmen Khawaja posted: "BREAKING: Queen Elizabeth is being treated at King Edward 7th Hospital in London. Statement due shortly: @BBCWorld."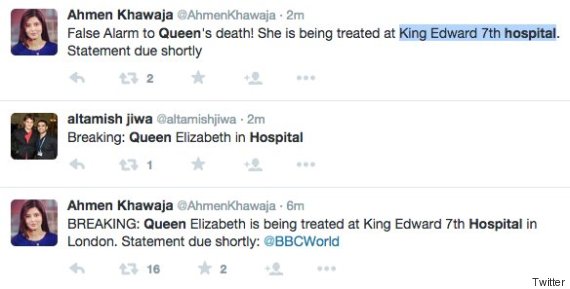 The journalist swiftly tried to backtrack, deleting tweets and claiming that she had been pranked after she left her phone at home.
The BBC Trust's report found that Ms Khawaja had not been told the corporation was running a rehearsal of how it might handle a royal death.
She is facing disciplinary proceedings over her tweets.
The report highlights the findings of the Editorial Standards Committee.
The committee said that Ms Khawaja's tweets included a link to BBC World's official Twitter feed and were "reported in good faith by some media outlets" around the world.
+++EILMELDUNG+++ Die Queen liegt im Krankenhaus. Gleich mehr auf BILD.de pic.twitter.com/8iUQgLqk9I

— BILD (@BILD) June 3, 2015
There was also widespread coverage of the tweets being posted by mistake.
The report continues: "Trustees considered that the tweets had included information that was of a highly sensitive nature and had the potential to cause a great deal of distress.
"They noted that the tweets had not come from an official BBC Twitter account; however, they saw the messages included links to a BBC World account and considered this was likely to have caused some degree of confusion.
"They considered that the journalist's connection with the BBC had, in all likelihood, resulted in her reaching a far higher number of followers than she would have done otherwise."
The committee concluded that there was a "serious breach" of editorial guidelines, which required that BBC employees "must not bring it (the corporation) into disrepute".
SEE ALSO:

Things Go From Bad To Worse For BBC Journalist Who 'Killed The Queen'

BBC Journalist In Serious Hot Water After Accidentally Reporting The Demise Of The Queen