The saying "It's grim up north" has never been truer.
Last week temperatures soared to 35C across the UK and the heatwave is set to continue... but only if you live in the south.
Weather predictions from Meteogroup are claiming that the north of England and the borders of Scotland will see downpours of rain whilst the south enjoys sunny, dry spells.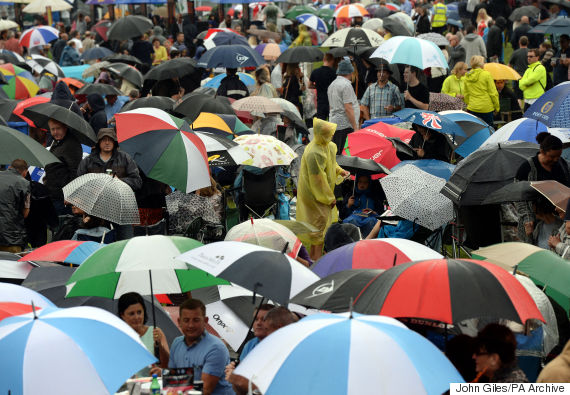 These could be the scenes in Yorkshire... (file photo)
Estimated measurements are currently gauged at 25/26C for the south by the 9th and 10th of July.
However for northerners, the estimations are not so kind and temperatures will be lucky to scrape a measly 20C. The week ahead:
9th July:

Mostly dry with sunny spells and just a few isolated showers. Temperatures close to the July average making it feel quite warm in the sunshine.

10th, 11th and 12th July:

Unsettled in the north west of the UK with an ongoing risk of showers or more persistent outbreaks of rain. Farther south east mostly dry and increasingly warm weather is expected. Through the weekend it could become hot with temperatures in the south nudging 30C.
While the Weather Outlook reports temperatures could rise to 30C in the South by the 11th July, the Met office has released a severe weather warning for rain in Scotland.
Severe weather warning for rain is in force today. Stay #WeatherAware and follow @metofficeScot for latest info pic.twitter.com/E47W1tmcdW

— Met Office (@metoffice) July 7, 2015
The 1st July was the hottest day on record since 2006 and when it came to an end huge thunderstorms hit parts of the country.
Northern England and Scotland were treated to spectacular lightning shows, as well as rain, throughout the night.
SEE ALSO: