George Osborne has announced plans to slash university maintenance grants and convert them into loans, exclude under 25s from the new, "national living wage", and make it compulsory for 18 to 21-year-olds to either be earning or learning in his Budget address on Wednesday.
Presently, students in England and Wales from families with an annual household income of £25,000 or less are awarded a maintenance grant of £3,387 a year to cover living costs.
But on Wednesday, Osborne announced plans to shelve grants given to those from low-income families and instead offer them a loan of £8,200.
"There's a basic unfairness of asking taxpayers to fund the grants of people who are likely to earn a lot more than them," he told Parliament.
"The last Labour government actually abolished these grants, before reintroducing them, and now they've become unaffordable.
"If we don't tackle this problem then our universities will become underfunded and our students won't get places – and I'm not prepared to let that happen.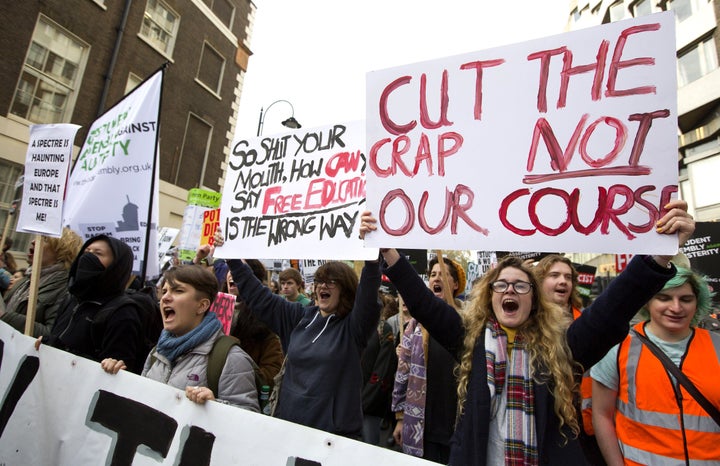 Students protest the raising of tuition fees
"So, from the 2016-17 academic year we will replace maintenance grants with loans for new students – loans that only have to be paid back once they earn over £21,000 a year.
"And to ensure university is affordable to all students from all backgrounds, we'll increase the maintenance loan available to £8,200 – the highest amount of support ever provided."
He went on: "To ensure our university system is sustainable, we'll consult on freezing the loan repayment threshold for five years – and we'll link the student fee cap to inflation for those institutions that can show they offer high-quality teaching.
"It's a major set of reforms to make sure Britain continues to have the best universities in the world.
"It is fair to students. Fair to taxpayers. And vital to secure our long term economic future."
Prime Minister David Cameron congratulates the Chancellor after delivering his Summer Budget speech to Parliament
Also revealed was a new "compulsory living wage", due to come in next April at the rate of £7.20 an hour, increasing to £9 by 2020 – but only for those aged 25 and over.
The National Minimum Wage is currently £6.50 an hour for 21-year-olds and over, and so represents a sizeable increase for those who qualify.
"The best way to support working people is to let them keep more of the money they earn," Osborne said in his speech.
"Because let me be clear: Britain deserves a pay rise and Britain is getting a pay rise.
"I am today introducing a new National Living Wage.
"We've set it to reach £9 an hour by 2020.
"The new National Living Wage will be compulsory, working people aged 25 and over will receive it and it will start next April, at the rate of £7.20."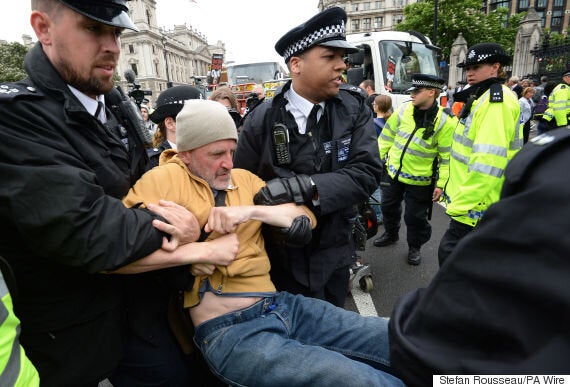 Protesters against the budget and the government's public spending cuts demonstrate outside the Houses of Parliament
The Chancellor also laid out plans to introduce a "Youth Obligation" scheme and scrap access to housing benefit, meaning anyone between 18 and 21-years-old must either be in education or employment, and will not be automatically eligible for the welfare support.
"It is not acceptable that in an economy moving towards full employment, some young people leave school and go straight on to a life on benefits.
"So for those aged 18-21 we are introducing a new Youth Obligation that says they must either earn or learn.
"We are also abolishing the automatic entitlement to housing benefit for 18-21-year-olds.
"There will be exceptions made for vulnerable people and other hard cases, but young people in the benefit system should face the same choices as other young people who go out to work and cannot yet afford to leave home."
Popular in the Community