Taxi firm Uber is under fire after it emerged fares had nearly tripled at peak travel periods during the London Tube strike.
The company was accused of "cashing in" on commuter misery after travellers using the app were at one point informed fares had risen 2.9 times the normal amount and that a more than £40 minimum fare had been instated.
The app, which connects drivers with passengers directly instead of through a centralised booking service or just hailing a car in the street, uses a pricing algorithm which detects situations of high demand and low supply and hikes the price in increments.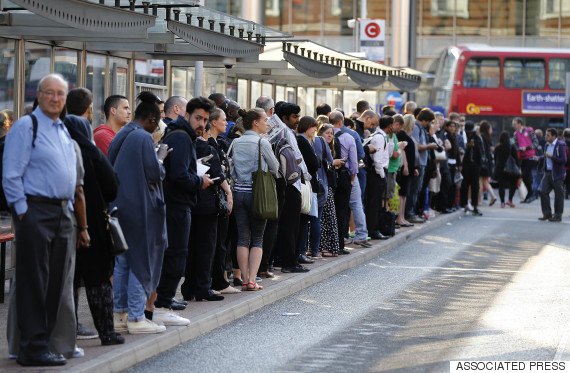 London is currently a mass of heaving queues
But users took to social media to complain about the controversial policy after the strike took hold on Wednesday evening.
@Uber bad decision to double your prices due to tube strike, you will make money but you won't have returning customers #uber #poorform

— Ailish Cleary (@AilishCleary) July 9, 2015
Look at these minimum fares for a @UberUK during the #tubestrike pic.twitter.com/1SzSv2Hb8n

— Seb White (@SebWhite) July 9, 2015
SOMEONE'S making the most of the Tube strike. #uber pic.twitter.com/x8rHLDNUyY

— Chris Adams (@ChrisA) July 8, 2015
If @Uber want to be seen as a credible transport alternative, they shouldn't increase their prices when demand is high. #TubeStrike

— Matthew Gray (@mattgray76) July 8, 2015
Uber is a controversial body in Britain and has faced much opposition from the Licensed Taxi Drivers Association which has repeatedly called on TfL to place the same restrictions on it as it enforces on the capital's black cabs.
MP John Mann tweeted: "Uber fares have trebled today. Which is why protecting black cabs is so important."
Über fares have trebled today. Which is why protecting black cabs is so important.

— John Mann (@JohnMannMP) July 9, 2015
And Mayor Boris Johnson told LBC: "I hope London's black cab drivers take advantage of this and get additional fares today to help Londoners out."
Last month Johnson spoke of his disapproval of the service, stating: "I think they are setting out to do serious economic damage to the black taxi trade."
Uber was condemned last year for putting up prices in Sydney during a hostage situation which saw a gunman take over a café in the city centre.
Following an outcry the firm performed a U-turn and offered full refunds to users and free rides to those trying to evacuate the area, though it maintained fares had increased to encourage more drivers to come online and pick up passengers in the area.
Do your bit-share your journey, split your fare and free up a car for another Londoner! http://t.co/9RQ4uJBAAJ #TubeStrike #KeepLondonMoving

— Uber UK (@UberUK) July 8, 2015