The five things you need to know on Friday July 10, 2015...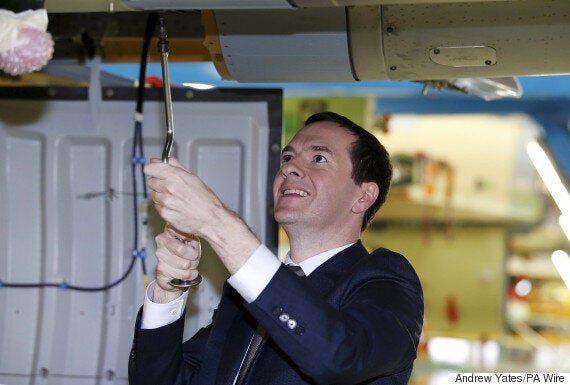 Well, everyone said George Osborne's was a Big Budget that recalled the Gordon Brown era. And just like Gordon Brown used to, it's facing a Day 3 of negative stories as hacks reveal the problems buried in the Red Book small print.
The IFS's post-Budget analysis gave journalists and Labour alike the ammo to claim the Budget would hit the working poor very hard. The FT reports right-wing think tanks are unhappy at the minimum wage hike 'disaster' and Fraser Nelson in the Telegraph says Osborne should have cut taxes further rather than 'apeing' Labour. The Times reports economists saying the Living Wage will encourage more migrants.
But there's a string of other small print criticism that the Treasury is having to fend off. The Guardian reports on SNP protests that a woman who has a third child as a result of rape would have to justify herself to keep tax credits. The Mail says the taxman has revived plans to raid all our bank accounts directly to get any tax owed. The Sun says Nato has ruled the 2% defence target can't include non-military intelligence budgets.
Young drivers face an extra £50 in car premiums, the Times says. Andy Burnham has been pushing hard on his 'two generations' Budget narrative, last night making the bold promise to set the same national minimum wage rates for all ages, ending the curbs on under-25s and under 21s.
Burnham didn't go quite as far as Yvette Cooper, however, on public sector pay (he attacked it but said he'd leave it upto independent pay review bodies). Cooper's pledge to oppose the 1% pay freeze shook up the leadership race yesterday. Liz Kendall also opposed the pay squeeze, suggesting a review of £100bn of business tax reliefs could yield cash for pay rises as well as reverse tax credit cuts. Meanwhile, Jeremy Corbyn moved into second place in local Labour party nominations.
Today's Treasury productivity plan has yielded several 'Osb The Builder' headlines for the Chancellor. But the real man with a plan is the highly respected new minister Jim O'Neil. It says everything about the state of Labour, that they couldn't get a northern banker like him to join their cause.
Few of the public know O'Neil even though he was the one standing next to Osborne on the steps of No.11 on Wednesday for the Budget box photocall. Yet the guy who coined the phrase BRICs is driving the bricks-and-mortar programme to liberalise planning rules to get more housing, as well as the Northern Powerhouse on infrastructure.
The scheme will be popular with housebuilders, business and a chunk of the population (not least those who just want to put up a hassle-free extension in London). The inherent tension between Tory 'localism/NIMBYism' and national central edicts will surely resurface.
Still, thanks to a nod to protect the countryside ('there's no need to build on the Green Belt' Sajid Javid told Today), Osborne even manages to get a favourable Telegraph splash - despite its long campaign against him on planning rules. It's yet more proof however that this Chancellor really does have no problem interfering in what he sees as a broken market. No wonder Ed Miliband still prowls Portcullis House with his 'I told you so' smile.
It doesn't help that the OBR warned this week that the 1% rent cut for social housing will mean 14,000 fewer affordable home built (and campaigners say it could be as high as 27,000).
3) THE UMPIRE STRIKES BACK
As a kid growing up on the terraced streets of Rochdale, Sajid Javid was as cricket mad as any young Pakistani-heritage schoolboy. But he was always a stickler for fair play. And in the contest of striking union members versus the public, he's decided it's time to rebalance the rules by fast-tracking tougher strike laws.
Trade unions will claim Javid is very much a player rather than a mere umpire, but it's clear this morning that he is determined to end the chaos like that caused on the Tube this week. The Mail reports that the Business Secretary will accelerate the plan to raise the ballot threshold for strikes in essential services, in a bid to foil the rash of strikes planned for this summer. The Bill could come in the 'next few days'.
BECAUSE YOU'VE READ THIS FAR...
Chris Grayling's decision to delay until the autumn the plans for English Votes for English Laws is yet more proof that this is a Government with a waffer-thin majority. The vote on a change to Commons standing orders had been due to take place next Wednesday. But - just as with the decision to kick the EU referendum bill into the autumnal long grass - fears of Tory backbench unease forced Grayling's hand.
I'm told the whips decided at the very last moment to order abstention in the symbolic Carmichael motion, largely as the feedback was that both the DUP and some Conservatives were ready to abstain, a move that risked a Government defeat. Not all the rebels have the same concerns about the EVEL plan but it just shows that man-management (and they are largely men) is going to be crucial for the whips this Parliament. And foxhunting free votes are just one part of that chess game.
We have an interview with SNP Westminster leader Angus Robertson out later today. Meanwhile, we have an interview with Crispin Blunt, the new Foreign Affairs Select chairman, declaring that he won't be too unhappy if Scotland votes for independence in retaliation for Brexit.
The Tsipras Government submitted its homework to its Brussels teachers just two hours before the midnight deadline last night. According to the Greek media, it sounds like a package of reforms even harsher than the one defeated in the referendum last weekend: tax rises, VAT rises, ending of pension perks. No really doesn't mean no in Greece, it appears.
Of course Tsipras is hoping that in return for all this he can claim victory with a fresh wad of bailout cash and debt restructuring, but given that Angela Merkel wanted a deal that lasts 2-3 years not 2-3 months it's still all to play for ahead of Sunday's summit.
One bit of the Greek cuts package is a £216m cut in defence spending. No wonder the Americans are nervous of Athens cosying up to Moscow. And yesterday Liz Kendall gave us a British angle on that topic by warning that the 'fantasy politics' of Syriza could see a Russian naval base installed in Greece. Her wider point was that progressive parties needed to have a credible alternative to the 'extremists' on left and right - while warning Labour would go down the Syriza route under Jeremy Corbyn.
The Tunisian ambassador is not happy with the Foreign Office over travel advice urging tourist to leave. Former ambassador Oliver Miles told Today he wasn't pleased either. But if the spooks are right and an attack is 'highly likely', who can blame the FCO for being cautious?
Chris Grayling delighted the Mail yesterday by signalling a crackdown on cold calling charities unless they got their house in order.
The Guardian says NICE will publish safe staffing guidelines for nursing on A&E wards, despite Government plans to devolve it to NHS England.
Many people will drop everything later as Andy Murray takes on Federer.
If you're reading this on the web, sign-up HERE to get the WaughZone delivered to your inbox.
Got something you want to share? Please send any stories/tips/quotes/pix/plugs/gossip to Paul Waugh (paul.waugh@huffingtonpost.com), Ned Simons (ned.simons@huffingtonpost.com), Graeme Demianyk (graeme.demianyk@huffingtonpost.com) and Owen Bennett (owen.bennett@huffingtonpost.com)
Related