Planning to throw a Frozen-inspired birthday party?
The sensational Disney film has captured the hearts of so many children (and adults), but just because the competition to have the best Frozen bash is fierce, that doesn't mean you have to spend a fortune, to keep the kids happy.
With a little help from HuffPost UK Parents you can put on a DIY Frozen birthday party of legends.
There IS no birthday without a cake, so we've found this Elsa birthday cake recipe video to help you cook up an icy storm.
Follow the tutorial to make the perfect cake - it requires a Barbie doll, a lot of blue icing and some time and patience.
The star of the birthday party just has to be wearing an Elsa costume. Rather than hopping off to the Disney store to buy the outfit, why not try making it yourself?
These Pinterest-inspired Elsa outfits can all be made at home and are a lot easier to construct than you might expect.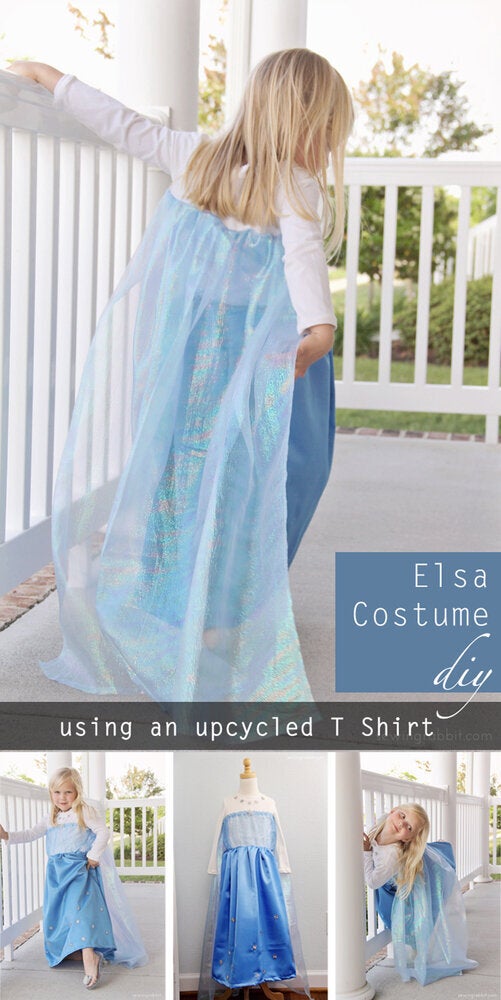 Pinterest DIY Elsa Costumes
In Michelle Heaton's YouTube video of her daughter's Frozen birthday party, she shows the homemade cupcakes she baked for the children, as well as blue jelly with Olaf marshmallows. Yum.
Use this vanilla cupcake recipe with butter cream frosting, but instead of using red food colouring, choose more Frozen-like colours such as pale blue, silver, or lilac.
The above recipe uses strawberry jam as a filling, but this isn't compulsory.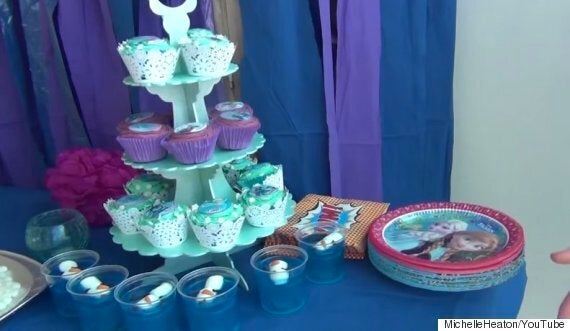 Will Elsa herself come and visit? Use the Pinterest-inspired Elsa outfits to make your very own one for an adult, so she can come and greet the children at the party.
She might only make a short appearance, but it will definitely get the kids excited.
Here's Michelle Heaton's Queen Elsa impersonator with her three-year-old daughter at her party in February 2015.
This video shows you how to work your magic with bright purple eye shadow, dark lipstick, and an Elsa glow, to help your Princess Elsa get into character.
Create a Frozen setting using pale blue, pale pink, pale purple, white and silver decorations. Dye pale sheets in pastel colours to use as tablecloths and scatter pale blue and white balloons.
Rochelle Humes held a birthday party for her daughter earlier this year and kept to the colour scheme throughout. Here's a couple of scenes from the party she threw:
At Ivanka Trumps' daughter's party, she had silver snowflakes as table decorations, which we thought was a nice finishing touch.
Think back to Christmas-time and decorating, and you will remember how easy it is to make paper snowflakes. Use pale blue paper, or just plain white, and have this as an activity for the children to make their own Frozen snowflakes.
For an added bit of entertainment, run your own Frozen quiz to find out who the real Frozen-expert is among the children (and probably adults, too). We have a video below with some questions you could use.
Whether you're using it as a decoration or as an activity to keep the children entertained, making your own snow is pretty easy to do. Grab cotton wool and roll it into balls for snowballs. Then for a fun activity children can stick the cotton wool snowballs onto card to make their own snow pictures.
Using artificial snow could give your house or hall the same snow-makeover.
To add a sense of magic to the party, we love Heaton's idea of including fairy lights draped over a white background to make the party that little bit more magical.