Russell Brand has laid into Uber in his latest Trews video, accusing the taxi app of avoiding paying tax in the UK.
The comedian-turned-activist championed London's black cab drivers in the clip, in which he meets cabbie Courtney Connell.
Brand's biggest problem with Uber, he explained, is that it jeopardises traditional cab drivers while failing to put money back into the UK economy.
He said: "Cabbies are sole traders who study the knowledge and pour their money back into the local economy - not like Uber, a multi-billion dollar corporation, part-owned by Goldman Sachs, part-owned by Google, that skims off all its profit and puts it into foreign bank accounts.
"It's more money being siphoned out of our country.
"If you get a black cab that money stays in our country, stays in our economy. That's one clear advantage."
He continued: "When you look at it, Uber are just another tax-evading company like Amazon, Starbucks or Tesco. Of course we all use Tesco, Amazon and Starbucks, they're unavoidable and we're just human beings.
'But be aware of what we're participating in because once these people have got us monopolised, I've got feeling that they're in this for profit so prices might start going up.
"So many of our problems are as a result of centralised corporate interest that don't pay taxes locally and don't invest in community, they just siphon profits up to the top. You're not going to get that with a cab driver."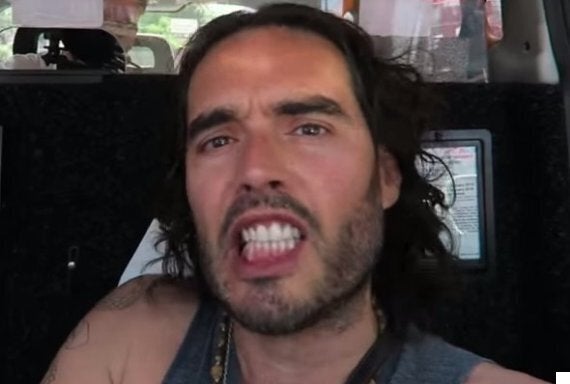 Brand tears into taxi app firm Uber in his latest Trews video
Connell said that black cab drivers had never faced a threat like Uber before.
He added: "How much love has the Prime Minister and the Mayor and these people really have for London if they're going to allow this to happen and allow these people not to pay tax?"
He argued that if he were to send money to his family in Barbados, he would get into trouble with HMRC, to which Brand responded: "It's one rule for them and another rule for us."
Brand also pointed out links between the Government and Uber, citing the fact that Rachel Whetstone was godmother to David Cameron's son Ivan, who died in 2009, while Cameron in turn is godfather to one of her children.
Uber has previously said the firm "complies with all applicable tax laws, and pays taxes in all jurisdictions, such as corporate tax, income tax, payroll tax, sales and use tax, and VAT."
Related