A host of A-list names from the world of showbiz have signed an open letter to the Prime Minister calling on him to protect the BBC from cuts to its service. James Bond actor Daniel Craig, his colleague in the long-running 007 franchise Dame Judi Dench, and veteran broadcaster David Attenborough are among those to have added their names to the letter.
The signatories, including author JK Rowling, comedian Miranda Hart and presenter Chris Evans, have called on David Cameron to ensure the Government does not "turn it into a narrowly focused market-failure broadcaster". They add: "A diminished BBC would simply mean a diminished Britain. Like all organisations, it has its faults but it is overwhelmingly a creative force for good." They describe the BBC as "the envy of the world".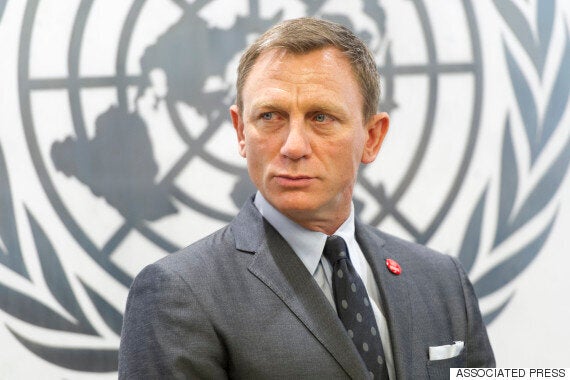 Actor Daniel Craig attends a ceremony in New York where he was named a UN Global Advocate for the Elimination of Mines and Explosive Hazards
It comes as a government green paper on Wednesday is expected to call for a narrower range of programming and an examination of the future of the licence fee. On Tuesday, BBC director-general Tony Hall criticised plans to reduce the corporation's commercial activity as he unveiled moves to generate £1 billion from hit shows including Doctor Who and Top Gear. Speaking to reporters at the launch of the BBC's annual report, he said the recent funding agreement in the run-up to the Budget was "not a good process" but was now settled.
Culture Secretary John Whittingdale has appointed an eight-person panel to work on the renewal of the BBC's royal charter - which sets out the corporation's remit - which runs out at the end of next year. It has been reported that some in government favour scrapping the BBC's rolling news channel, scaling back its website and cutting expensive entertainment shows such as The Voice.
Hall told reporters the charter debate was "shaping up to be a clash between two different views of the future". He said: "There is an alternative view that prefers a much-diminished BBC. It's a view that is often put forward by people with their own narrow commercial interests or ideological preconceptions." But Hall said audiences did not want "a significantly smaller BBC" and the public's voice "will matter most in this debate".
He set out what he described as "non-negotiable" aspects of the BBC, including universal funding - "Because we all pay, we all pay less" - and political independence. He said: "I have real difficulty with the idea of artificial restrictions on creativity - after all, the last time politicians tried to be creative we ended up with the Millennium Dome. So it will be hard to support any proposal that stops us finding the next Strictly, the next Bake Off or - dare I say it - the next Top Gear."
Hall revealed a five-year plan to generate £1 billion from the corporation's commercial arm, BBC Worldwide, to help offset new costs including the over-75s licence fees. Local versions of the motoring show Top Gear, currently in the middle of recruiting a new presenting team after the exit of Jeremy Clarkson and his co-hosts, have been launched in France and China, and Bake Off has been sold to countries including Turkey and Israel. Downing Street confirmed it has received the celebrities' letter.