This story contains offensive language
A member of the English Defence League threatened to delete his 12-year-old niece on Facebook after she challenged his bigoted views on race and Islam.
Wayne Knight posted an expletive-ridden and grammatically ambiguous status update on July 12 saying, "Fuck Camer.oron... fuck Islam... fuck Cockton Hill Garage... Fuck Helen Goodman... Fuck all the none believers... B.A.A.I".
It is unclear what, if any, event led to Knight's outburst about the Prime Minister, Goodman, who is a Labour MP for Bishop and Cockton Hill garage, but his niece did not think it was justified.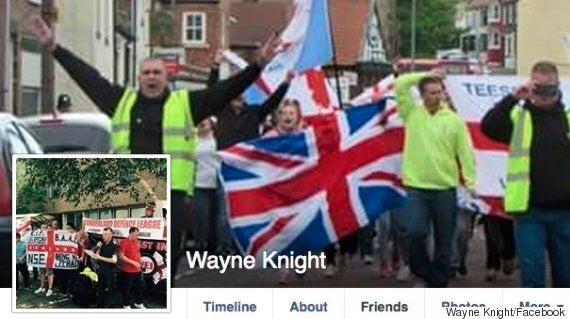 English Defence League member Wayne Knight threatened to delete his niece on Facebook after she challenged his views on race and Islam
The girl begins by asking her uncle what the garage has done wrong and is told "they muzrats hun".
She then tries to reason with him writing: "Yeah, but they not bad ones they haven't done nothing wrong before, they not all like that you know."
Knight claims the garage was raided by immigration officials, which "says it all".
The girl tries to reason further: "They've done nothing bad to you though or anyone round here you know."
Knight, it seems, has had enough at this point and responds: "Keep ya (sic) nose out about this shit please".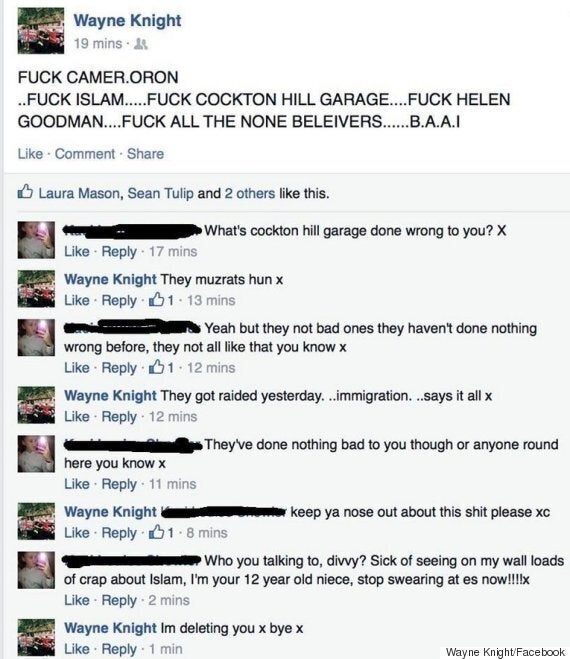 The exchange between Knight and his 12-year-old niece in which she tells him to stop posting about Islam
The girl then loses her patience with her uncle and tells him what she really thinks: "Who you talking to divvy? Sick of seeing on my wall loads of crap about Islam, I'm your 12 year old niece, stop swearing at es now (sic)."
Knight then sulks, "I'm deleting you bye". However, his Facebook page still shows the pair are friends.
The exchange has been shared dozens of times across Facebook and Twitter, even by former EDL leader Tommy Robinson, and people have been quick to point out Knight got "taken to task" by his niece. A post of it on the anti-EDL Facebook page has been liked 146 times and shared 38 times.
The EDL brought part of central Sheffield to a standstill earlier this month during a rally they said was against the city becoming known as a "paedophile's paradise".
About 200 EDL supporters gathered in the city centre, chanting and waving flags, before marching to South Street Park to "protest against the criminal activities of organised Islamist gangs operating there, and the apparently inadequate police response".
The action was overshawdowed by counter-protests by One Sheffield Many Cultures and Sheffield Unite Against Fascism which claimed that nearly twice as many people supported their event in what was a "proud day for the unity of our multicultural city".
A Facebook post from the group went on to say the EDL "will never succeed in dividing us. Unite Against Fascism and defend One Sheffield Many Cultures".
Popular in the Community