Whereas I haven't set foot in one in two years...
Although I doexercise each week to avoid some sort of pizza related early death, it's mainly haphazardly and sporadically using random YouTube videos (the modern day version of the Cindy Crawford work out VHS) in the comfort of my own home.
While looking good isn't the sole purpose of my job (or any of it, really), there's no denying the physical benefits of a good workout and the VS models' happy, sheeny fitness selfies convinced me to give it a go, at least to rev up my flagging energy levels.
This is what happened when I spent a week following the fitness routine of an Angel...
The Workout: Ballet Beautiful
Angel Fans: Candice, Erin, Lily
Mary Helen Bowers, the ballerina who trained Natalie Portman for her role in Black Swan, is one of the most sought-after teachers in New York.
Celebs, Victoria's Secret models and fitness fanatics alike all flock to her classes - and now everyone else can too thanks to her personalised workout streaming service.
After signing up I was greeted with a custom week-long work out plan consisting of five mini routines. It's quite different to normal ballet (which admittedly I haven't done in 10 years), with a focus on repeating specific moves to tone the whole body.
I found it a fun and easy way to make sure I packed in some daily exercise, and the different work outs each day meant I didn't get bored.
You can sign in anywhere on your laptop or mobile anytime you have a spare few minutes, so it's easy to fit into a hectic schedule.
Angel Fans: Adriana, Alessandra, Doutzen
If you told me two weeks ago I'd actually be enjoying a boxing class I would have laughed you off the face of the planet.
Luckily, easing my fears as I entered, the instructor confirmed there would be no actual sparring, broken noses or untimely deaths - just lots of high energy boxing combos choreographed to fast-paced music.
This is cardio at it's finest - sweaty and exhausting, but builds stamina in the way only cardio can, along with releasing all those brilliant post-workout endorphins.
Angel Fans: Elsa, Behati, Karlie
A step up from regular old pilates, Frame's Reformer class uses a series of springs and pulleys to add resistance - a top trick used by Victoria's Secret models to create their long, lean muscles and strong cores.
Having never used the resistance equipment before, I opted for the Beginner Reformer class, which runs at a slower pace with more emphasis on explaining correct alignment and technique, (which I definitely needed).
The pulleys may look like a torture tool but the hour-long workout was an absolute blast. It's tough, but fun and most definitely worth a go - I swear I felt an inch taller after the first session.
The Workout: Train Like An Angel
Where: A free YouTube workout
Angel Fans: Alessandra, Erin, Candice
Another home workout led by supermodel personal trainer Justin Gelband and Ballet Beautiful's Mary Helen Bowers - the perfect way to try out her classes for free.
The Angels demonstrate the moves and a note pops up on screen advising how many reps of each exercise to do, which ends up being slightly annoying as you have to keep stopping and starting the video... but it's free so you can't really complain.
These are so quick and simple to add in to your daily workout routine, although I definitely had to add quite a few videos together to feel like I was getting a proper session.
But believe me, once you get into it you can really feel the burn - as Ale says in the video, "When it burns, it's good. You know what it means - it's working!"
To help me through my week of work outs, and make sure I was getting the nutrition I needed, I looked to the Angels' diets for inspiration.
That meant lots of fresh fruit, veggies and lean proteins. And it wouldn't be a Victoria's Secret week without a hefty serving of green juices - I added a few organic, cold-pressed servings each day from juice company Radiance.
I will admit, somehow a Nandos found its way into my saintly Angel diet... but that's ok because it's totally Jourdan Dunn endorsed.
At the start of this challenge I was skeptical that just seven days would be enough to make a big difference in how I felt and looked, but I've been surprised at how fast my body reacted to some serious training.
Not only am I waking up feeling fresher in the mornings and sitting up straighter at work, my skin's looking clearer than ever and there's a visible difference in my muscle tone - meaning, I actually have some now.
I can't see myself following the vigorous daily two-hour work outs the Angels complete in the run up to their annual fashion show, but I'll definitely be incorporating their fitness tricks into my regular routine (because life's too short to not eat pizza).
This July we're running a Fitspiration campaign, where we're championing fitness as a positive addition to life rather than always being about weight loss. From inspirational interviews to easy-to-follow exercise tips, we hope to inspire everyone to get out there and have fun. Trust us, your body will thank you for it. If you'd like to contribute email uklifestyle@huffingtonpost.com or tag us on social media using the hashtag #HPFitness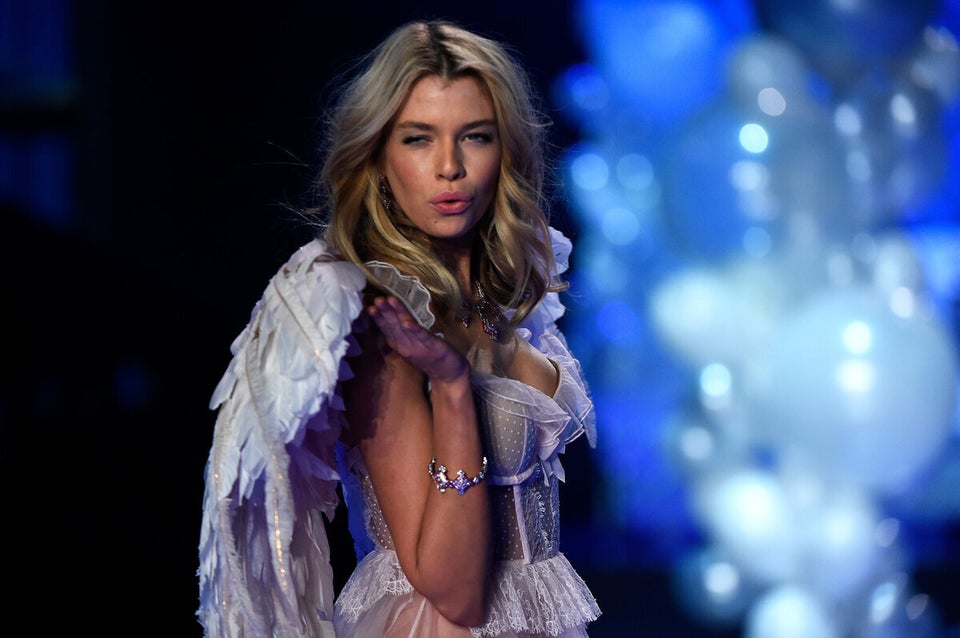 Victoria's Secret Announces 10 New Angels