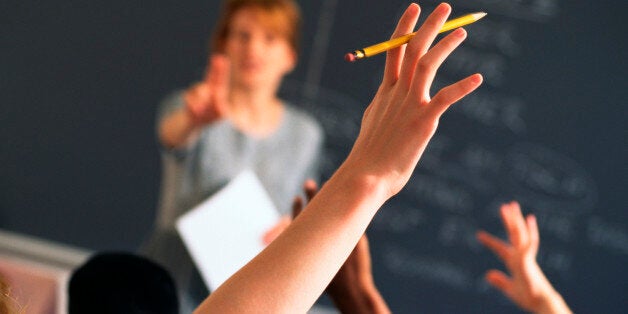 A Tory education committee chairman has slammed the government for its refusal to make a decision on whether to introduce compulsory sex and relationship lessons in schools, dubbing ministers' responses "feeble".
The Department for Education said it would not be making a decision until later this year, despite a "key report" on the issue being published in February.
The publication on introducing personal, social, health and economic (PSHE) lessons, along with sex and relationship education (SRE) into schools highly recommended both be given statutory status.
Not only has the government been criticised for its delayed response to the report, it has been accused of "entirely sidestepping" the calls made by MPs to make PSHE and SRE compulsory.
"The response made by the government today is disappointing," said Neil Carmichael, chair of the House of Commons education committee. "It is unclear why it should have taken the Government so long to publish such a feeble response.
"The inquiry found the Government's strategy for improving PSHE and sex and relationships education in schools to be weak. Yet there is nothing in this response to reassure Parliament – or young people – that the situation will now improve."
Carmichael continued: "Ministers know that PSHE requires improvement in 40% of schools, yet they appear to see no urgency in tackling this.
"I am confident that the new Committee will want to pursue this matter with ministers, making use of any new evidence and questioning the Secretary of State further in due course."
On Wednesday, Green MP Caroline Lucas brought a bill before parliament calling for PSHE to be made statutory, which was granted a second reading in January.
The education committee had made several recommendations, two of which it says have still to be addressed by the government, which included: developing a plan for introducing age-appropriate PSHE and SRE as statutory subjects in schools; funding of PSHE teachers and school nurses to be reinstated; Ofsted resuming its inspection of PSHE provision and renaming SRE as relationships and sex education to "emphasise the relationships element of the subject".
Girlguiding advocate Ashvini Rae also described the news as "very disappointing".
"Thousands of young people are currently being failed by sex education and we urgently need to do something about it.," the 17-year-old said. "Girlguiding research has found that 64% of 16 to 21 year olds feel their experiences of sex education did not focus enough on relationships, while 37% feel that sex education offered at school did not prepare them well for real life.
"Young people deserve to be taught about issues that directly affect them. They need relevant and up-to-date advice that helps them to think beyond the confines of the classroom and make a real difference to their personal lives."
"I strongly agree with the importance of high-quality PSHE education in schools," he wrote. "I believe that all schools should teach PSHE.."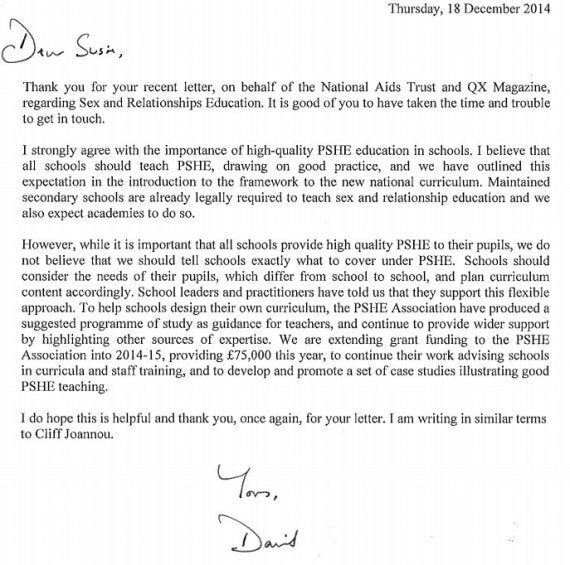 Cameron's letter expressing his support for PSHE
Various campaigns have been launched to pressure the government into making the lessons compulsory. The Sex Education Forum wants teachers to be able to address "real life issues", including domestic violence and consent.
A survey by the National Union of Students found 90% of students want to see SRE become statutory in schools. For two thirds of respondents, consent had not been discussed in lessons, with less than a fifth discussing LGBT issues.
"It seems that we are so keen to teach our young people the mechanics of what is safe and what isn't, that we forget there is so much more they should, and indeed must, know," she wrote.
"I remember very clearly some awful sex ed lessons at school," he said. "I was shown a video of a typical family, where the whole family paraded around house naked and taught that sex is for a man and women for pleasure and have babies. I was never taught of the love between two men or two women.
"I was having feelings I didn't know what to do with and I felt so isolated because it was never spoken about. Looking back now I feel let down. I strongly believe that if the teachers had the right knowledge and support then they would have been much better equipped to help me and others too."