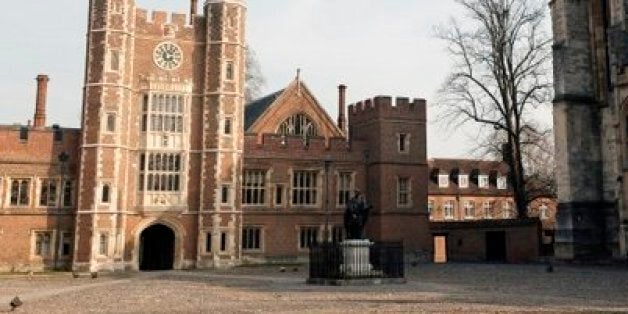 After applying for the place himself, a boy from one of Britain's most deprived areas has won a scholarship to Eton.
Tyrese George, an 11-year-old from Byker, Newcastle, will join the world famous college when he turns 13 but won't have to pay the £36,000 fees.
The schoolboy will be joining a college that has schooled 19 former Prime Ministers and the likes of Prince William and Harry.
The schoolboy blew the Eton teachers away during his assessment. The 575-year-old college revealed to Tyrese in its offer letter that he was among the top 50% of entrants.
Tyrese told ITV: "I saw boys who were going for the scholarship, and I thought maybe I could do that."
The 11-year-old added: "I've got to keep my grades up, especially. I can't be naughty, which I never am. I've just got to keep my head up and carry on what I'm doing."
The youngster's Mum, Tammy Bate, 38, is thrilled with her "good all-rounder", who also loves playing football, basketball and rugby at Byker Primary.
Linda Bradley, Tyrese's head teacher at Byker Primary School, told Chronicle Live: "He saw Eton on CBeebies and decided there and then he liked it and was going to go.
"He sent off for a brochure himself."
The school helped him make contact last September to inquire about Eton's admissions policy and they found Tyrese was exactly the right age to apply.
"It was like fate," said Linda.
The head teacher added: "He went to Eton at the end of May to sit lots of exams and have interviews…He's a rapper so he did some of that as well."
A spokeswoman for the college told the Mirror: "We were delighted to meet Tyrese. It doesn't matter what a boy's background is. If he is keen and bright, we welcome his application to join us."
Tyrese already has big dreams of becoming a lawyer because he says he "likes stating his opinion."
His home town of Byker was famously popularised in the BBC's children's drama 'Byker Grove'. A 2013 report into the district revealed one in five mums missed meals so their children could eat, 16.5% of people relied on social security benefits and half of all children lived in poverty.
Earlier in the week Eton College made its own news when the prestigious college accidentally sent acceptance emails to 400 children, instead of nine.
Popular in the Community