Incredible scenes have been caught on camera showing a rare species of shark make their home near West Sussex, England.
The smooth-hounds' fins can be seen sticking above the shallow waters of the RSPB's Medmerry wildlife site.
Around 50 of them can be seen in total, in the rare spectacle that may never be repeated again.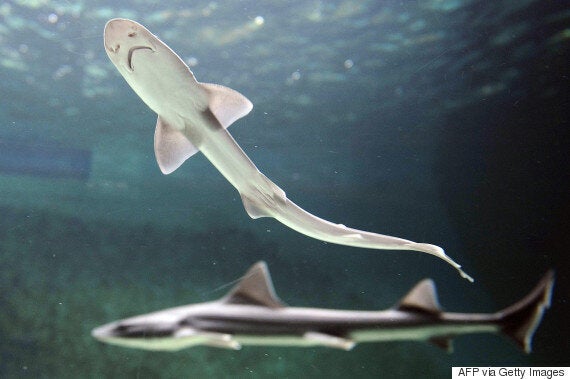 They have been identified as smooth-hound sharks which can grow up to 4ft
The International Union for the Conservation of Nature (IUCN) has declared the species as 'vulnerable', which means they are at a high risk of becoming endangered.
RSPB warden Peter Hughes captured the footage and said: "It was astonishing. There were just these huge fish everywhere in knee-deep water.
"We assume they were coming in to feed on the crabs and other marine life that have made their home at Medmerry.
"We knew in time that (this) was going to be a great place for wildlife, but I don't think anyone expected this!"
The smooth hounds are no danger to the public and their diet is made up primarily of crustaceans, shellfish and molluscs.
Rather than the typical triangle shark like teeth they have much blunter crushing plates. This has lead the fish to be nicknamed "gummy sharks".