When unexplained scratches started to appear on the back door of her south Wales home, a mother-of-two decided to investigate.
Lisa Mackenzie set up a basic CCTV camera outside the property in Bridgend and was sickened when she viewed the chilling footage.
The tape revealed a hooded prowler armed with tools attempting to gain entry into her home – as she and her two young children slept inside.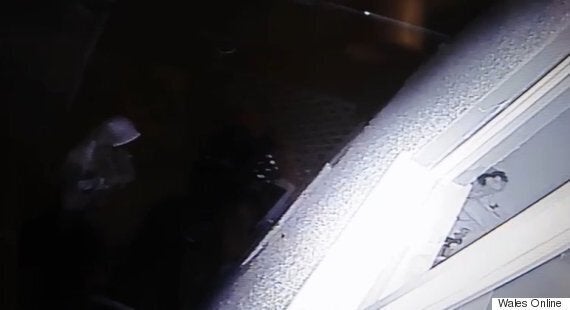 The man can be seen approaching the door and attempting to break in
The man can be seen studying the door and shining a torch at the lock before attempting to open it. At one point he glances directly up at the camera.
"I thought I was paranoid, now I wish I was paranoid."
Local Policing Inspector Richard Weber told Huffington Post UK: "Officers were called to the address following the incident and officers viewed the footage.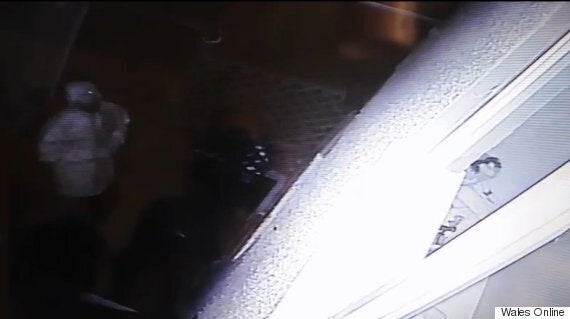 The man is thought to have used a wire to try and break in
"We understand the footage causes concern but would like to reassure residents that burglary levels are low in the area and it appears to be an isolated incident.
"We have increased and targeted our patrols in the area.
"We know that burglars will check many properties for insecure doors and windows and unfortunately they find them all too often.
"People should always ensure their houses are secure, whether they are at home or away.
"Other deterrents such as security lights, visible CCTV and alarms can also be effective.
"In this case, the property was secure and that together with CCTV cameras may well have deterred the individual – the footage may hopefully assist our investigation too.
"Anyone who has information should contact 101 or call Crimestoppers anonymously on 0800 555 111."